---
Cruise Ships Become "Breeding Ground" For Norovirus As Outbreaks Hit Decade-High
Vacation-starved Americans have flocked back to cruise ships after shunning this form of travel during the virus pandemic. Some cruise lines, such as Royal Caribbean Group, have reported occupancy rates around 100% capacity in the first quarter of 2023. The surge in popularity also means the rise of norovirus incidents on ships. 
The Wall Street Journal said 13 outbreaks of the 'cruise ship virus' have been reported this year. The data from the Centers for Disease Control and Prevention shows this is the largest number of norovirus incidents on cruise ships in a single year since 2012. And still, the year is only halfway over.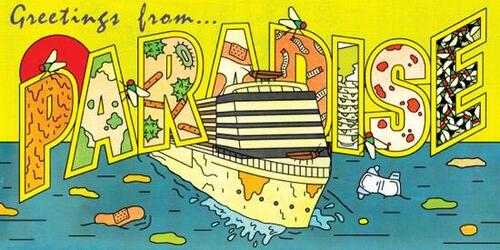 Norovirus can quickly spread in a cruise ship via particles from poop, vomit, and contaminated surfaces from people who have contracted the sickness. 
"If you get norovirus illness, you can shed billions of norovirus particles that you can't see without a microscope.

"It only takes a few norovirus particles to make you and other people sick," according to the CDC. 
Yes, the ships have become monsters, packed with 6,000 passengers + 2,000 crew- perfect breeding ground for #norovirus! On the summer #Alaska cruise run, 4 huge ships dock at Juneau the capital- 25k people visit, more than the pop of the city! #cruisinghttps://t.co/veNUFBo4dI pic.twitter.com/kTTQQlkF17

— Frederic Hore (@Voyageurfred) June 19, 2023
The latest incident occurred last Tuesday when a Viking North American Cruise vessel docked in New Jersey had more than 100 passengers who contracted the virus. A cruise ship operated by Celebrity Cruises had more than 175 people contract the virus in May. 
A spokeswoman for the Cruise Lines International Association said cruise ships have to report illnesses to CDC, which has provided " visibility and faster reporting to health authorities" about outbreaks. 
The rebound of the cruise industry this year coincides with a surge in norovirus outbreaks on ships that causes people to vomit violently and have diarrhea. 
Loading...