---
Fentanyl Responsible For 80% Of Overdose Deaths Under 24 In US
Of the 296 million users of illegal drugs worldwide in 2021, 60 million were taking opioids like morphine, codeine or heroin.
As Statista's Florian Zandt reports, according to the latest United Nations World Drug Report, only cannabis usage is more prevalent albeit, of course, not really resulting in overdose deaths.
As he shows in the chart below, based on CDC data, synthetic opioids like fentanyl have become associated with the majority of overdose mortality.
You will find more infographics at Statista
Out of the more than 106,000 registered cases of deaths by overdose in 2021, a little over 70,000 or two thirds were directly related to synthetic opioids, the most prevalent of which is fentanyl. The drug is said to be 50 times more potent than heroin and is easy and cheap to manufacture since it's not tied to a crop base like more traditional opioids like heroin.
The picture gets even more dire in the teenage and young adult age bracket. Here, 80 percent of the 7,426 overdose deaths can be ascribed to synthetic opioids, with the connected cases increasing almost sixfold between 2015 and 2021.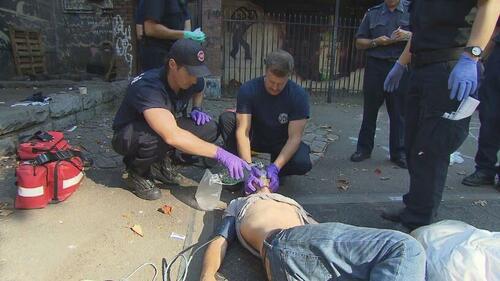 Globally, usage of opioids has been relatively stable since 2019, with reported users even going down from 62 million in the year before the coronavirus pandemic. The global prevalence percentage stood at 1.2 for 2021, with only three regions clocking in significantly higher at percentages of 3.3 (North America), 3.2 (Near and Middle East/South-West Asia) and 2.4 (Oceania).
The further development of usage numbers might be impacted by whether the Taliban government in Afghanistan fully enforces its drug ban enacted in 2021. According to a special UN report, opium poppy farmers generated $1.4 billion in sales in 2022 with the current crop being largely exempt from the ban and the handling of future harvests uncertain. Experts now fear that drug users might turn to more readily available synthetic opioids if the supply from the Asian country dries up. Around 80 percent of global opiate users are supplied by products manufactured from the Afghan opium poppy.
Loading...