---
Fire At Baghdad COVID Hospital Sparked By Oxygen Explosion Kills 82 People
A massive blaze broke out at a hospital in southeastern Baghdad, Iraq that was treating COVID-19 patients on Saturday, which left at least 82 people dead and 110 injured. 
Iraqi officials are saying the fire appeared to have started on the pulmonary intensive unit floor of Ibn Khabit hospital, and an "immediate investigation" has been ordered. An initial report by the Interior Ministry said the fire was sparked by an oxygen tank explosion on that floor.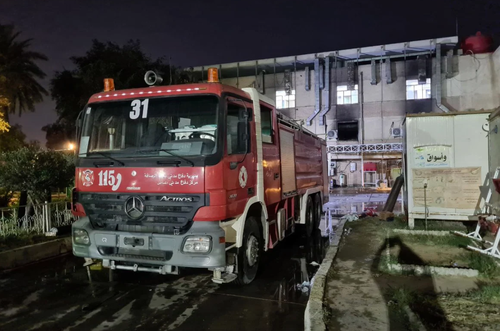 "We urgently need to review safety measures at all hospitals to prevent such a painful incident from happening in future," spokesman Khalid al-Muhanna said on state TV.
One eyewitness described a chaotic scene where patients and doctors alike were jumping out of windows to the streets below. "The fire spread, like fuel... I took my brother out to the street, next to the checkpoint. Then I came [back] and went up from there. To the last floor, that did not burn. I found a girl suffocating, about 19 years old, she was suffocating, she was about to die," Ahmed Zaki told Reuters.
"I took her on my shoulders, and I ran down. People were jumping... Doctors fell on the cars. Everyone was jumping. And I kept going up from there, got people and come down again," Zaki said. 
As part of the investigation the Interior Ministry has detained the hospital's manager and the heads of security and maintenance for questioning and to find negligent parties. There's also growing public anger aimed at the Health Minister and the Prime Minister over the national tragedy.
A fire that ravaged a Covid-19 hospital in Iraq's capital Bagdad has left at least 82 people dead and 110 injured pic.twitter.com/XAjjPmoYqt

— TRT World (@trtworld) April 25, 2021
However, there's this 'big picture' illuminating line which points to the broader context for the horrific weekend tragedy in the Reuters report...
"Iraq's healthcare system, ruined by decades of sanctions, war and neglect, has been stretched during the coronavirus crisis. The country has recorded a total of 102,5288 infections, including 15,217 deaths, the health ministry said on Saturday. "