---
NFL Says "No Decision" On Game Resumption After Bills Confirm Hamlin Suffered "Cardiac Arrest"
Update (1330ET): The NFL has issued a statement on the possibility of the resumption of the Bills-Bengals game: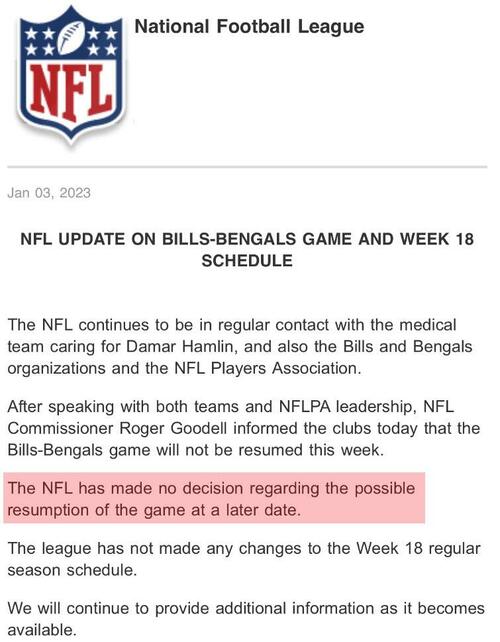 *  *  *
Update: The Buffalo Bills have issued a statement confirming what everyone who saw unfold in real-time feared...
Damar Hamlin suffered a cardiac arrest following a hit in our game versus the Bengals. His heartbeat was restored on the field and he was transferred to the UC Medical Center for further testing and treatment. He is currently sedated and listed in critical condition.

— Buffalo Bills (@BuffaloBills) January 3, 2023
*  *  *
A disturbing scene played out in front of a nationwide television audience on Monday night, as Buffalo Bills safety Damar Hamlin collapsed after a play and received CPR on the field.  
The 24-year-old's collapse happened with 5:58 to play in the first quarter. He'd just tackled Cincinnati Bengals wide receiver Tee Higgins. Hamlin got up immediately, but then stood still for a moment before falling backward to the ground. 
BREAKING -- Tonight on NFL's Monday Night Football, Buffalo Bills Safety Damar Hamlin inexplicably collapses on field. Medical Crews administer CPR.

Prayers for him, his family, and his teammates. pic.twitter.com/WtEfex02zL

— The HighWire (@HighWireTalk) January 3, 2023
Things took an even more ominous turn when medical staff began performing CPR on Hamlin where he fell on the field. The entire Bills team surrounded him as lifesaving measures were administered for several minutes. Many players were clearly emotionally shaken by what they were witnessing. 
While administering CPR to Damar Hamlin, you can see the Buffalo Bills circled around crying and praying for him. Please pray for Damar Hamlin. #NFL #hamlin pic.twitter.com/39ywpzKFGP

— BILLSMAFIA(12-3) (@MiningSim2XD) January 3, 2023
Just devastating…. Prayers for Damar Hamlin, please god he's only 24 years old 😢 🙏 🙏 🙏 pic.twitter.com/CuuCAAAedZ

— Emil Sayad (@gaymerbear84) January 3, 2023
An ambulance urgently backed onto the field before whisking Hamlin away to the University of Cincinnati Medical Center at 9:25 pm, some 16 minutes after his sudden collapse. Hamlin has reportedly been intubated and is listed in critical condition. 
Extreme amount of urgency in treating injured Bills defensive player Damar Hamlin. Ambulance on the field at Paycor Stadium. pic.twitter.com/QLmmn3kqMg

— Joe Danneman (@FOX19Joe) January 3, 2023
After Hamlin was driven away, Bills players continued kneeling together in a circle, before returning to the sideline. Bengals coach Zac Taylor then approached Bills coach Sean McDermott and began a discussion with game officials.
At roughly 10 pm, the NFL announced a full postponement of the game, which the Bengals were leading 7-3.  "The NFL has been in constant communication with the NFL Players Association which is in agreement with postponing the game," the league said in a brief statement.
Meanwhile, some on social media wondered, speculated and argued about the cause of Hamlin's collapse...
This is a tragic and all too familiar sight right now: Athletes dropping suddenly.

— Charlie Kirk (@charliekirk11) January 3, 2023
I am furious. To watch Hamlin collapse that way after the NFL forced these experimental vaccines on these kids for money makes me sick. He received CPR because he was in need of CPR - that's nothing to do with the hit. #Fauci the #WEF #Biden #Pfizer #Moderna - is it worth it?

— Tom Renz (@RenzTom) January 3, 2023
As a physician I believe Damar Hamlin was likely suffering from commotio cordis where a blow to the chest at a precise moment in the electrical cycle stops the heart. Those trying to tie this to vaccine status to project their unscientific beliefs are terrible, horrible people. pic.twitter.com/H5KNnHPZMK

— Chris Haddock (@drdawg1996) January 3, 2023
With only one week left in the NFL season, Monday night's game was critical to both teams' 2022 campaigns. The Bengals could have clinched the AFC North with a win. Meanwhile, if the Bills won Monday and again next week, they'd have locked up the AFC's top seed and home field advantage throughout their playoff quest. 
Fox Sports commentator Skip Bayless triggered a social media feeding frenzy with an innocuous tweet: 
No doubt the NFL is considering postponing the rest of this game - but how? This late in the season, a game of this magnitude is crucial to the regular-season outcome ... which suddenly seems so irrelevant.

— Skip Bayless (@RealSkipBayless) January 3, 2023
Bayless is a sports journalist who merely commented on the scheduling conundrum facing the league -- and he himself acknowledged that such considerations seem insignificant given what took place. Nonetheless, the innocent tweet gave countless people an excuse for low-IQ, sanctimonious, attention-seeking, phony outrage: 
Will Skip Bayless be fired for this insensitive and disgusting tweet?! Will there be company and public wide outrage at the fact one of their employees just shrugged off another man's life over a football game?! Or does he get a pass? Keep the energy consistent. What a guy smfh pic.twitter.com/iDwdC0ufog

— Su'a (@iammsuzy) January 3, 2023
Others shared video of Hamlin, a McKees Rocks, PA native who played college football for Pittsburgh, at his annual toy drive:
Let's celebrate Damar Hamlin rather than gawk at some creepy ESPN reporter's tweet

Here's @HamlinIsland's most recent Instagram post - scenes from his annual holiday toy drive: pic.twitter.com/xI27r34lXx

— Cameron Tabatabaie (@CTabatabaie) January 3, 2023
...while others shared a heartwarming clip of Hamlin and his family before the game:
Let's take a break and watch a clip of Damar Hamlin giving his family some love just prior a game.

This is what needs to be seen right now.

Please be okay 🙏 pic.twitter.com/SwYdXju05h

— Dynasty Pros™ (@DynastyProsFF) January 3, 2023
Loading...