---
Maine Gov. Confirms 18 Killed, 13 More Injured In Mass Shootings Overnight, Suspect Still At Large
Update: (1145ET): Maine Gov. Janet Mills said at a press conference that 18 people were killed and 13 people were injured in last night's attacks.
"This is a dark day for Maine," Mills said.
Earlier, a federal law-enforcement official said a shooter killed at least 22 people.
The Wall Street Journal reports that Maine State Police worked through the night alongside local officers and the Federal Bureau of Investigation to find Robert Card, 40 years old, who was their sole person of interest in the shootings.
"Card is considered armed and dangerous," said Mike Sauschuck, Maine's public-safety commissioner.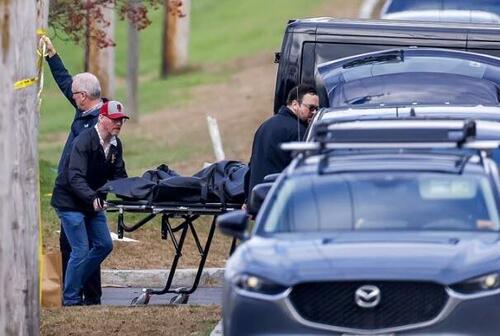 "We're gonna not stop until we locate him," Lisbon police chief, Ryan McGee, told a local TV station as the manhunt continued early Thursday.
Of course, it did not take long for President Biden to demand gun reform:
"Today, in the wake of yet another tragedy, I urge Republican lawmakers in Congress to fulfill their duty to protect the American people," he wrote.

"Work with us to pass a bill banning assault weapons and high-capacity magazines, to enact universal background checks, to require safe storage of guns, and end immunity from liability for gun manufacturers."
However, as The Hill reports, GOP presidential candidate Vivek Ramaswamy said the mass shooting in Maine illustrates why communities should revive mental health institutions and involuntary commitments for those who need help, alluding to the shooting suspect.
"We pray for the Maine shooting victims, their families, and for the brave law enforcement members who are working to bring this deeply sick individual to justice," Ramaswamy posted on X.

"We must remove these violent, psychiatrically deranged people from their communities and be willing to involuntarily commit them."
He said this includes reviving mental health institutions and less reliance on pharmaceuticals.
"We know from the 1990s how to stop violent crime," he added.

"The real question is if we have the spine to do it."
The answer, sadly, Vivek is... no.
*  *  *
As we detailed last night, authorities in Maine are investigating three mass casulaty events and a single suspect remains at large, the Androscoggin County Sheriff's Office said in a post on Facebook.
"We are encouraging all businesses to lock down and or close while we investigate," the sheriff's office said.
As The Sun Journal reports, police, fire and rescue personnel descended on Sparetime Recreation on Mollison Way about 7:15 p.m. after a report of an active shooter.
Shortly after, reports came in that there was another shooting at Schemengees Bar & Grille Restaurant on Lincoln Street.
Lewiston public information officer Derrick St. Laurent told the Sun Journal at about 8:15 p.m. that another shooting was reported at the Walmart Distribution Center on Alfred A Plourde Parkway.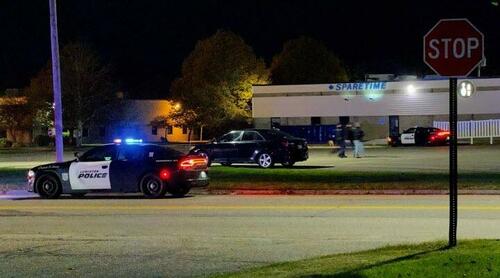 CNN reports that at least 16 people are dead, according to Lewiston City Councilor Robert McCarthy, and dozens more are injured in the incidents, though it's unclear how many are injured due to gunfire.
🚨#BREAKING: Mass Casualty Incident Declared as Active Shooter Strikes Multiple Locations

📌#Lewiston | #Maine

Currently, numerous emergency personnel and other authorities are responding to an active shooter in Lewiston, Maine. Reports indicate that at least 16 people,… pic.twitter.com/M3S6TAcp9l

— R A W S A L E R T S (@rawsalerts) October 26, 2023
The Sheriff's office released this image of the alleged suspect....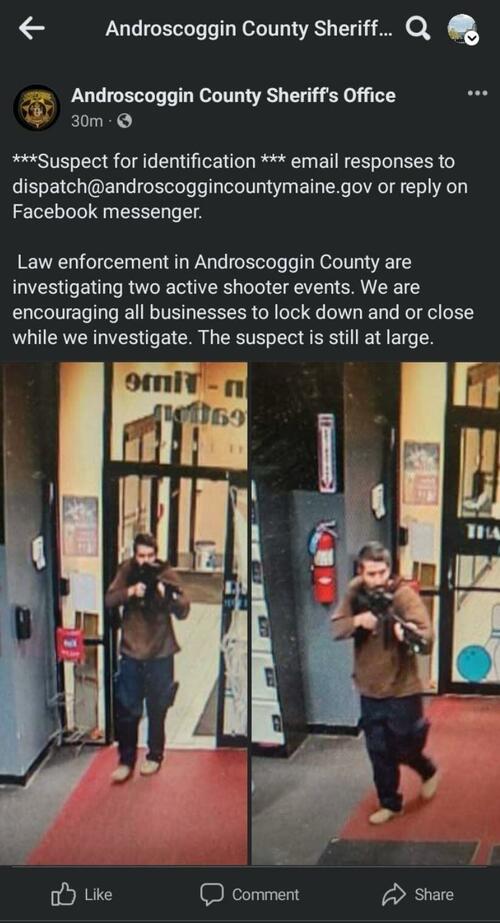 The Maine State Police have named Robert Card as a person of interest. A trained firearms instructor and army reservist who has recently been released from a mental health facility...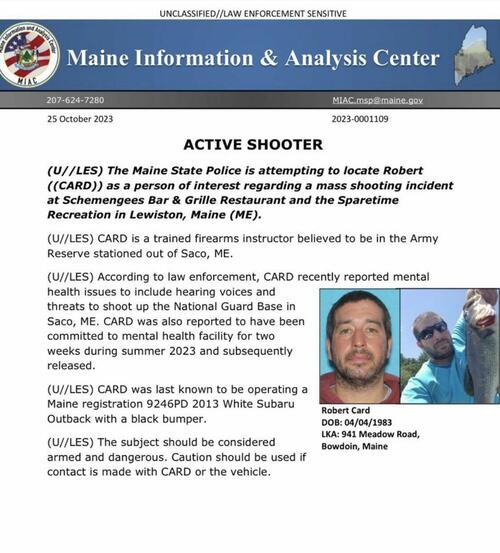 Maine State Police also said they are responding to an active shooter situation in Lewiston in a post on Facebook.
"Please stay inside your home with the doors locked," state police said.

"If you see any suspicious activity or individuals please call 911."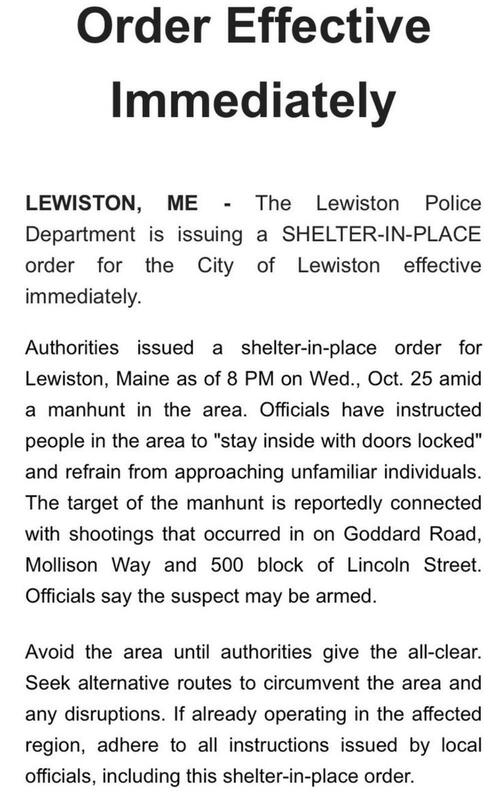 In a statement, the FBI said its Boston division is coordinating with law enforcement partners in Maine and stands "ready to assist with any available resources," and urged the public to remain vigilant.
Maine Gov. Janet Mills said Wednesday night she has been briefed on the situation.
"I urge all people in the area to follow the direction of State and local enforcement. I will to continue to monitor the situation and remain in close contact with public safety officials," the governor said on Facebook.
Loading...