---
Mysterious Listeria Outbreak Spreads To 15 States
Federal health officials are investigating a "Listeria outbreak with unknown source" across 15 states.
"A specific food item has not yet been identified as the source of this outbreak. However, CDC is concerned that illnesses continue to be reported. Listeria illness is rare, but it can result in serious illness or death," a recent notice via the Centers for Disease Control and Prevention (CDC) read. 
The overall count of infections might be higher than what is currently being reported. According to CDC data, there have been 18 cases of infection, leading to 17 hospitalizations in 15 different states. So far, no fatalities have been reported.
Michigan and Wisconsin are the only states to have recorded two illnesses. Illinois, Arkansas, California, Colorado, Missouri, New York, North Carolina, Pennsylvania, South Dakota, and Washington have each reported one. 
The CDC has constructed an outbreak map.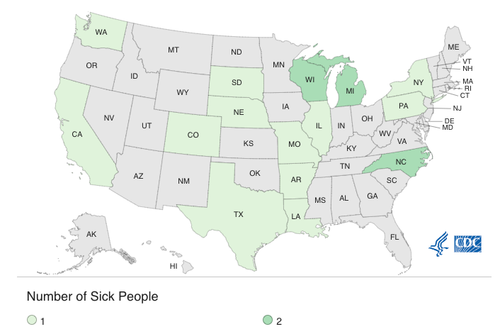 "Public health officials are interviewing people in this outbreak to find out what foods they ate before getting sick," the CDC said, adding the infection is "especially harmful if you are pregnant, aged 65 or older, or have a weakened immune system." 
Loading...