---
New Global Covid Cases Just Hit A Record High
AS of today, roughly half a billion people on the planet - including roughly 60% of the population in the US (where 22m jabs were administered last week) and UK - have received at least one covid-19 jab, bring the world ever closer to herd immunity. In fact, according to Bank of America, which appears to have read our take from two weeks ago, the current pace of vaccinations would allow the US to fully vaccinate 70% of its adult population by mid June.... which may be a problem for the market as that's the level at which Powell said the Fed will begin discussing the upcoming taper.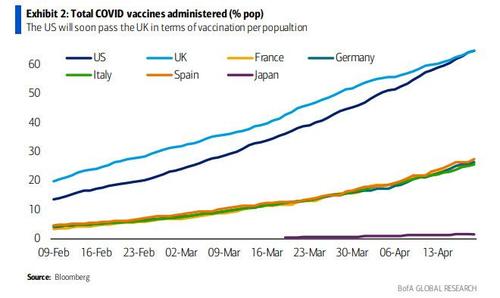 That's the good news.
The bad news, as delivered by Deutsche credit strategist Jim Reid, is that even with global vaccinations massively outpacing total declared covid cases since the pandemic started...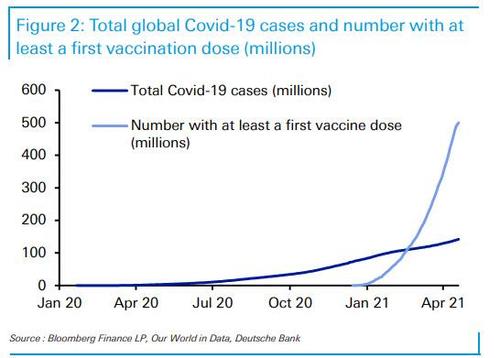 ... we have just hit a record high for rolling weekly case numbers.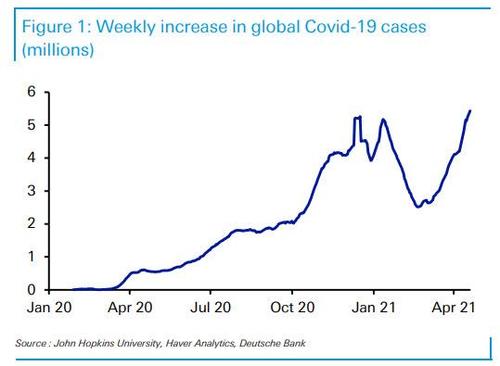 As Reid further notes, while case counts understated actual cases, especially early in the pandemic, the fact we're now at record levels probably reflects reality. In the week through yesterday, the numbers had risen by 5.43MM in a single week. This is more than double the recent low in mid-February of 2.51MM.
But while covid is now more or less under control in western nations, the same can not be said for EM countries, and India has emerged as the biggest contributor to the current covid wave, with cases up 1.63m in the past week, representing 30% of the global increase.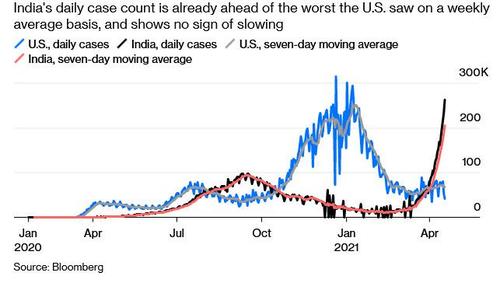 That said, the DB strategist cautions that "a number of major countries are also experiencing a rapid rise in cases, including Turkey, Argentina and Japan. Meanwhile, France and Germany's numbers remain at elevated levels, and some regions of the United States like Michigan have faced surges recently as well."
Reid's conclusion: "vaccinations are doing a tremendous job and are outpacing cases at a global level. However, this will continue to be very uneven and, in a few months, many countries will likely hit herd immunity whilst others will likely still be a long way off."
Or, said otherwise, if the powers that be wanted a "new" covid crisis they could easily get it as they shift the media focus on the newest hotpspots and unleash the fear factor... or alternative as one or more new covid mutants emerges in places like India, one which is immune to any existing vaccinations, and then miraculously spreads across the globe restarting the herd immunity country back from zero...