---
Panic In Philly As Chemical Spill Sends Residents Scrambling For Bottled Water
Update (2135 ET): Philadelphia officials have rescinded their recommendation that residents only drink bottled water. Saying testing has found no contamination at the intake site for the city water system, the officials assured the tap water should be considered safe...through at least 11:59 pm on Monday. 
In the wake of shoppers lining up all over the city to buy water, officials attempted to dissuade Philly residents from hoarding, encouraging them to use containers to stock up on two days of tap water just in case the assessment of the water's safety changes.  
"I want to reiterate there was never any contamination in Philadelphia Water Department's system," said Mike Carroll, deputy managing director for Philadelphia's Office of Transportation, at a 5pm briefing. "There was contamination in the Delaware River, but we shut off the intake to the River and we're operating off of water that was not contaminated."
* * *
Philadelphia officials warned area residents on Sunday to drink only bottled water "out of caution" following the spill of a latex product along a tributary of the Delaware River.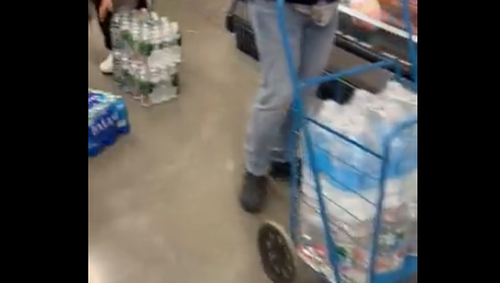 "City of Phila recommends using bottled drinking water from 2PM 3/26/2023 until further notice for all Phila Water Department customers," reads a text message from city officials which was sent to area residents and reported by CNN. "Contaminants have not been found in the system at this time but this is out of caution due to a spill in the Delaware River."
This spill will potentially affect water treated at the Baxter Drinking Water Treatment Plant. Residents can find out if they live in an impacted area here: https://t.co/gIpeKRUptT

— Philadelphia Water (@PhillyH2O) March 26, 2023
 Following the notice, long lines formed at ShopRite, Target and other area stores, with ShopRite limiting customers to three bottles each.
Line at Target to buy bottled water 10 minutes after the city of #Philadelphia sent out an alert regarding a spill in the Delaware River. pic.twitter.com/4EUpoj3ZBJ

— Ben Ames (@BenAmesWx) March 26, 2023
Our grocery store after the City of Philadelphia announced that the drinking water *may or may not be* contaminated for a day pic.twitter.com/pCVfU5qHlG

— Walking Philly (@WalkingPhilly) March 26, 2023
"As has been reported, on Friday night a chemical spill occurred in Bristol Township, Bucks County which released contaminants into the Delaware River," said Mike Carroll, the city's deputy managing director for transportation, infrastructure and sustainability. "The Philadelphia Water Department (PWD) became aware of this through the Delaware Valley Early Warning System (EWS) and has been evaluating the situation since that time to understand potential impacts to the public. Although early indications have not revealed contamination, we are still monitoring the situation and conducting testing."
Philadelphia residents are urged to use bottled water "out of an abundance of caution" until further notice as authorities investigate a spill of a latex product that occurred along a Delaware River tributary.
As of this time, "no contaminants have been found" in the water… pic.twitter.com/YZopVKW6HH

— Shlomo Schorr (@OneJerseySchorr) March 26, 2023
According to the Philadelphia Water Department's website, it provides water to over "2 million people in Philadelphia, Montgomery, Delaware, and Bucks counties."
Trinseo is gonna be reimbursing us for all the bottled water we gotta buy now, right? pic.twitter.com/ry0iPkcp73

— Kim Kelly (@GrimKim) March 26, 2023
Loading...