---
Parents More Likely To Question Routine Childhood Vaccinations Post-COVID: Research Report
Authored by Marnie Cathcart via The Epoch Times (emphasis ours),
Canadian parents have become more likely to question routine childhood vaccinations since the pandemic, according to research.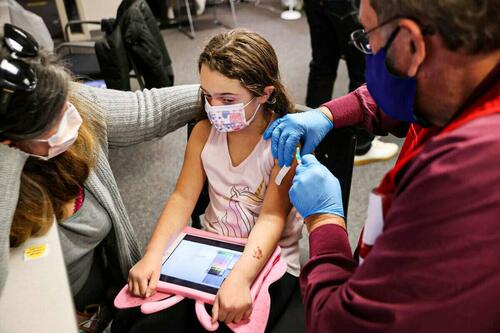 Immunization rates "have declined since COVID-19" according to research commissioned by the federal government and conducted by Ekos Research Associates. The resulting report, "Childhood Vaccination Marketing Campaign Survey 2022," was delivered to Health Canada on Feb. 15, 2023, and was first obtained by Blacklock's Reporter.
"This public opinion research will inform the development of the new multi-year Childhood Vaccination marketing strategy to promote the safety, effectiveness, and importance of vaccines," the report said.
Only 39 percent of respondents said they accept all recommended childhood vaccines and have no doubts or concerns about vaccinating their child—a drop from 48 percent in 2017.
One in three parents (33 percent) indicated they accept government-recommended vaccines, but have "minor doubts and concerns."
Another five percent of parents said they are going along with childhood vaccines but "have many doubts and concerns."
Nearly 20 percent of parents said they have refused or delayed getting vaccines for their children, and another 3 percent have refused all vaccines. These two numbers combined have doubled from 12 percent in 2017 to 22 percent in 2022, said the research.
Those who had doubts and concerns about vaccinations cited side effects as the most prevalent concern (42 percent), followed by allergic reactions (29 percent), lack of testing (29 percent), and distrust of the pharmaceutical industry (28 percent).
Twenty percent of those surveyed indicated their concern about vaccines stemmed from a lack of trust in "the government" in general, while others had concerns about too many vaccines within a short period of time (17 percent), or objected to a general requirement for too many vaccines (12 percent).
The research results were derived from an online survey conducted in October 2022, with 1,228 Canadians, including 1,035 parents with children aged newborn to six years of age, and 193 women currently pregnant or planning a pregnancy within 12 months. The results were compared with research from 2017.
Uptake
The survey also asked parents if their children had received any COVID-19 vaccines.
Forty-two percent reported that their child had received two doses of the COVID-19 vaccines while 11 percent of parents said their child had three doses.
"On average, and depending on the child's age, approximately one in four indicated they would refuse COVID-19 vaccinations for their children (29% for children under six months; 30% for children six months to under five years; 26% for children five years and older)," said the report.
Post-COVID, when compared to pre-epidemic data from 2017,  72 percent of parents said they "accept all recommended vaccines" compared to 82 percent before COVID.
Forty-two percent of parents now said they fear that vaccines "cause side effects" compared to 24 percent before COVID. Pre-pandemic, 14 percent of parents were concerned about vaccines, which has now risen to 31 percent who said they are concerned.
While 10 percent of parents refused or delayed getting their child certain vaccines before the pandemic, that percentage has risen to 19 percent following COVID.
Data from Canada's Public Health Agency data indicates just 40 percent of children under 12 are considered fully vaccinated against COVID. The government said the low uptake stemmed from parents feeling "not enough research on the vaccine has been done in children."
Loading...