---
Party At Ground Zero: Wuhan Water Park Hosts Massive Concert With No Social Distancing Or Masks
What was once ground zero for a pandemic still ravaging its way across the globe appears to simply be "over it". 
Thousands of concert-goers piled into the Wuhan Maya Beach Water Park last weekend to attend a massive electronic music concert - without social distancing measures and without masks, according to photos posted on CNN.com.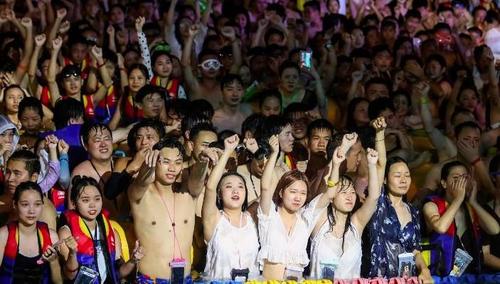 The scene would be considered "unthinkable" in many other parts of the world, yet in Wuhan - who had arguably the strictest lockdowns of any geographic location - life is starting to look like it did pre-pandemic. 
The city hasn't reported any new cases since mid-May, after lifting a 76 day draconian lockdown in early April.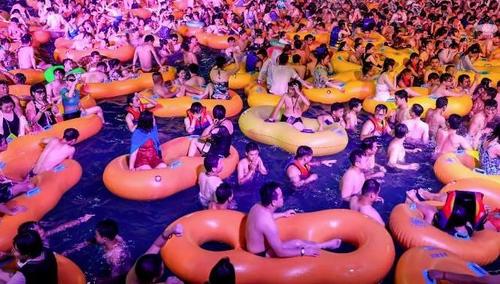 The Wuhan Maya Beach Water Park reopened late in June and crowds finally began to come out in August.
Despite the turnout for this concert, the water park says it is only doing half the business it did the year prior. The park currently gets about 15,000 daily visitors during weekends and is trying to entice new business by offering half price discounts. 
Wuhan was the original epicenter of the coronavirus and accounts for 60% of all cases in the country, according to China.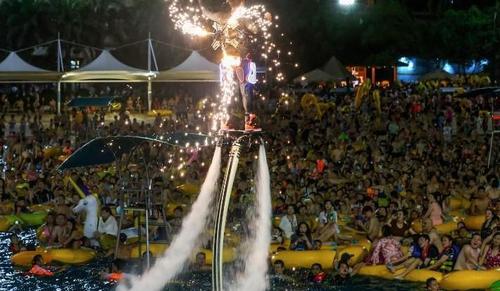 Whether or not China has been honest with its infection numbers remains to be seen; but maybe the world should take a cue from ground zero relaxing its lockdown measures in what is also likely a nod to the growing body of evidence that the virus may not be as devastating as the world once thought. 
VIDEO: 🇨🇳Crowds packed out a water park over the weekend in the central Chinese city of #Wuhan, where the #coronavirus first emerged late last year, keen to party as the city edges back to normal life pic.twitter.com/sIrvzSFdin

— AFP news agency (@AFP) August 18, 2020
At the same time, it is also worth noting that China has supposedly issued and granted the "first invention patent to a domestically developed COVID-19 vaccine candidate," according to state-owned mouthpiece The Global Times. 
The vaccine is "a recombinant adenovirus vaccine named Ad5-nCoV co-developed by Chinese biopharmaceutical firm CanSino Biologics Inc, one of the vaccine candidate's co-developers, with the other being a team led by Chinese military infectious disease expert Chen Wei."
The Global Times hilariously claimed that the launch of the vaccine "would enhance the international market's trust in Chinese-developed COVID-19 vaccines amid the US' groundless accusations of Chinese hackers trying to steal novel coronavirus data on treatments and vaccine development from them."
Fox's Laura Ingraham had a sharper take on the situation:
How convenient. You lie about this virus, it kills an extraordinary number worldwide, then turn it all into billions in profit on a vaccine. "Patent affirms efficacy of vaccine developed by China" - Global Times https://t.co/eI8gurjNDi

— Laura Ingraham (@IngrahamAngle) August 18, 2020