---
Regeneron Shares Jump After Trump Calls COVID Treatment "A Cure"
In a brief statement on Twitter, President Trump praised the healthcare workers that helped him recover (and those across the nation - "we have the greatest people in the world") claiming that getting COVID-19 "was a blessing from God," as it enabled him to better understand the virus and its various potential treatments.
Specifically, Trump said he thought Regeneron was "the key" to his recovery.
"I felt good immediately," he said in the clip,

"I view these - they called them theraputic, but to me it wasn't theraputic, it just made me better. I call that a cure."
The president then declared that he wants everyone who needs it in the nation to get the same treatment he did and will "make it free for everyone."
Trump ended by making it very clear who is to blame for this awful virus: "this is China's fault, just remember that... and China's gonna pay a big price for what they have done to the world."
Watch the full message below:
A MESSAGE FROM THE PRESIDENT! pic.twitter.com/uhLIcknAjT

— Donald J. Trump (@realDonaldTrump) October 7, 2020
Regeneropn shares jumped over 3% after hours on the comments...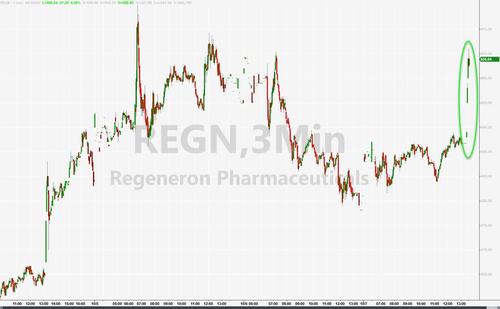 We are sure President Trump's use of the word "cure" will trigger the outrage mob... and we wonder just how long before Twitter takes that tweet down!!