---
Researchers Discover Concerning Cancer Trend In Young Adults
Authored by Mary Gillis via The Epoch Times (emphasis ours),
The number of people under 50 getting cancer is on the rise, leaving scientists puzzled about the concerning uptick, according to a new study published in JAMA Network Open.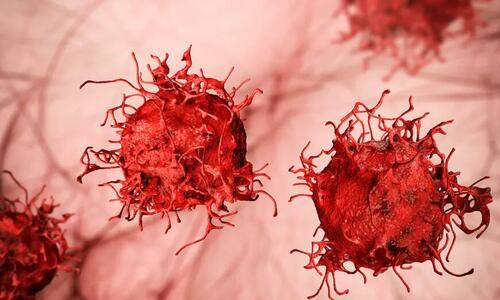 After analyzing a diverse group of 562,142 people between 2010 and 2019, data showed the rise in overall early-onset cancer was most pronounced in young people between the ages of 30 and 39. Other groups affected were women and several ethnic groups, with Asian or Pacific Islander people being affected the most, followed by Hispanic and American Indian or Alaska Native people.
Gastrointestinal cancers grew the fastest, averaging a 2.6 percent increase in incidence rate per study year. When gastrointestinal cancers were teased out and analyzed by type, data showed appendix, bile duct, and pancreatic cancer increased by 15 percent, 8.1 percent, and 2.5 percent, respectively. Incidence refers to the measure of the number of new cases that develop in a population over a specific period.
Additional analyses revealed breast cancer made up the highest number of early-onset disease cases, followed by thyroid and colon cancer.
In contrast, rates decreased among black and white people during the same 10-year period. Rates also declined in older adults over 50—a group typically hit hardest by cancer.
"This nationwide study provides updated evidence that the incidence of early-onset cancers in the U.S. is increasing and highlights several disparities," the authors wrote in the paper.
The National Institutes of Health (NIH) estimates 2 million people will be diagnosed with cancer in 2023. Breast cancer is the No. 1 cancer affecting women. An estimated over 300,000 women will be diagnosed this year. Prostate cancer is the leading cancer diagnosis among men. Similarly, the NIH estimates nearly 300,000 cases. Cancer costs the United States more than $156 billion annually, and the total cost of cancer globally is on pace to reach $25.2 trillion by 2050.
Risk Factors
Up to 50 percent of all cancers are preventable. Several lifestyle risk factors for preventable cancers include the following:
Smoking.
Being overweight or obese.
Drinking too much alcohol.
Eating a poor diet.
Lacking physical activity.
Being stressed.
Exposures to radiation.
Infections.
"There is a need to inform health care professionals about the increasing incidence of early-onset cancer, and investigations for possible tumors need to be considered when clinically appropriate, even in patients younger than 50 years," the authors continued in the paper. "These data will be useful for public health specialists and health care policy makers and serve as a call to action for further research into the various environmental factors that may be associated with this concerning pattern."
The authors pointed out the possibility that cancer statistics are underreported, and study results may not apply to other areas outside the United States. Therefore, they should be interpreted with caution.
Loading...