---
Thanksgiving Weekend Marks Busiest Air Travel Days Since March
Sunday on Thanksgiving weekend was the busiest air travel day since March, marking what finally appears to be the first step back toward normalcy for the travel industry.
On Sunday, 1,176,091 people were screened at U.S. airports, according to the Transportation Security Administration. It is yet another record for travelers at the airport since the pandemic hit, indicating that most people appear to be ready to get back to normal life. 
This number beat out the day before Thanksgiving, where 1,070,967 people crossed TSA checkpoints. It marked the fourth time in the past week and a half where air travel numbers were over 1 million, according to ABC. 
The numbers still paled in comparison to 2019, but it is a step in the right direction for the industry - especially after the CDC had "recommended" that people reconsider their travel plans for the holiday. The numbers give some idea of how seriously the American public is taking the CDC at this point. 
Last year, pre-pandemic, there were 2,882,915 people going through security checkpoints on the Sunday after Thanksgiving. 
Recall, just days ago we also noted that Alitalia and Delta were offering "quarantine-free flights" in an attempt to try and reclaim some normalcy for the industry. They are the first flights between the U.S. and Europe not subject to quarantines in months.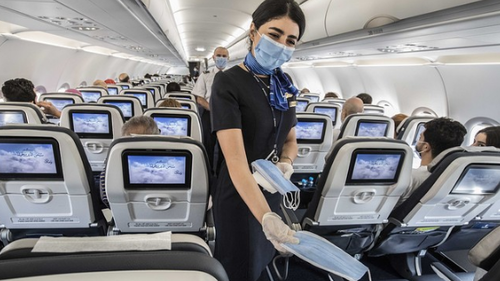 Passengers on "select flights" from Atlanta to Rome will no longer have to self-isolate if they test negative for Covid 3 times on their flight. They are going to be asked to take a PCR test 72 hours before departure and then rapid tests at both the Atlanta and Italian airports.
This comes as part of a broader push by airlines to allow this type of testing to replace quarantine restrictions. 
Airlines and airports are also pushing for a softening of rules about takeoff and landing slots into next year. The rules, during normal operations, dictate carriers could lose slots if they aren't used 80% of the time. 
A proposed continued softening of restrictions through March 2021 would give airlines more flexibility with scheduling during a ramp back up in air travel.