---
Unvaccinated Kidney And Heart Patients Denied Transplants Get Day In Court With Michigan Hospital
Authored by Steven Kovac via The Epoch Times (emphasis ours),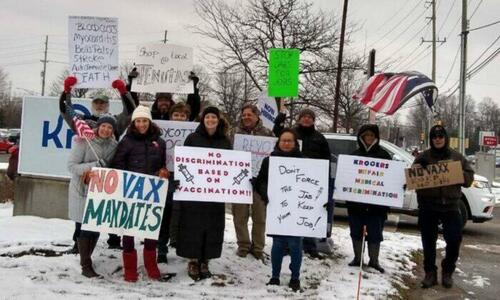 A Michigan judge will soon decide if 73-year-old Ross Barranco can be denied a donated kidney because he won't take the COVID-19 vaccine.
"I just don't see the logic of it," stated Barranco in an interview with The Epoch Times. "Everybody knows an organ transplant procedure requires the nearly complete suppression of a recipient's immune system so the body won't reject it.
"Then why do I need to be immunized against COVID before the operation?"
When asked if he thought the vaccine would make any difference in his prognosis, he replied, "Yeah, the vax can kill me.
"To qualify for a transplant both of my kidneys have to be functioning at 20 percent or less. What if the vax destroys the remaining function before the operation? If it does, I'm done.
"The jab does absolutely nothing beneficial for a transplant patient," he said.
Given the current COVID-19 testing capability, it remains unclear why transplant patients cannot be tested for COVID-19 before the operation. A negative result could then green-light the procedure.
It is also unclear why, given the data showing numerous fully vaccinated people have come down with COVID-19 multiple times, the shot is still being regarded by some hospitals as an immunization.
Barranco's legal team made reference to a 2021 survey of 200 transplant centers across the country.
Of the 140 that responded to the survey, only half required transplant candidates to take a COVID-19 vaccine regimen.
"The vax can hardly be deemed medically necessary if half of the responding transplant centers are not requiring it," said Deborah Catalono of the Liberty Counsel, a researcher tracking hospital transplant policies and a lawyer familiar with many similar cases to that of Barranco and Shier.
The Liberty Counsel is a non-profit, litigation, education, and policy organization dedicated to upholding religious liberty and Christian values.
Medical questions and safety concerns aside, Barranco, a Roman Catholic, actually refused the vaccine on religious grounds.
He said his faith and conscience do not permit him to receive a shot that he is convinced was developed using body parts obtained from aborted babies and has fetal tissue in its ingredients.
Vax-up or Else
On Feb. 1, 2022, Barranco received what he perceived as an "ultimatum" from the University of Michigan Health System in Ann Arbor.
"There's an active list and a holding list for patients awaiting a transplant. At the time, I was on the holding list.
"That's when the hospital gave me three months to get three COVID shots, or they would throw me off the list entirely," said Barranco.
"I refused, and they threw me off. That's when I contacted an attorney."
Mary Clare Fischer, a public relations representative with the University of Michigan Health Transplant Center in Ann Arbor, outlined the hospital's position in an email to The Epoch Times.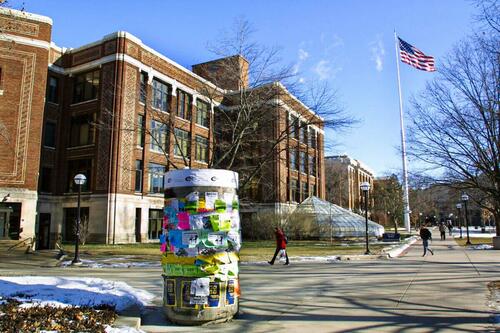 "[Our] policy aims to protect transplant recipients from complications of COVID-19 infection, which has had devastating effects in our patient population.
"Immunocompromised solid organ transplant recipients have among the highest risk of severe illness or death from COVID-19 infection.
"At present, all of the nearly 1,000 adult patients active on our waiting list are vaccinated against COVID-19 infection.
"As is true of all of our Transplant Center policies and processes, this policy is a critical step in partnering with our patients to maximize the safety of our transplant recipients and provide them the best opportunity to regain their health and quality of life through the gift of transplantation," she said.
Fischer stated that the transplant center is one of a "significant number" of American hospitals that require the COVID-19 vaccination for adult heart, lung, liver, pancreas, and kidney transplant patients on their active lists.
The University of Michigan Hospital policy exempts critically ill patients who may not have time to complete the three-phase vaccine protocol, as well as patients with prior vaccine allergies.
Why Not Katie?
Katie Shier, Barranco's co-plaintiff in the case, is an unvaccinated 35-year-old mother of five who is a candidate for a heart transplant.
She is being kept alive by a ventricular assist device that has developed an infection, according to the plaintiffs' attorney, David Peters of the Pacific Justice Institute.
The Pacific Justice Institute is a non-profit legal defense organization specializing in the defense of religious freedom, parental rights, and other civil liberties.
The Institute is representing Shier and Barannco free of charge.
Shier, a Roman Catholic, objects to taking the COVID-19 vaccination on religious grounds.
On June 29, 2021, Shier was granted placement on the transplant waiting list.
U of M Hospital's subsequently adopted mandatory vaccination policy now precludes her from undergoing the heart transplant necessary to save her life.
Peters told The Epoch Times that, due to the low functioning of Shier's heart, at any time she could slip into "imminent or immediate danger and be rushed to the hospital" and maybe qualify for a transplant under the hospital's vaccination exemption for the critically ill.
"Sadly, it looks like that is something the court will have to order. We have emergency motions ready to go," said Peters.
Shier told The Epoch Times in a phone interview on Jan. 27, 2023, "I've been so busy, I haven't had much time to think about my situation.
"It is in God's hands. All I want to do is do God's will. After much prayer, the Lord led me not to give in, but to file the lawsuit.
"I'm fighting for three things.
"The doctors said I have an infection that can only be cured by a heart transplant.
"I believe it's wrong to require someone to take a dangerous vaccine, so I want to see an end to the mandates.
"And, most importantly, I do not want to take any vaccine or medication that has been tainted by abortion.
"Two of the major pharmaceutical companies making the vaccine developed it from the HEK-293 fetal cell line.
"Some vaccines are known to have fetal tissue in them, and some tests are being conducted on still-living fetuses without anesthesia," she alleged.
"I'm fighting for a person's right to refuse any vaccine that is associated with abortion," she added.
Peters told The Epoch Times that some people misconstrue the case as a medical malpractice suit against U of M Hospital.
"It is not about malpractice. It is about due process rights.
"Both Ross and Katie regard UMH as one of the best hospitals in the world.
"For that reason, Katie won't go elsewhere. She wants her new heart to come from UMH."
Barranco told The Epoch Times that he checked out another transplant center, but he prefers UMH.
A 'Rollercoaster' Ordeal
Barranco, a petroleum geological engineer for 46 six years, has battled high blood pressure and diabetes for decades—the things he says caused his kidney dysfunction.
In September 2020, he was told to start investigating the various types of dialysis.
"I began talking to U of M in 2021.
"Eventually, they called me in for an in-person exam. They found both of my kidneys were not working right.
"The doctors do not want to remove a partially functioning kidney while it is still contributing, so the plan was to add a third kidney.
"Soon, I was approved to be on their holding list," Barranco said.
His hopes for relief plummeted when a blood test revealed he had contracted an autoimmune disease that attacked his lungs and kidneys.
His transplant was sidetracked, and Barranco was placed on chemotherapy.
The chemo worked, and he recovered.
"That happened before I could begin dialysis.
"My plan always has been to skip dialysis if I could, because when it fails, as it eventually always does, that's the end of the line," he said.
After his recovery, Barranco's hopes soared again when U of M Hospital officially put him on its active list.
Concern for Others
When his kidneys amazingly began to improve in response to some lifestyle changes, Barranco requested that the hospital drop him back down to the holding list, "so others more in immediate need of a transplant could take my place on the active list," he said.
He also insisted, against the hospital's recommendation, that he wait for a cadaver donor rather than a living donor.
"I figured a living donor would be reduced to one good kidney. He or she could possibly die on the operating table or die from post-op complications. It is a risky operation.
"Or, what if later in life the living donor developed high blood pressure or diabetes with only one kidney?
"There I'd be, doing just fine, but the person that helped me would be suffering. What about him or her?" said Barranco.
Barranco told The Epoch Times his goal is to have no more COVID-19 vaccine mandates, "so that future patients won't have to go through what I have gone through."
Political or Medical?
President Joe Biden issued an order through the Occupational Health and Safety Administration in November 2021 that would eventually result in the denial of organ transplants to unvaccinated patients like Barranco and Shier.
The federal order mandating COVID-19 vaccinations for health care workers and those professionally associated with them was narrowly permitted to stand by the United States Supreme Court in late January 2022.
Just prior to that decision, on Jan. 13, 2022, the High Court struck down the Biden-ordered Occupational Safety and Health Administration Emergency Temporary Standard mandating that private employers with more than 100 employees require that their workers receive the COVID-19 vaccines.
It was that February that Barranco received notice from U of M Hospital that he had three months to get all three shots or be completely disqualified for a kidney transplant.
"We jumped through all their hoops, and the hospital changed the rules in the middle of the game. They threw us off the active list.
"For people like Katie Shier and me, the message was clear—get vaccinated or die," said Barranco.
Read more here...
Loading...