---
Watch: Massive Brawl Breaks Out At Miami International Airport
Authored by Jack Phillips via The Epoch Times,
A massive brawl broke out at Miami International Airport in Florida on Sunday afternoon, leading to at least one arrest, according to officials.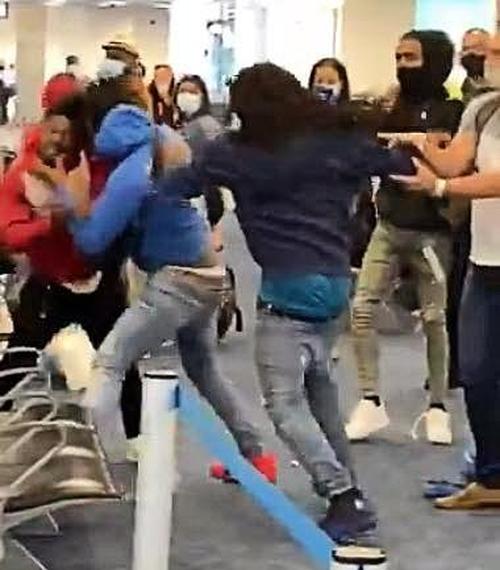 Footage of the incident was posted by Billy Corben, a documentary film director, on Twitter. It showed small fights in D-14 of the airport near the Urban Decay retailer.
Specifically, it showed four people grappling with one another and another three throwing punches at kicks. Officials told the Miami Herald that police immediately responded to the scene.
"The victim did not want to press any charges. However, one person was arrested for disorderly conduct," said Miami-Dade Police.

"The victim was treated by Miami-Dade Fire Rescue for minor injuries and released on the scene."
Today at Miami International Airport outside Urban Decay at Gate D14 #BecauseMiami pic.twitter.com/wRnXh8f7dS

— Billy Corben (@BillyCorben) April 25, 2021
A witness told Local10 News that the fight allegedly started over seats that were available on the plane, adding that about seven people were involved.
In the video, witnesses can be heard telling the other brawl participants to stop. Another person can be seen ushering a group of individuals attacking another person away from the scene, while a security officer appeared to break up the other brawl
@iflymia and the police never arrived. Fight at the gate at Miami International Airport pic.twitter.com/aQ2bpyf5BP

— Maria (@Solecito2807) April 25, 2021
Jameel Tremain Decquir was identified by police as the lone person who was arrested. He faces disorderly conduct charges.
Went down at gate #D12 / #D14 at the counters for #AA438 bound for #ChicagoOHare.. thanks to the brave man on his way to D1 and tiny woman on her woman on her way to Italy via JFK, jumping in, trying to break up these flights #inspired .. #MIA #MiamiAirport #miami @miamiairports pic.twitter.com/PrbFBsWoyh

— Supy (@supytauthong) April 25, 2021
Officials told Fox News that the one victim was treated by Miami-Dade Fire Rescue for minor injuries and was released on the scene.
The Epoch Times has contacted Miami-Dade Police for comment.