---
Another Aerial Near Miss Over Syria Involving Russian Jet & US Drone: Sixth This Month
"We've seen the reports, the early reports, of a second Russian fighter aircraft this week flying dangerously close to our drone" on a mission to counter ISIS in Syria, White House press secretary Karine Jean-Pierre announced Wednesday.
Few details were provided, but it comes the day after the Pentagon revealed an MQ-9 Reaper drone was damaged in the prior incident after a Russian fighter jet dropped flares on it during a dangerous intercept.
According to The Associated Press, "A Russian fighter jet fired flares and struck another U.S. drone over Syrian airspace on Wednesday, the White House said, in a continued string of harassing maneuvers that have ratcheted up tensions between the global powers."
It marks the sixth reported incident only this month, and reveals a concerted effort of Russian aircraft to intimidate US warplanes.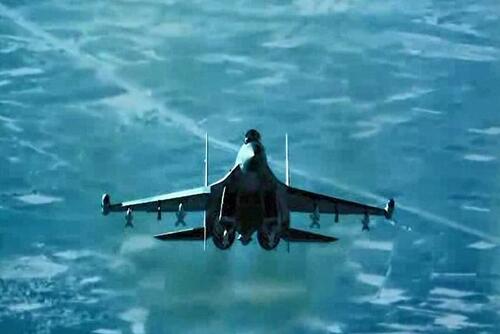 US officials say a Russian and Iranian campaign is in full swing towards pressuring the US to retreat from the region and halt its military operations. Russian intercepts of US drones are rapidly increasing, with the US each time condemning "unsafe" and "irresponsible", threatening maneuvers.
Concerning the prior intercept which had been revealed Tuesday—
"One of the Russian flares struck the U.S. MQ-9, severely damaging its propeller," Lt. Gen. Alexus Grynkewich, the top U.S. Air Force commander in the region, said. "Fortunately, the MQ-9 crew was able to maintain flight and safely recover the aircraft to its home base."
These 'harassment' episodes over Syria appear very similar to the March 14, 2023 event closer to Russia which resulted in an American MQ-9 Reaper drone crashing into the Black Sea. 
A Russian Su-27 fighter jet had intercepted and damaged the drone, at one point dumping fuel on it in mid-air flight. The drone then had to be crash landed in the waters below, and was lost.
In Syria, things could seriously escalate fast between the US and Russia, which had during the height of the Syria war narrowly avoided major exchanges of fire, should an American drone or other aircraft be destroyed due to these increasingly brazen Russian intercepts.
Meanwhile...
🇺🇸🇸🇾 Amid tensions with Russia and Iran in Syria and the region, US Central Command released documentation of the arrival of new F-35 fighter jets to boost activity in the Middle East pic.twitter.com/dtdEWyggVA

— Sinnaig (@Sinnaig_) July 26, 2023
Loading...