---
F-35 Stealth Jet Crash Prompts Engine Maker To Halt Deliveries
American aerospace manufacturer Pratt & Whitney suspended deliveries of new engines used in the Lockheed Martin F-35 Lightning II while military officials investigated what went wrong when a stealth jet crashed on a Texas runway last month. 
Defense News received an email from the F-35 Joint Program Office explaining all F135 afterburning turbofan engine deliveries were halted on Dec. 27 by Pratt & Whitney to Lockheed.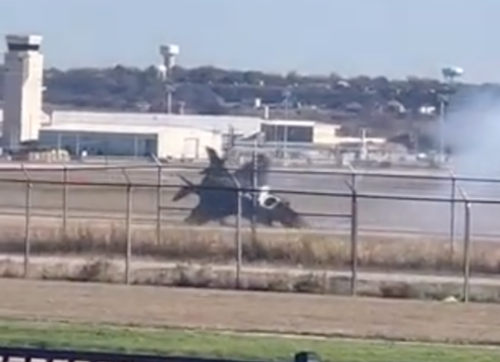 JPO, the Defense Contract Management Agency, pointed to the Dec. 15 mishap involving an F-35B that crashed at the Naval Air Station Joint Reserve Base Fort Worth. 
"The F-35 Joint Program Office and Pratt & Whitney have agreed to delay scheduled delivery and acceptance of F135 engines until further information from the investigation is known and safety of flight can be ensured," the JPO said. 
A Pratt & Whitney executive told Defense News that F135 deliveries were not formally suspended. And the aerospace manufacturer didn't release a statement to clarify its statement. 
"There has been no formal suspension of F135 deliveries and we are working closely with the Joint Program Office on all aspects of the ongoing investigation and timing of deliveries.

 "The F135 has more than 600,000 flight hours. Safety for the warfighter is and will continue to be our number one priority," said Jen Latka, vice president of F135 programs at Pratt & Whitney.
Here's a video of the $100 million stealth fighter jet experiencing an embarrassing mishap.
#Breaking New much clearer video, courtesy Kitt Wilder, of STOL variant F35 B model landing JRB Fort Worth, and pilot ejects. Condition of pilot still unknown. @CBSDFW pic.twitter.com/BeERIeyhtO

— Doug Dunbar (@cbs11doug) December 15, 2022
"This had the effect of also halting deliveries for the last two weeks of the year, which meant Lockheed delivered 141 F-35s in 2022, fewer than the contractually required 148," Defense News noted. 
Loading...