---
Israel Buys 25 More Lockheed F-35 Stealth Jets In $3 Billion Deal
Israel's Ministry of Defense announced the purchase of a third squadron of F-35 stealth fighter jets in a deal worth $3 billion, Reuters reported on Sunday. Israel will now boast 75 of the Lockheed Martin manufactured war planes in its arsenal.
The defense ministry added further that the deal will be financed through the defense aid package Israel receives from the US.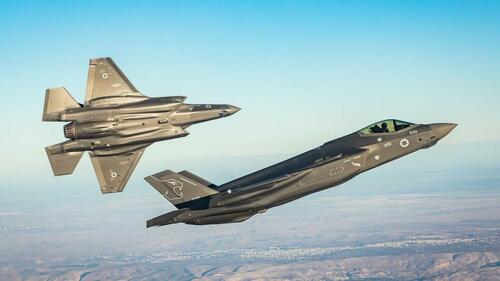 Israel was the first foreign recipient of the F-35, also known in the US as the Joint Strike Fighter and in Israel by its Hebrew name "Adir." Israel first used the F-35 in combat when it bombed Syria in 2018.
"The F-35 squadron has become an operational squadron," Maj. Gen. Amikam Norkin said at the time. "We are flying the F-35 all over the Middle East – we might be the first to attack with F-35 in the Middle East," he said.
Norkin presented images of the F-35 violating Lebanese airspace by flying over Beirut. The development and production costs of the F-35, paid primarily by the US military, have been estimated at near $1.5 trillion. It is considered the most expensive military weapons system in history.
The F-35 is considered crucial in what Israeli planners call the "war between wars" against Iranian supported units of the Syrian military, as well as in the event that Israel would choose to eventually strike Iran's nuclear program.
Just before the F-35 deal was announced Sunday, Israeli warplanes again bombed Syrian sites. Syrian state media SANA reported that the "Israeli enemy carried out an air aggression from the direction northeast of Beirut, targeting some points in the vicinity of the city of Homs."
The bombing resulted in material damages, but no casualties. With this latest attack, Israel has bombed Syria 19 times since the start of 2023 and 13 times since the earthquake struck the country in February.
Israel's air force has regularly bombed Syria since the start of the US-led covert war on Damascus starting in 2011. At the time, Israeli officials insisted they were taking no part in the war, which was unleashed by Washington using extremist Salafist militias who attacked Syrian security forces and police under the cover of anti-government protests.
However, Israeli officials acknowledged in 2013 they had hoped to depose Syrian President Bashar al-Assad since the start of the war, while reports later emerged of the Israeli air force bombing Syrian army positions to assist the Al-Qaeda affiliated Nusra Front during battles between the two sides.
Loading...