---
First Photos Of Sinking Russian Moskva Warship Emerge Online
Update(2115ET): The first purported image of the sunken Moskva missile cruiser has emerged online late Sunday and began circulating widely. The photograph taken by an unknown source, likely in the Russian Navy aboard one of the emergency assisting ships, purports to be from the morning after it was distressed - as it began to sink reportedly off the coast of Odessa. 
Newest photo from 15 April 2022. Damaged Moskva. pic.twitter.com/BSgnS2mJXg

— Мike Right (@BormanIke) April 17, 2022
The Ukrainians said they scored a direct hit on the Russian Navy's Black Sea flagship vessel with two Neptune anti-ship missiles, while the Kremlin version is that an overnight fire broke out, igniting munitions and that it sank in the process of being towed after over 500 crew were safely evacuated. 
#war Photo of the damaged cruiser Moskva in the Black Sea in 15 April 2022.⚠️
First impressions of this shocking photo. Life-saving equipment (rescue rafts) on board are missing, which means they were dropped into the water during the rescue operation./1 pic.twitter.com/WREeqmSvtA

— Capt(N) (@Capt_Navy) April 17, 2022
The inflatable liferaft containers abeam the radar unit (white canisters) are missing, presumably used in evacuation of the ship. Fire nozzles running unattended. Comparison image from 2012. pic.twitter.com/4zQgQDa9xP

— Andy Hall (@AndyHal15523851) April 17, 2022
The photo remains unconfirmed, but so far among a number of military and maritime analysts a consensus is emerging that it appears genuine. 
Below is another photo which is also now being circulated...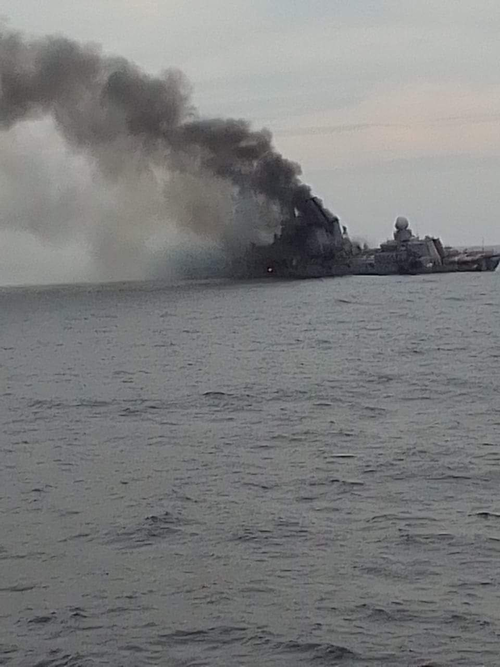 * * *
Update(1618ET): At least a couple thousand Ukrainian troops are still said to be surrounded and holed up in the giant Azovstal steelworks in the decimated city of Mariupol. 
UK media is also reporting that a second British soldier has been captured in Mariupol by Russian forces. This after 28-year old Aiden Aslin from Nottinghamshire had reportedly surrendered last week as Russian forces advanced. And now The Guardian reports Sunday that a former UK soldier was just captured, and is being paraded before Russian media cameras: 
Shaun Pinner said he had been fighting alongside Ukrainian marines when Vladimir Putin's forces invaded nearly eight weeks ago.

The 48-year-old former British soldier appeared tired and bruised in a short propaganda video aired by Russian media on Saturday night.

He says: "Hi, I'm Shaun Pinner. I am a citizen of the UK. I was captured in Mariupol. I am part of the 36 Brigade First Battalion Ukrainian Marines."

"I was fighting in Mariupol for five to six weeks and now I'm in Donetsk People's Republic."
Breaking: former British soldier Shaun Pinner who previously served in Royal Anglian Regiment has been captured by Russian forces in Mariupol. pic.twitter.com/xPkyS2K7d8

— Global Thinker (@talkrealopinion) April 16, 2022
The details of Pinner's capture remain unclear, but he had already been living in Ukraine for four years with his wife in Donbas. "The former Royal Anglian Regiment soldier said in January that he was based in trenches 10 miles outside Mariupol," The Guardian noted. 
UK's foreign office has said it is seeking to get in contact with Pinner via his family members to arrange his release from Russian custody, but say their options are extremely limited due to wartime conditions. His being shown on Russian state media has stirred outraged among UK officials.  
British fighter Shaun Pinner has been captured by Russian troops and paraded on state TV https://t.co/AmsJlhXIeQ

— LBC (@LBC) April 16, 2022
Earlier a Ukrainian official said that Mariupol was totally destroyed, describing that the once proud port city had been "wiped off the face of the earth" after weeks of relentless shelling and bombing. 
* * *
Pavlo Kyrylenko, Ukraine's governor over Mariupol, has said Friday that the city of Mariupol has been "wiped off the face of the earth" after weeks of relentless shelling and missile strikes from Russian forces. 
"The enemy may seize the land Mariupol used to stand on, but the city of Mariupol has been wiped off the face of the earth by the Russian Federation, by those who will never be able to restore it," he said. "To restore Mariupol, that is something only Ukraine can do."
As to the fate of the city, he described that at this point it is "no more" and that in reality the Russians have nothing left to seize. Meanwhile, Reuters is reporting that "Russia gave holdout Ukrainian soldiers an ultimatum to lay down arms on Sunday in the pulverised southeastern port of Mariupol, which Moscow said its forces almost completely controlled in what would be its biggest capture of the nearly two-month war."
All of this comes just after Ukrainian defense ministry spokesman Oleksandr Motuzyanyk said that for the first time Russia used long-range bombers to attack Ukrainian positions in the port city. 
"On April 14, two Russian strategic heavy bombers Tu-95/-160 have launched cruise missiles hitting the territory of Ukraine from Krasnodar Krai of Russian Federation airspace," he said. "Also for the first time from the start of the armed aggression bombs were dropped by a long-range bombers Tu-22M3. This airstrike took place, hitting Mariupol."
Earlier last week Mariupol mayor's estimated that over 10,000 civilians had died over the course of the war which had seen the city on the Sea of Azov attacked and besieged from nearly the start of the invasion.
#MARIUPOL

Footage shows airstrikes from Tu-22M3 long range strategic bomber targeting the Azovstal factory in which the last remains of Azov are holding themselves up. pic.twitter.com/GC7zTs8cTC

— UkraineMaps (@MapsUkraine) April 15, 2022
He had described that dead bodies "carpeted the streets" - though it was impossible for outside observers to verify the high death estimate given.
The AP had reported, "The mayor of the Ukrainian port city of Mariupol said Monday that more than 10,000 civilians have died in the Russian siege of his city, and that the death toll could surpass 20,000..."
On Sunday Bloomberg reports that Russia could be contemplating a naval landing of forces to overwhelming the final holdout Ukrainian troops in and around the city:
Ukraine warned of a possible Russian naval landing operation at Mariupol in addition to new air strikes. Russia called on remaining forces in the besieged city to surrender. Many are thought to be within the massive Azovstal steelworks; Moscow said "foreign mercenaries" are among them, citing intercepted conversations.
#RUSSIA

Footage from earlier today shows Tu-22M3 long range strategic bomber refueling in-air above Vyazma, Russia. pic.twitter.com/Hdm4AZV93Y

— UkraineMaps (@MapsUkraine) April 15, 2022
Recently United Nations officials warned that the true civilian death toll in the country may never be known, that it's likely significantly higher than current official estimates.
Loading...