---
NYT Claims Russian Troop Deaths Nearing 200K, Far Surpassing All Prior Estimates
By late last year, US officials as well as most reports emerging in international media estimated that in total 200,000 Russian and Ukrainian troops had been killed since the start of the Ukraine invasion. In November and December, Gen. Mark Milley, chairman of the Joint Chiefs of Staff had offered up to that point the highest estimate thus far of 200,000 from both sides, also saying 40,000 civilians had been killed. There was reason even at that time to doubt this highest-end estimate, especially when compared to reports compiled by other international monitors.
But The New York Times has issued a report this week citing Western officials who now say that close to 200,000 troops have been killed on the Russian side alone.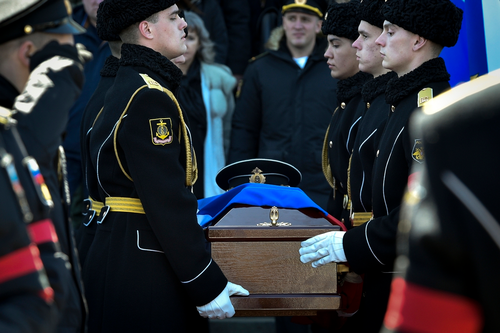 This far surpasses even recent estimates by the Ukrainian government. In December, Kiev claimed that 90,000 Russian troops had died compared to its own losses of 13,000 - according to Ukraine's General Staff.
But the fresh Thursday NYT report asserts the following: 
The number of Russian troops killed and wounded in Ukraine is approaching 200,000, a stark symbol of just how badly President Vladimir V. Putin's invasion has gone, according to American and other Western officials.
Though in the next line the Times admits casualties from the war "are notoriously difficult to estimate" - the report relies in part for its very high tally on information coming out of the Soledar and Bakhmut offensives, which have been costly for both sides.
"The figures for Ukraine and Russia are estimates based on satellite imagery, communication intercepts, social media and on-the-ground media reports, as well as official reporting from both governments," the newspaper added.
At the same time, the Ukrainian side is also believed to be losing hundreds daily as it tries to defend Bakhmut. By many accounts, the Russians have the upper-hand and have nearly encircled the strategic city in Donetsk region. 
New on MoA:
Ukraine SitRep:
U.S.-Russia Talks, Bakhmut Retreat, Laughable Casualty Numbershttps://t.co/I6zLGhuUF7
Pics:
Bakhmut front - Number of Ukrainian brigades
January 17 - 28 units / February 3 - 18 units pic.twitter.com/bZmccUMSIN

— Moon of Alabama (@MoonofA) February 3, 2023
"Ukraine's casualty figures are also difficult to ascertain, given Kyiv's reluctance to disclose its own wartime losses. But in Bakhmut, hundreds of Ukrainian troops have been wounded and killed daily at times as well, officials said," the Times notes.
And yet 200,000 on the Russian side alone, as NYT claims, is a huge jump from Milley's own estimate of 100,000 given late last year, making it highly dubious. Again, this also makes recent estimates from the Ukrainian government look conservative by comparison.
Loading...