---
Pentagon To Send Ukrainian Pilots For F-16 Training To Texas & Arizona
A US official has informed The New York Times on Thursday that the Pentagon plans to begin training Ukrainian pilots on F-16 fighter jets inside the US, as part of a program which could start as early as September.
Already a program has been kicked off in the Netherlands and Denmark, which Kiev has complained has been too slow to get off the ground, also given it only includes six Ukrainian pilots. At this rate, the expected date that Ukraine could be piloting the US-made jets in battle keeps getting pushed back - from estimates of next summer to now perhaps end of 2024.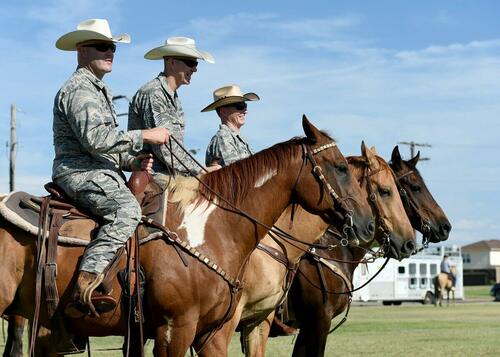 "[We're] open to training existing pilots if capacity is reached in Europe," a Pentagon spokesperson had initially previewed days ago, on Monday.
"That's the condition. So, if Denmark and the Netherlands are taking the lead on training, if they just do not have the capacity … to train as many pilots as Ukraine wants to send or plans to send, then we will… help train stateside," the earlier statement added.
But on Thursday more details have come out, apparently with a fuller US commitment, which will see training locations which includes Texas and Arizona.
The NY Times details, "The pilots will first receive English language training in Texas and then begin months of flight training in Arizona, said the U.S. official who addressed the issue on Thursday, speaking on condition of anonymity to discuss future training plans."
Currently Denmark and the Netherlands have pledged quantities of their own Lockheed produced F-16s. The Biden White House earlier this month made the key decision to allow export of its fighters from third-parties, but has yet to commit its own, which could still be coming.
Ukrainian officials have all along bitterly complained it's becoming too little, too late in terms of F-16s aiding the failing counteroffensive. Kiev very obviously lacks any level of air superiority, which would be strategically necessary toward liberating territory. Many analysts are seeing the F-16 program as more about Ukraine's future defense, post-war.
Given the Europe-based pilot training program has a mere half-dozen Ukrainian pilots enrolled, it's not expected that the US program will host a large group of potential pilots.
As for precise location within Texas, the Ukrainians would likely be placed somewhere at one of the multiple Air Force facilities in San Antonio. 
Loading...