---
Russia's Engels Airbase Attacked For 3rd Time This Month
Russia's Engels airbase has been targeted for a third time this month by Ukraine's military, resulting in Russian anti-air defenses being activated to take out an inbound projectile. 
Engels airbase is located in the Saratov region and crucially is at a distance of over 600km from the Ukrainian border. "The air defense system has been activated in the Engels district," regional governor Roman Busargin said of the Thursday incident. 
Busargin described that an "unidentified object" had been destroyed, adding that there is no further threat to civilian safety. He didn't indicate whether the object was a drone or missile, but it comes after a deadly Monday attack involving a Ukrainian drone.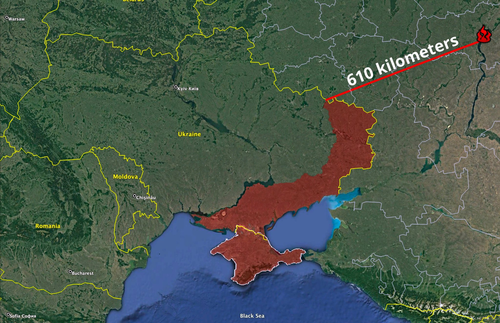 No casualties are being reported from the Thursday attack, but Monday's drone assault left three Russian servicemembers dead, according to state news agencies, after an enemy drone was reportedly intercepted, causing debris came down on bystanders below. 
"On December 26, at around 01:35 Moscow time, a Ukrainian unmanned aerial vehicle was shot down at low altitude while approaching the Engels military airfield in the Saratov region," the Russian defense ministry said in a prior statement.
Many outside observers doubted Russia's intercept story, given also local videos seemed to show explosions more consistent with a direct hit.
On Dec.5 Ukraine's military mounted simultaneous drone assaults on an air base in Ryazan, in western Russia which hosts nuclear-capable strategic bombers, and also Engels base.
That initial Engels strike had constituted the deepest the Ukrainians had ever attacked inside of Russia proper.
More images of the air defence launch. Russians and their smart phones. pic.twitter.com/iXq48WocBL

— Artoir (@ItsArtoir) December 29, 2022
Feeling emboldened by a handful of successes, including prior attacks and bombings in Crimea, Ukraine forces will likely try to continue hitting targets inside Russia, also as their capability grows given they have been supplied with ever-longer range rockets from the US and NATO countries.
Russia for its part is continuing to ramp up major missile and drone attacks on Ukraine's national energy infrastructure. Over 120 missiles launched Thursday has left even Lviv in far western Ukraine in the dark, along with about half the capital city and other places like Kharkiv and Odesa. The Pentagon has indicated that Patriot anti-air batteries could be shipped in as little as six months, even though it typically takes one-year minimum to train personnel on how to operate them.
Loading...