---
Satellite Image Reveals Supersonic Drone At Chinese Military Base
There are increasing fears that China may invade Taiwan in the next several years. An image captured by a satellite and obtained by Defense News reveals what appears to be a next-generation unmanned aerial vehicle that Beijing could use in future conflicts.  
The delta-shaped UAV "appears to be a WZ-8 supersonic reconnaissance drone parked outside one of two newly built hangars at China's Lu'an Airbase," Defense News said. Planet Labs, a US satellite-imaging company, photographed the spy drone on Dec. 21, which was recently shared with the military blog. 
The satellite image, provided to Defense News by Planet Labs, shows Lu'an Airbase in China's Anhui province. The previously unoccupied base is undergoing an upgrade, with construction beginning sometime between April 2018 and early 2019. Improvements include the resurfacing of the 3,200-meter (3,500-yard) runway, the widening of taxiways, and the construction of 20 bomber-sized aircraft shelters and two hangars to replace open aircraft parking bays.
Here's the satellite image of the spy drone.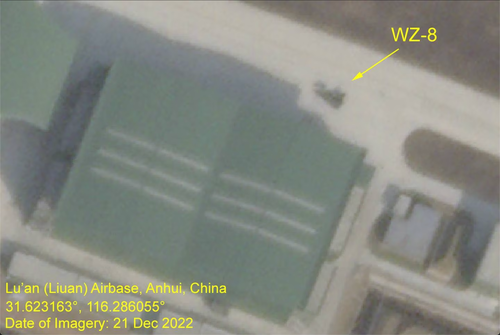 In a separate image, the drone was recently unveiled at a military parade.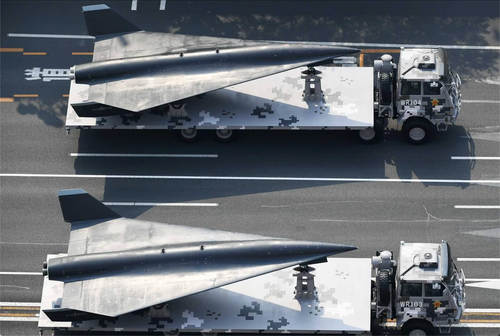 Last month, a secret document from the National Geospatial-Intelligence Agency said the Chinese military could soon deploy a high-altitude spy drone that travels at Mach 3, or three times the speed of sound, at an altitude of 100,000 feet. The document was seen by The Washington Post in April and initially posted on a Discord server by a member of the Massachusetts Air National Guard. 
According to Andreas Rupprecht, who studies Chinese military aviation, the spy drone was seen at Lu'an Airbase, home to the 29th Air Regiment of the People's Liberation Army Air Force's 10th Bomber Division.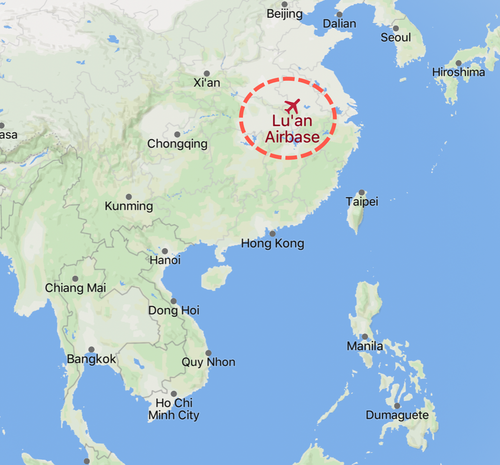 US defense officials are concerned the new drone could expand China's surveillance capacity in the Indo-Pacific region and around Taiwan. 
China has been rapidly modernizing its military forces over the last decade as then commander of the Indo-Pacific Command, Philip Davidson, warned in 2021 at a US Senate hearing that the Chinese People's Liberation Army's invasion of Taiwan could occur by 2027. 
Loading...