---
Shocking Footage Shows Moment Black Hawk Helicopter Crashes Near Alabama Highway
A Sikorsky UH-60 Black Hawk helicopter from the Tennessee National Guard crashed Wednesday afternoon near Highway 53 in Huntsville, Alabama. Two crew members were instantly killed on the impact. 
"We are deeply saddened by the loss of two Tennessee National Guardsmen, and our prayers are with their families during this heartbreaking tragedy."

 "We ask Tennesseans to join us in supporting their families during this time of unthinkable grief," Brig. Gen. Warner Ross, Tennessee's Adjutant General, said in a statement.
According to Ross, the two crew members were conducting a flight-training mission.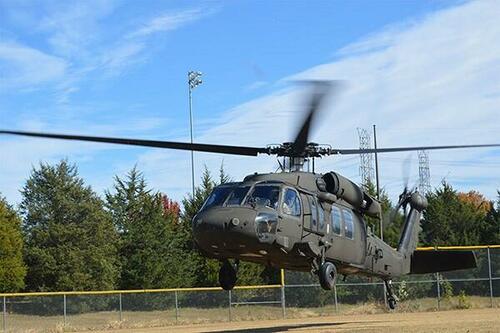 The helicopter crashed near Highway 53 and Burwell Road around 1500 ET. He said there were no survivors. 
Security footage from a house in a nearby neighborhood caught the helicopter falling out of the sky. 
Home surveillance footage of U.S. military Blackhawk helicopter that crashed near Huntsville, Alabama next to a highway, killing all on board. pic.twitter.com/bVAy6cMG54

— Johnny Akzam (@JohnnyAkzam) February 16, 2023
Another video showed the helicopter completely engulfed in flames next to the highway. 
This was in my town of Harvest, AL. (it's near Huntsville) It was a black hawk helicopter and there were no survivors. The helicopter was pretty of Tennessee National Guard. My question is what was the Tennessee national guard doing in Alabama....??? pic.twitter.com/uAV8AlZHca

— Carmandy Graff (@GraffCarmandy) February 16, 2023
An investigation is underway to figure out what led to the crash. 
Loading...