---
Strikes Inside Russia Will Go "Deeper & Deeper": Ukraine Intelligence Chief
Coming off of the Sunday attack on a barracks in Makiivka in Russian-controlled Donetsk, which marked what could be the biggest Russian troop loss of the war in a single attack to date, Ukraine is now vowing to strike "deeper and deeper" inside Russian territory.
The alarming words were issued from the head of Ukrainian military intelligence, Gen. Kyrylo Budanov, during a new interview with Australia's ABC...
Ukrainian Head of Military Intelligence Kyrylo Budanov in an interview with @ABC, said that there will be more strikes on Russian territory and they will be "deeper and deeper".

Video: ABC News pic.twitter.com/l0vaMVHrbW

— NEXTA (@nexta_tv) January 2, 2023
As the clip from the interview published Monday shows, the military intelligence chief was reluctant to directly confirm whether or not Ukraine recently struck a Russian airbase.
The ABC reporter wanted answers specifically in relation to the series of deadly drone attacks Engels military airfield in the Saratov region. In December, there were reports that the base was hit three times, the most recent instance of which came last week, and killed three Russian military technicians. 
The Ukrainian government has yet to officially own up to these attacks, which Russia says were launched by Ukraine's forces. But according to Gen. Budanov's words republished in the UK Telegraph: 
Responding to whether Ukraine was responsible for one of these attacks on an airbase, Kyrylo Budanov said he was "very glad" about it, but maintained Kyiv's stance of official deniability. 

In an interview with Australia's ABC, Mr Budanov predicted these attacks will go "deeper and deeper", along with further attacks on Crimea, which Russia annexed in 2014.

Last week three Russian troops died in a drone attack on a Russia's Engels airfield, which houses Tu-95 and Tu-160 nuclear-capable strategic bombers. 
Crucially, the Engels base is over 600km inside Russia from the Ukrainian border, suggesting that Ukraine's UAV capabilities are growing. Russia's military has meanwhile said it is deploying greater anti-air protections around Russian bases and cities.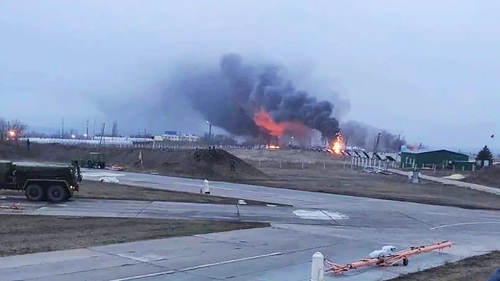 As for Washington, it has maintained an official stance of not wanting its Ukrainian partners to conduct attacks inside Russian territory, fearing uncontrollable escalation, but there are indicators that behind the scenes US intelligence could be positively encouraging it - or at least turning a blind eye.
And yet with Sunday's devastating attack on the Russian barracks in Donetsk, Ukrainian media and officials have boasted that it was done with US-supplied HIMARS missiles. This of course means from the Kremlin's perspective, Washington's involvement in the conflict is growing more direct by the day.
Loading...