---
Track US Vessel With 60 Bradley Tanks Bound For Ukraine
Ukrainian Armed Forces are preparing battle plans along the frontline as a Russian spring offensive could be ahead. Western countries are sending main battle tanks and other vehicles to thwart the coming escalation in fighting.
Last week, President Biden announced 31 M1 Abrams main battle tanks (without secret armor) would be sent to Ukraine. Germany, Norway, Poland, and other NATO countries will send other tanks, including the Leopard 2. Even Morocco will send older T-72 series tanks, currently in use in the war-torn country. 
All of these 'donated' tanks sound great, but if they don't make it to Europe and race across the battlefield by spring, then the Ukranians might have trouble repelling the Russians. 
A press release via the US Transportation Command (USTRANSCOM), a segment of the US military responsible for transporting equipment worldwide, detailed last week that a large roll-on/roll-off vessel named "ARC Integrity" loaded 60 Bradley Fighting Vehicles destined for Ukraine. 
https://t.co/6Be9DY1HI8 pic.twitter.com/JjQPUomPdP

— OSINTtechnical (@Osinttechnical) January 30, 2023
As of Monday, and according to USTRANSCOM's press release noting the vessel's name, data via MarineTraffic shows ARC Integrity is full steam ahead in the Atlantic Ocean and will arrive at the Port in Southampton, England, on Feb. 7.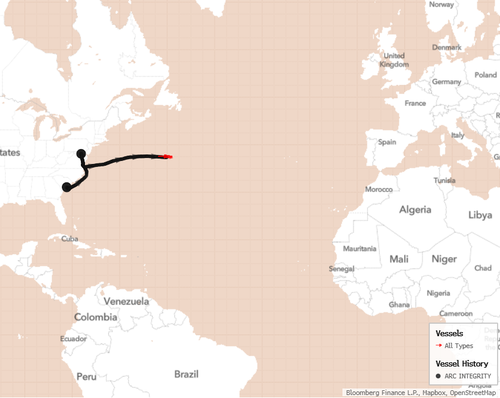 USTRANSCOM uses large ro-ro carriers to transport all sorts of military equipment worldwide. These fighting vehicles are being loaded at ports along East Coast and Gulf Coast states. 
Loading...