---
US Sends Infantry Unit To Base Just Miles Away From Russian Border In Estonia
Last week the US Embassy in Lithuania announced the Pentagon plans to step up troop deployments in the Baltic states, taking what was previously categorized as "episodic" troop deployments and turning toward a "persistent rotational presence" across the Baltics, including in Estonia - which shares two small stretches of land-border with Russia.
The embassy wrote in an early December press release that "US Ambassador Robert Gilchrist informed Minister of National Defense Arvydas Anušauskas that, as part of the ongoing commitment to its Baltic Allies, the United States will further enhance the continuous and persistent US military presence in Estonia, Latvia, and Lithuania." This was widely interpreted as a direct response to Russia's ten-month long assault on nearby Ukraine.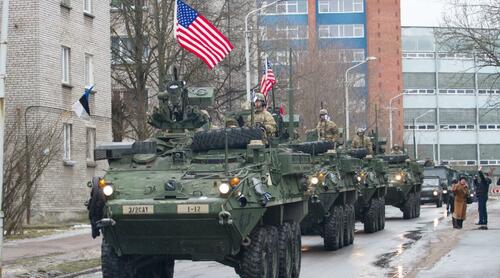 In follow-up, on Friday the government of Estonia confirmed that a US infantry company has newly arrived in the country, to take part of joint defense drills and training.
According to the the Friday statement posted to the Estonian defense ministry's website: "A United States infantry company arrived at Taara base in Võru this week as part of a deployment to train and serve with the 2nd Infantry Brigade of the Estonian Defense Forces."
It further confirmed that "The U.S. infantry company will be stationed in Võru during its deployment and will participate in joint exercises with the Estonian Defense Forces to enhance interoperability and to demonstrate the flexibility of combat credible forces to respond to threats."
Crucially, Taara base in Võru is a mere dozens of miles away from the Russian border - merely about a half-hour away by car. Russian state media has complained that US-Estonia troop exercises will be conducted a mere 20 kilometers away from the border.
The US 1st Infantry Division Artillery Commander cited in Estonia's statement, Colonel Richard Ikena, said American troops are "excited to be in Estonia" and "look forward to working shoulder-to-shoulder, alongside our Allies."
US Infantry troops along with a HIMARS (long-range missile) platoon will now be conducting drills at a distance from the Russian border that's similar to the distance between San Diego and Tijuana, Mexico...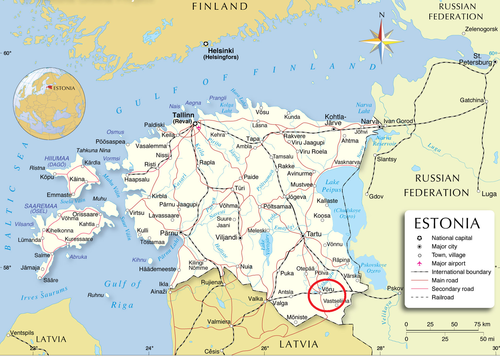 Additionally, the statement confirmed that the US is deploying long-range missiles in the NATO allied country, to now include M142 High Mobility Artillery Rocket Systems (HIMARS) deployed by the US right on Russia's doorstep.
"The United States will also deploy a HIMARS platoon to Estonia, along with the corresponding control equipment and systems, and will cooperate with the Estonian Defense Forces to establish a divisional structure within the framework of NATO," the US military and Estonian defense ministry confirmed.
Welcome to #Estonia! 🇺🇸United States infantry company arrived at the Taara base in Võru this week as part of a deployment to train and serve with the 2nd Infantry Brigade of the Estonian Defense Forces @Kaitsevagi.

Read more: https://t.co/qAO5WiAzRV

— MoD Estonia (@MoD_Estonia) December 16, 2022
 Already there have been ratcheting tensions between Moscow and the Baltic states, given that among European nations they have been among the most hawkish in calling for isolating and punishing the Russian government. A heightened US troops deployment along with long-range missiles will certainly escalation these tensions as the war in Ukraine continues to grow more dangerous and unpredictable, especially concerning the potential scenario of direct US-Russia clashes.
Loading...