---
US Sends Spy Plane Over Taiwan Strait In Fresh Provocation
Via The Libertarian Institute,
A US Navy spy plane flew over the Taiwan Strait on Thursday as China's People's Liberation Army (PLA) was conducting drills to the south of Taiwan.
The US Navy's Seventh Fleet announced the flight of the Navy P-8A Poseidon, and Taiwan's Defense Ministry said the plane flew on the south side of the median line, an unofficial barrier that separates the two sides of the Taiwan Strait.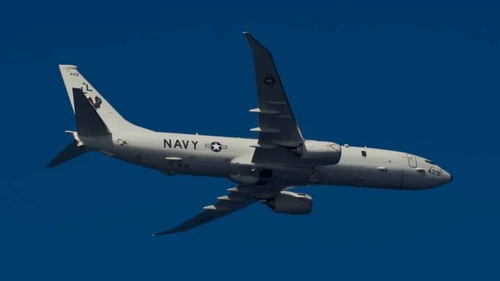 China said it tracked the US aircraft and accused the US of hyping the incident. "The troops of the PLA Eastern Theater Command have tracked and monitored the US aircraft in the whole course, and handled it in line with laws and regulations," said a spokesperson for the PLA's Eastern Theater Command.
The US frequently sails warships through the Taiwan Strait, which China views as provocations. Surveillance flights have typically been less frequent but are becoming more common. The last known US flight over the Taiwan Strait took place in April.
Taiwan's Defense Ministry said PLA ships and planes conducted a third day of drills on Thursday. The ministry also said it detected Chinese aircraft crossing the median line, a barrier the PLA used to avoid but now regularly crosses.
The PLA started regularly crossing the median line after then-House Speaker Nancy Pelosi (D-CA) visited Taiwan in August 2022.
Her visit provoked China's largest-ever military exercises around the island, and the PLA has kept up the pressure as the US and Taiwan continue to boost military and diplomatic ties.
Loading...