---
USAF Sends "Classified Solicitation" For Sixth-Gen Fighters To Military-Industrial Complex
The US Air Force revealed days ago a classified solicitation to the military-industrial complex for a new stealth six-generation crewed tactical jet that will replace the Lockheed Martin F-22 Raptor. The effort is part of the service's Next Generation Air Dominance modernization initiative (NGAD) that will award a contract in 2024 to either Lockheed Martin Corp., Boeing Co., or Northrop Grumman Corp. to produce the new fighter jet that will be combat-ready sometime in the 2030s. 
"This solicitation release formally begins the source selection process, providing the industry with the requirements the Air Force expects for NGAD, as the replacement of the F-22," USAF wrote in a statement as it gave defense contractors the classified request. 
"The NGAD Platform is a vital element of the Air Dominance family of systems, which represents a generational leap in technology over the F-22, which it will replace.

"NGAD will include attributes such as enhanced lethality and the ability to survive, persist, interoperate, and adapt in the air domain, all within highly contested operational environments. No one does this better than the US Air Force, but we will lose that edge if we don't move forward now," Secretary of the Air Force Frank Kendall wrote in a press release. 
The service is preparing for the full-scale development phase of six-generation fighter jets to maintain America's air dominance worldwide through the 2030s as China and Russia deploy fifth-generation fighters and hypersonic weapons. 
"The Air Force is asking Congress in its fiscal 2024 budget request to retire 32 of the older, so-called Block 20 F-22s that are no longer deemed combat-capable and shift the money it's taking to maintain them into the new fighter program," Bloomberg said. 
In 2020, the USAF revealed this sixth-generation fighter prototype.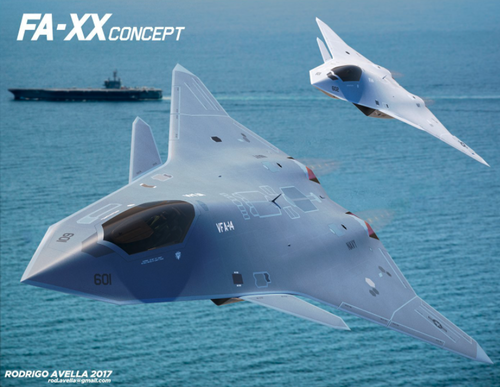 Besides replacing the F-22, the F-35 has had years of problems. 
Readers may recall:
... and even an embarrassing landing that resulted in a crash. 
#Breaking New much clearer video, courtesy Kitt Wilder, of STOL variant F35 B model landing JRB Fort Worth, and pilot ejects. Condition of pilot still unknown. @CBSDFW pic.twitter.com/BeERIeyhtO

— Doug Dunbar (@cbs11doug) December 15, 2022
For the American taxpayer, this represents yet another instance of tens of billions of dollars being funneled into the military-industrial complex as Western elites fight to maintain a unipolar world, though tides are shifting as a multi-polar world emerges. 
Loading...