---
Caught On Tape: F-18 Fighter Jet Crashes At Spanish Military Base
The Spanish Ministry of Defense tweeted Saturday morning, "There was an accident at the Zaragoza Air Base involving an F18 from Ala 15." 
"The pilot has successfully ejected and the aircraft has landed within the perimeter of the base." the ministry said.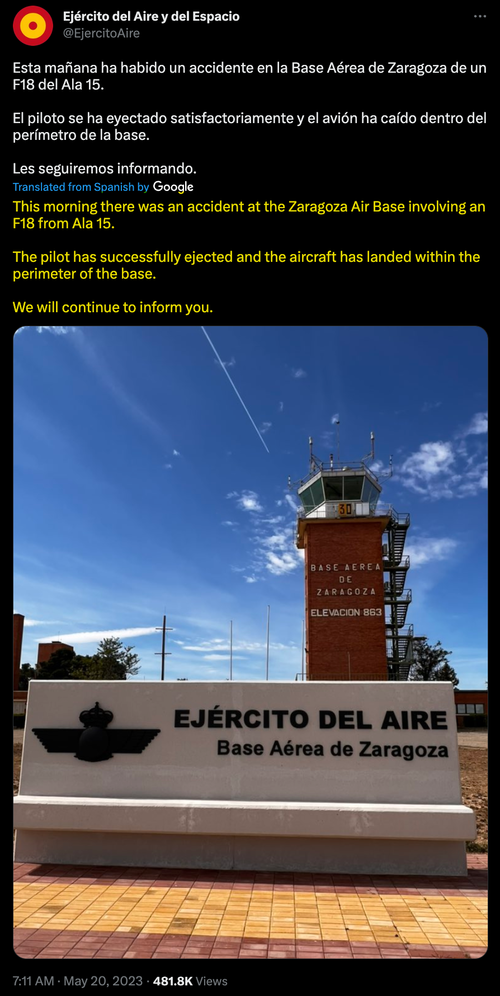 A video of the crash was uploaded to Twitter. It shows the F-18 fighter jet attempting to climb but then stalls and falls back to Earth, impacting the ground in a massive fireball at Zaragoza Air Base. 
Spanish AF F-18 Hornet impacted the ground near Zaragoza Air Base today. Pilot was able to successfully eject. 😳pic.twitter.com/YzDHgHrC8V

— Thenewarea51 (@thenewarea51) May 20, 2023
AP News said the F-18 was "training for a flying exhibition when the incident occurred." 
According to the Guardia Civil, the pilot ejected at a low altitude and survived but suffered leg injuries.
The Guardia Civil said the accident is under investigation. 
Spain has 84 of the US-made F-18s in service as part of air defenses since the 1980s. 
Loading...