---
White House Applauds Taiwan's Extending Mandatory Military Service In Face Of China Threat
Taiwan has announced an extension of the government's military service mandate at a moment tensions with China are soaring. The change marks the clearest indicator in months of just how seriously Taipei is taking the latest threats from Beijing, including the fresh Chinese PLA aerial and naval maneuvers around the island. 
Prior to Tuesday's announcement, which drove global headlines given it is a sign of significant escalation, all Taiwanese able-bodied men were required to give a minimum of four months of military service. But President Tsai Ing-wen indicated mandatory service will now extend to one year.
"Starting in 2024, men born after 2005 will be required to serve one year, while the four-month service requirement still applies to those born before that year, Taiwanese President Tsai Ing-wen announced at a news conference on Tuesday," The Hill writes.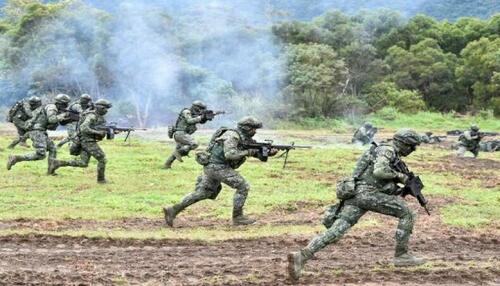 Accompanying the major change in policy was her announcement of updated training for troops, aimed at ensuring greater national defense readiness in the face of threat escalation out of China. 
"No one wants war," she said, before adding: "Peace does not come from the sky, and Taiwan is at the front lines of the expansion of authoritarianism."
Of note (a somewhat alarming note) is that in casting Taiwan as on the "front lines" in defending democracy against authoritarianism, Tsai's words sound similar to those of Ukraine's Zelensky. Some observers have suggested that Washington is pushing a process of the "Ukraine-ification" of Taiwan.
The timing of the extension is significant, coming less than 48 hours after the Chinese military sent a record-number of aircraft - 71 in total - to buzz the self-ruled island, with more than half of these breaching the median line of the Taiwan Strait. Dozens of Chinese aircraft did the same last Friday.
Importantly, Beijing had specifically condemned White House policy in explaining the ramped-up military formations near Taiwan, in particular the newly passed and Biden-approved NDAA authorization of $10 billion in defense spending for Taiwan in 2023,
The Biden administration has meanwhile said it "welcomes" Taiwan's efforts on conscription reform, saying that the revision "underscores Taiwan's commitment to self-defense and strengthens deterrence," a White House spokesperson said, according to Bloomberg.
post zelensky visit the "save Ukraine" narrative has been overtaken by the "bleed Russia" narrative. Taiwan shud be taking notes. PRC is. https://t.co/xKw90JJhb3

— chinahand (@chinahand) December 26, 2022
During prior decades, Taiwan's mandatory service had at one time reached two years (for example in the 1980's), but had gradually been reduced to reach as little as four months. Thus historically it can be seen as one among a multitude of indicators gauging general tensions in the Taiwan Strait region at any given moment.
Loading...