Judging by the market's reaction to the June FOMC statement and press-conference, Nanex shows the four things that US market participants can expect to happen over the next few hours:
The HFT Machines Will Take Over (fake quotes will soar)
Quote Spreads will Widen (but all that liquidity provision?)
Quote Spreads will Become Unstable
The Number of Stocks Locked (Bid=Ask) or crossed (Bid>Ask) Will Soar
But apart from that - do as you're told and BTFATH as every commission-taking muppet will tell you the Taper is priced in.
Charts showing market anticipation and reaction to the June 19, 2013 FOMC Meeting which occurred at 2 pm EST. Each chart shows 1 second data for each minute of time between market open (9:30) and close (16:00).

1. The HFT Machines will Take Over
This is a count of fake quotes that could only be placed by High Frequency Trading machines. See this video.
---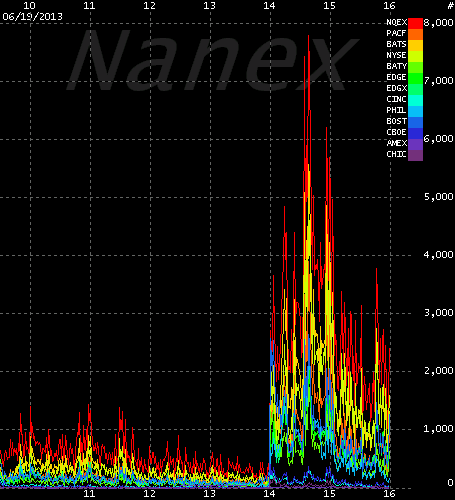 ---
2. Quote Spreads will widen.
Lower is better. Percentage of stocks with NBBO spread at or above different amounts - from 2 cents to over 25 cents.
---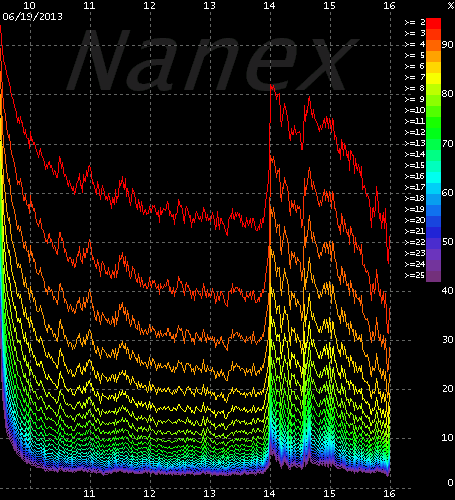 ---
3. Quote Spreads will become unstable.
Lower is better. Percentage of stocks with NBBO spreads that change by 1 to over 25 cents each second.
---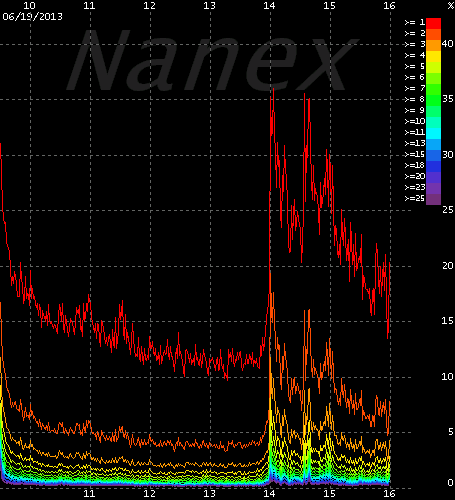 ---
4. The number of stocks with NBBO quotes that are locked (bid = ask) or crossed (bid > ask) will sky rocket.
This is a prime indication of data feed latency and prohibited by Reg NMS.
---