For the 2nd month in a row, home prices in Calgary - corporate hub of Canada's oil industry - have fallen. This is the biggest 2-month-drop in almost 2 years (and comes on the heels of yesterday's news that Suncor is slashing jobs and capex). As Bloomberg reports, Bank of Canada Deputy Governor Tim Lane said yesterday development of the more expensive deposits are threatened by lower crude oil prices. "The dive in energy prices will put pressure on house prices in the Western provinces in the coming months," warns one economist and as the following chart shows, more pain is likely...
It appears the price of homes in Canada's most important energy region are extremely correlated with a lagged oil price... which suggests a lot more pain is to come...
*  *  *
As we explained previously, this won't end well...
In Canadian debt we trust
There was an inflexion point for US markets when household debt surpassed household income.  People kept saying it was a liquidity crisis initially but it was truly a solvency crisis.  People took on too much debt and were walking on a financial tightrope.  In the US, this peaked above 120 percent.  Canada is well on its way above 160 percent: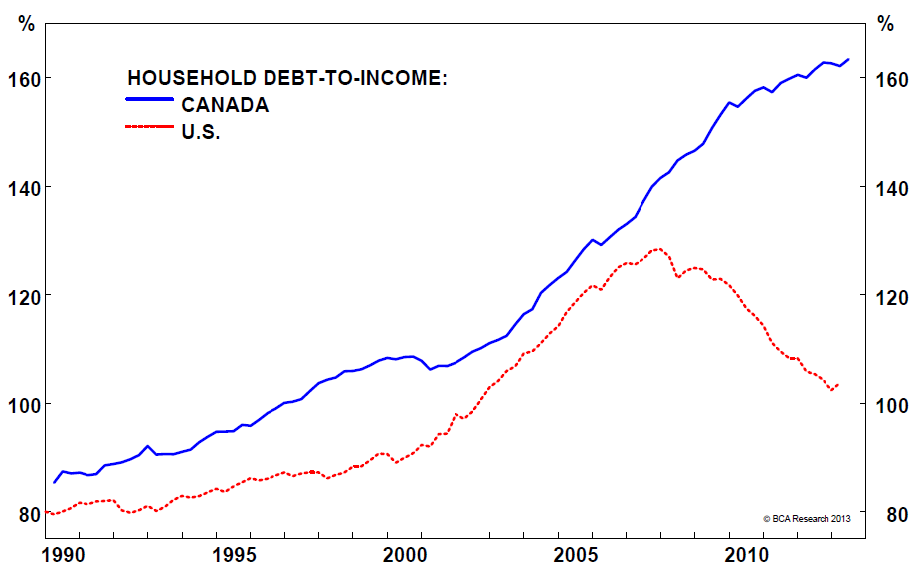 Basically Canadians are deeper in debt relative to their income.  And a large part of this debt is housing related.  A large part of the economy is also tied to oil and as you may know, oil just took a massive cut.
...
Canada has enjoyed many years of the global commodities boom and now finds itself contending with a market full of debt and inflated housing values.  Short of oil rising back up to $80 a barrel and higher Canada is likely going to face some short-term pain.  The housing market is due for a correction.  Those of us in California realize that booms and busts can occur all of a sudden but the events leading up to this are largely foreseeable.
I'm sure many in Canada assume that home values will simply continue to go up and just because banks check incomes doesn't mean squat.  As the above data shows, households are already deep in the quicksand of massive debt.  It is all dandy when everything is going up including oil.  When oil gets smashed as it did, it came on quickly.  Canada has their versions of $700,000 crap shacks usually in the form of condos.  Hey, at least with a crap shack you don't have to share a common wall.  When you look at the Canadian housing market it makes the US look like a frugal uncle.