Submitted by Jeffrey Snider via Alhambra Investment Partners,
Stocks may be ignoring the "dollar" and liquidity more broadly (at least as far as repurchases are concerned) but the continued stress in the eurodollar world has had an accumulating effect in some places. Primarily that has been shown in the once-thriving junk space, including more illiquid "products" like leveraged loans, which has continued in disfavor more recently. The shift in junk pricing, and thus credit risk perception, has confirmed to a great extent the overall "dollar" view, including the past two months or so.
By and large, there seems to be renewed concerns about liquidity, economy or both. It is universal and has even crept back into overall issuance (investment grade, by contrast, continues to be unperturbed). The usual extended commentary from this point is really unnecessary, given the repeated context, so here are the charts:
Price negativity is, again, having an effect on issuance…
…even if trading volumes continue to rise (which may be indicative of this intersection between liquidity overall and price breakdown).
To emphasize the relationship between this negative price action and more general liquidity, we can use mortgage REITs as a partial proxy for liquidity in this related sector.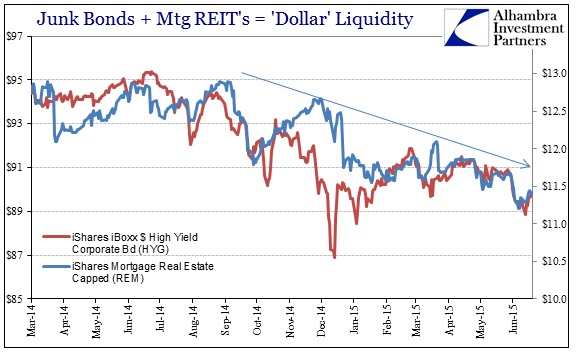 *  *  *
ZH: And finally one can't help but get a sense of deja vu when reflecting on the last time a eurodollar disturbance hit... the credit cycle has turned and a dismal dose of reality is about to come upon US equity markets...