Following yesterday's dramatic geopolitical shock, U.S. equity index futures rise as Russia has not escalated the confrontation with Turkey as some had feared, while Asian shares fall, reversing earlier gains. European stocks are rallying and the euro is falling on the back of a Reuters report that the ECB is mulling new measures to prop up lending, although it's not clear at this point what the real impact from these measures would be.
As a result, global stocks are little changed for a second day as investors assess the geopolitical fallout from the downing of a Russian warplane by Turkey. U.S. President Barack Obama and French President Francois Hollande called for Russia and Turkey to avoid escalating the confrontation. Hollande meets German Chancellor Angela Merkel in Paris today before heading to Moscow tomorrow to meet President Vladimir Putin.
As Bloomberg reports, Tuesday's worst performing global equity benchmarks are experiencing differing fortunes today. On Tuesday Turkey's Borsa Istanbul Index sank 4.4 percent, the most in four months.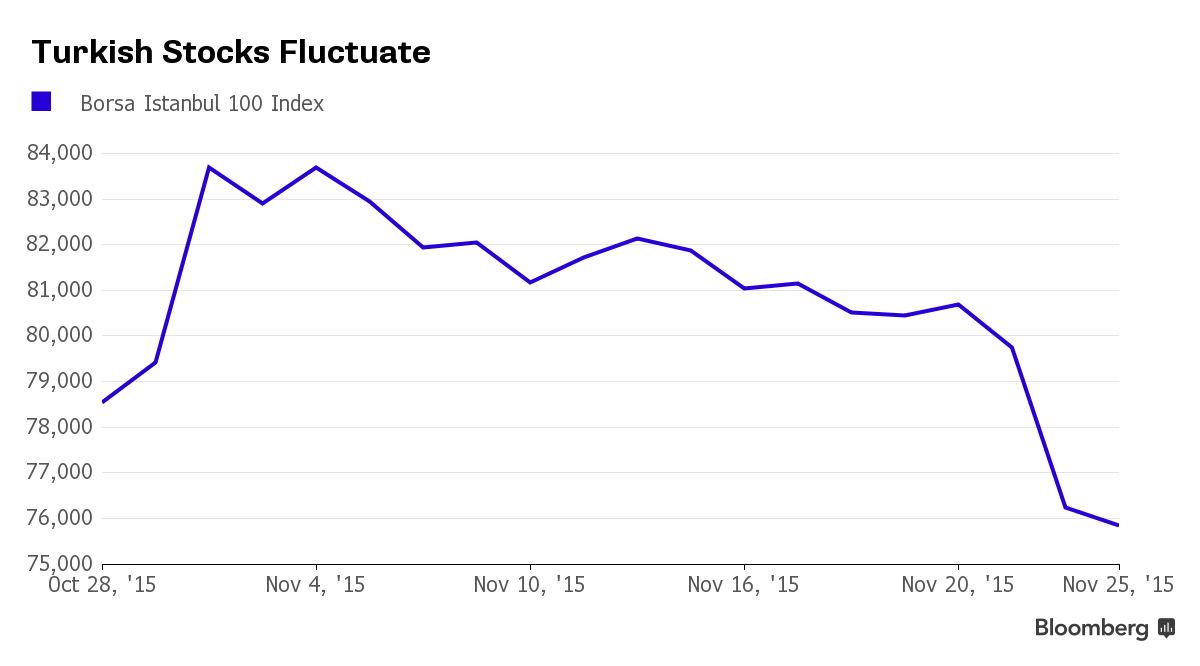 Russia's RTS Index dropped 3.3 percent, the most since Sept.1. Today Russian stocks rose as much as 1.6 percent, while Turkish equities fluctuated between gains and losses. Russia was the biggest source of Turkey's imports in 2014, while some 12 percent of all tourists to Turkey were from Russia last year, according to Renaissance Capital. Turkey is Russia's second-biggest market for gas exports, and relies on Gazprom to meet half of its gas needs. Turkey's lira fell for a third day against the dollar.
Elsewhere the commodity rout continues, and the rout in iron ore continues. Today it slumped to the lowest since 2008 as output cuts at Chinese steel mills hurt demand. China accounts for half of global steel output. At the same time, mining companies like BHP Billiton and Rio Tinto are continuing to expand low-cost iron ore supplies. Ore with 62 percent content delivered to Qingdao, a global benchmark, has sunk 38 percent in 2015 to just above $43 a dry metric ton and is on track for a third consecutive annual decline.
Oil, gold, copper decline while food commods gain. Dollar also advances. The top overnight news stories include the aftermath of Turkey's shooting of Russian bomber, SEC suit of former Goldman compliance worker, UnionPay/Apple agreement, U.S. Senate Cmte's pending review of inversions, and China data offering early glimpse of 4Q.
Moving the FX market was news from Reuters that the ECB is discussing 2-tiered bank charges, and bond buys, namely that the ECB mulls staggering charges for banks that park money with central bank or buying more debt.
Market Wrap
S&P 500 futures up 0.2% to 2090
Stoxx 600 up 1.3% to 379
MSCI Asia Pacific down 0.4% to 134
US 10-yr yield down 1bp to 2.23%
Dollar Index up 0.36% to 99.89
WTI Crude futures down 1.4% to $42.27
Brent Futures down 1.6% to $45.39
Gold spot down 0.1% to $1,074
Silver spot down 0.1% to $14.18
Looking at regional markets, Asian equity markets traded mostly lower despite the flat close on Wall St., as geopolitical uncertainty dampened risk sentiment. The ASX 200 (-0.3%) was pulled lower by consumer staples amid profit taking in retail giant Woolworths. Financials underperformed in the Nikkei 225 (-0.4%) as several large banks including Nomura are told to increase their capital ratio. Shanghai Comp. (+0.9%) swung between gains and losses as broad sector strength was offset by losses in brokerages amid speculation that the recent rally had been overdone. 10yr JGBs traded higher as the risk off tone drove inflows into the paper, while a better 20yr JGB auction where b/c was at its highest YTD also stoked demand into the 10yr.
Key Asian Data:
China's Earliest Monthly Economic Indicators Flash a Warning: Baidu index drops, MNI sentiment weakens as challenges mount.
Singapore's Economy Expands More Than Estimated on Services: 3Q GDP +1.9% q/q vs est. no change.
Stevens Says 'Chill Out' on Rates as Australia Bows to Slowdown: RBA governor notes currency depreciation effect slow to emerge.
Li Ka-Shing's Power Assets, CKI Drop as Investors Spurn Merger: Deal rejection comes as billionaire reorganizes his empire.
Hedge Fund Calls for $4b Payout From Japan's Kyocera: Co. should sell giant KDDI stake, Oasis Management says.
Citic Securities Blames Flawed Swaps Data on 'System Upgrade': Securities Association of China said it overstated some swaps data by 1t yuan Apr.-Sept.
China Energy Engineering Draws Silk Road, GE to $2b IPO: 20 cornerstone investors, incl. China's Silk Road Fund, also GE, agreed to buy combined $1.27b of stock, terms show.
The biggest overnight news came out of Europe, where Reuters reports regarding the ECB have dictated price action this morning after a relatively subdued start to the session. Monetary officials suggest staggering charges on banks hoarding cash is among the potential options being considered for the ECB meeting next week, with other options including purchasing further debt.
In terms of the consequences of the news , equity markets saw a bid to trade firmly in positive territory (Euro Stoxx: +1.3%) after trading sideways early on with UK housebuilding names among the best performers ahead of the UK Autumn Statement amid speculation of a GBP 6.9bIn project to build 400k new homes. Of note, IBEX (-0.16%) underperforms after Santander have been weighed upon by reports Abengoa are seeking protection from their creditors.
Bunds also benefitted from the ECB news , moving out of negative territory in the wake of the news to trade at their highest level of the day. Momentum to the upside has also been supported with supply from the Eurozone out of the way (despite Germany holding a technically uncovered Bund Auction), with month-end flows also proving to be supportive.
Analysts at Citi note that month end asset rebalancing suggests a weak signal of a move from equities and into bonds, with the anticipated outflows from US and Japanese stocks the main driver behind the move. Citi's model suggests that fixed income may see global inflows with the exception of Latin America and EM Asia.
Key European Data:
Osborne to Spur U.K. Housebuilding With Developer Incentives: A doubling of housing budget will see 400k new homes built across England under George Osborne's proposals later today.
Abengoa Seeks Creditor Protection After Gonvarri Pulls Accord: Gonvarri Corporacion Financiera pulled out of plan to invest in embattled renewables co.
Spanish Bank Mergers May Come of 'Tremendous Pressure': Ultra-low interest rates, weak home loan demand, growing competition for business credit are eroding returns.
Merkel Vows to Help France in Fighting Islamic State Terrorism: Germany could strengthen its presence in Mali, prolong its mission in Afghanistan, will step up its own security, intelligence gathering at home, Merkel said in Berlin. Germany's $7b Refugee Boost to Outweigh VW Crisis Fallout
Norway Imposes Border Checks as Refugee Flow Splits Scandinavia: Norway said late Tues. it will impose border controls from Thurs. this week.
ECB Says QE Program to Be Suspended Over Dec. Holiday Period: ECB to step up its asset purchases in December to compensate for nearly 2-week pause over holiday period.
In FX, the EUR/USD fell in the wake of the ECB reports to see the pair slip below the 1.0600 level and the earlier weekly low at 1.0591 with the pair now eyeing notable levels to the downside which include the April low at 1.0521 and March low at 1.0458. Subsequently the USD-index has now broken above 100.00 to take out April highs and eye the best levels seen since 2003 at 101.80. Analysts at Citi note that month end asset rebalancing will have a relatively muted FX impact, with GBP the notable beneficiary from USD positive hedge rebalancing and USD negative asset rebalancing.
In Commodities, the ECB source reports that strengthened USD have led to recent softness in oil and gold, after both traded firmly in early European trade, with WTI coming off yesterday's highs reached in spite of the large build observed in API crude oil inventories. Of note today sees the release of EIA NatGas storage change and Baker Hughes rig count.
On the calendar today we have US Personal Income, PCE Deflator, Composite  and Services PMI's, U. of Mich. Sentiment, UK Chancellor's Budget Statement
Top Global News
U.S. Urges Russia, Turkey to Cool Standoff Over Downed Plane: President Obama said Tues. he'll make it a "top priority" to prevent Turkey-Russia standoff from worsening.
ECB Said to Discuss 2-Tiered Bank Charges, Bond Buys: Reuters: ECB mulls staggering charges for banks that park money with central bank or buying more debt.
Ex-Goldman Compliance Worker Sued by SEC for Insider Trading: Yue Han allegedly exploited access to firm's IT systems to make >$468,000 using his personal trading account, that of a relative.
UnionPay, Apple Said to Reach Apple Pay Agreement for China: Cos. have preliminary deal using UnionPay's point-of-sales network, according to people familiar.
Amazon Challenger Jet.com Announces $350m Investment: Cash infusion led by Fidelity, providing money to help co. attract customers during its first holiday shopping season.
Senate Panel to Take On Inversions in Review of Global Taxation: Finance Cmte. to take on corporate inversions as part of a broader review of challenges posed by international tax rules
Bulletin Headline Summary from Bloomberg and RanSquawk
Price action has largely been dictated by ECB source reports suggesting staggering charges on banks hoarding cash is among the potential options being considered

This has led to upside in equities and fixed income with EUR softness seeing EUR/USD break below 1.0600 and the USD-index break above 100.00

Looking ahead, highlights include US Personal Income, PCE Deflator, Composite  and Services PMI's, U. of Mich. Sentiment, UK Chancellor's Budget Statement
DB's Jim Reid concludes the overnight wrap
Geopolitical tensions dominated market sentiment for much of yesterday following the news that a Russian fighter jet had been shot down by Turkey near the Syrian border, prompting the US and NATO to try and deescalate the situation after Russian President Putin warned of 'serious consequences'. Much like the aftermath of the terror events in Paris, price action was relatively well contained with markets showing a degree of resilience, evident in particular with a decent bounce off the intraday lows for US equities to finish more or less flat (S&P 500 +0.12%, Dow +0.11%). In Europe the Stoxx 600 had finished -1.24%, while losses were unsurprisingly led by the Russian equity markets where the MICEX had closed -3.11%. The tension did provide some short-term respite for Oil markets where WTI bounced +2.68% to close just shy of $43 and helping much of the rebound in the US equity market. Gold finished up +0.61% from its recent 5-year low and there was positive price action for much of the base metals space also with Copper (+2.63%), Zinc (+2.23%) and Nickel (+5.66%) all sharply highly.
With Thanksgiving in the US tomorrow market liquidity will be pretty thin on the ground through the rest of the week, with no real economic data or Fedspeak due on Thursday or Friday. As a result and as you'll see at the end of the report, it's a packed data calendar this afternoon with a number of market sensitive releases due including the latest PCE data and also durable and capital goods orders. Yesterday, US Q3 GDP offered few surprises after being revised up as expected to +2.1% saar from the initial +1.5% reading on the back of the massive surge in inventories. Concerning however was the downward revision in both consumption (3.0% vs. 3.2%) and final sales (2.7% vs. 3.0%), while our US economists expect inventories to unwind this quarter which will likely depress economic output, and so now expect Q4 real GDP growth to be 1.5% saar from 2.3% previously.
Yesterday's corporate profits data for Q3 showed a -1.1% fall in the quarter which marks the third drop in the last four quarters. In fact, profits are now down -4.7% versus a year earlier which is the lowest reading since Q2 2009, or the recession. Given that profits tend to be a leading indicator of the labour market, this is another trend worth keeping an eye on. Meanwhile, the other notable data report yesterday was the latest November consumer confidence index reading which was down a steep 8.7pts at the headline to 90.4 (vs. 99.5 expected). The expectations component was down a material 10.1pts to 78.6, while much of the commentary reflected consumers having a less favourable view of the job market, with jobs 'plentiful' falling in particular to the lowest level since April, although jobs 'not so plentiful' were up slightly. That brought the labour differential index down to -6.3 (from -1.9 last month). The end result of yesterday's data was not a huge change to December liftoff expectations however, with the probability of a December hike sitting at 74% (unchanged versus this time yesterday) while US 2y yields continue to hover around 0.930%.
Taking a look at how markets in Asia this morning are trading, it's been a fairly cautious start to proceedings with the bulk of bourses generally trading with losses. Markets in Japan have seen the heaviest falls with the Nikkei and Topix down -0.31% and -0.57% respectively. The Hang Seng ( -0.13%), Kospi ( -0.26%) and ASX ( -0.63%) are in the red also while Chinese bourses (Shanghai Comp +0.58%) have rebounded after the midday break, supported by a 3.4pt rise in the November consumer sentiment reading to 113.1. There was less good news from the latest MNI business sentiment index reading for China however, which was down 5.7pts to 49.9 and a five month low. Also of note in China is the news that the country's security regulator has removed the rule requiring brokerages to hold net long positions for any proprietary trading in a sign of a gradual reduction in support measures for equities there.
In terms of the rest of the dataflow yesterday. The October advance goods trade balance revealed a slight narrowing of the deficit to $58.4bn (from $59.1bn) after expectations had been for a modest widening. The September S&P/Case -Shiller house price index reading rose a slightly better than expected +0.61% mom (vs. +0.30% expected) and is now up nearly +5.5% yoy. The November Richmond Fed manufacturing activity index edged down a couple of points this month to -3 (vs. +1 expected). Meanwhile, over in Europe the main release of note was the Q3 GDP reading for Germany where there was no change to the final revision at +0.3% qoq, driven by private and government consumption with net exports a major drag. Germany's IFO survey for November revealed a slight 0.8pt uplift in the business climate reading to 109.0 (vs. 108.2 expected), while both the current assessment (113.4 vs. 112.4 expected) and expectations (104.7 vs. 104.0 expected) surveys were above market. Our German economists noted that yesterday's data has not moved their expectations in a meaningful way. They expect Germany to remain in a domestically driven robust business cycle with cyclical positives like continued health of the labour market, strong labour immigration, low interest rates and public infrastructure somewhat offset by moderate global growth limiting world trade and equipment investment, along with inflation recovery weighing on real incomes. On top this, there are further risks present including an escalation of the refugee crisis and geopolitical risks.
Before we take a look at today's calendar, there was some dovish BoE chatter to take note of yesterday, with Chief Economist Andy Haldane saying that 'I see the balance of risks around UK GDP growth and inflation skewed materially to the downside, more so than embodied in the November 2015 inflation report'. Haldane noted that the risks to the upside are more modest in scale and that given the balance, has a neutral stance on the future direction of monetary policy.
In terms of the day ahead, this morning in Europe it's set to be a relatively quiet session with just French consumer confidence and Italian industrial orders data due. It's a packed day for economic releases in the US however ahead of Thanksgiving Day tomorrow. The personal income and spending data for October (which is expected to be solid in light of October's employment report) will be closely watched, in particular the PCE core and deflator readings. Following this we get more important data with the preliminary October durable and capital goods orders numbers. Our US economists expect the headline to bounce strongly based on higher aircraft orders, but core orders to trend lower again. At the same time we'll get last week's initial jobless claims print shortly followed by the September FHFA house price index reading. Later in the afternoon we'll get the flash November services and composite PMI numbers, before we round off the session with October new home sales and finally the last read of the University of Michigan consumer sentiment print for November. In the UK it'll be worth keeping a close eye on Chancellor of the Exchequer George Osbourne's Autumn Statement.