When previewing tomorrow's widely telegraphed announcement by the ECB, Bloomberg says "Mario Draghi has no room to back down."
It notes that economists surveyed by Bloomberg "unanimously predict the European Central Bank will boost stimulus again this week, less than halfway through a 1.1 trillion-euro ($1.2 trillion) bond-buying program, and most foresee multiple measures. The institution's president must now find a way to meet expectations or risk an investor backlash that could stymie the euro-area recovery."
Draghi has been priming markets for action since October, saying the ECB will do what it must to raise inflation as quickly as possible, and investors are betting that the probability of a deposit-rate cut is 100 percent. Now, even with some officials voicing misgivings, his Governing Council may find that only a rate reduction combined with increased bond purchases and possibly as-yet unannounced tools will prove convincing enough.
Specifically, as the following charts show, watchers expect the ECB to both boost its QE...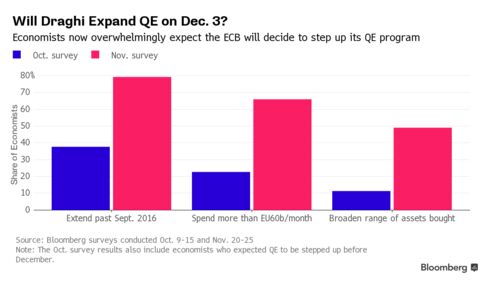 ... and to cut rates to at least -0.30%...
... which as we noted over the weekend, assures that the ECB will keep "chasing its tail" as the lower the ECB cuts rates, the lower European government yields will slide, forcing the ECB to cut the deposit rate even further or do away with the "deposit threshold" altogether.
To make ECB watchers lives' easier, DB has created the following table showing what is priced in (and what isn't), and how the market may react:
And yet, with the EUR plunging and everyone primed for dramatic action by Draghi, especially following today's disappointing inflation data where November CPI rose just 0.1%, below the 0.2% expected, the former Goldmanite may still disappoint.
According to Market News, "the high bar set by expectations, coupled with notable opposition against aggressive action on the Governing Council as economic data developed largely as expected, creates a risk that the ECB will under-deliver Thursday."
It adds:
In his last public speech, Draghi signalled that the Bank's threshold for action is lower than usual and any response is set to be powerful."In making our assessment of the risks to price stability, we will not ignore the fact that inflation has already been low for some time," Draghi told the European Banking Congress on November 20, adding that the ECB will do what it must to "to raise inflation as quickly as possible."

 

Jens Weidmann's quick rebuttal at the same conference was no surprise, but opposition on the Council goes well beyond the Bundesbank President and his German colleague, Executive Board member Sabine Lautenschlaeger. The significant minority among Council members that has yet to be convinced of the merits of more easing may in fact be one reason for Draghi's unusually aggressive communication. The expectations he created will put extra pressure on the Council to deliver.
Notably, ECB's hawks have based their opposition to further easing in part on economic data developing largely as expected by ECB staff when they issued the first projections that incorporated the impact of the asset purchase programme in March. With headline inflation likely to rise to around 1% in early 2016 as base effects wash out and the economy is moving broadly in the right direction, the case for additional easing will become increasingly harder to make if it was not deemed necessary in December.
In other words, Draghi's action is not so much a reaction to the economy, which has reacted largely as expected since the launch of Q€, but is more a political statement meant to quell the hawkish dissent.
The President signalled that he will push for a combination of both a cut in the deposit rate, which is already at -0.2%, and a ramped-up asset purchase programme beyond the planned E60 billion per month until the end of September 2016. He has stressed that the Bank considers the asset purchase programme "to be a powerful and flexible instrument" whose effectiveness can further be increased by lowering the interest rate on the deposit facility.

 

The discussion will thus focus around the size of the cut and whether the Bank will buy larger monthly volumes in is asset purchase programme or merely extended beyond the target date, with both of those options possibly flanked by a broadening of the pool of eligible assets. The ECB may also throw in a change in its forward guidance, for example underlining that it will keep intervening until inflation hovers around the 2% mark, after Draghi already tweaked the phrasing in his Frankfurt speech.

 

Draghi has hinted his commitment to further easing clearer than ever and the eventual outcome of policy deliberations will in part hinge on the extent to which he is willing to assert his leadership at the expense of the traditionally slow pace of consensus building.
Market News' conclusion is that "in that sense, Thursday's meeting will not only be key for the euro area's economic outlook but also decisive for the nature of Draghi's presidency as he starts the second half of his tenure. If he gets his way without sparking a revolt, it hard to conceive a situation in which Draghi won't prevail."
Which of course is correct, but the moment ECB decision-making devolves into a pissing contest, Europe has a big problem. Which is precisely what Invesco Asset Management Chief Economist John Greenwood hinted while speaking at conference in Milan, when he said that "further reduction if ECB's deposit rate facility will be hurtful for bank margins in Europe."
He added that he is "not in favor of that kind of strategy," it's "result of poor design of QE by ECB and Bank of Japa", Says most analysts place most emphasis on QE and effects on interest rates; however, quantitative effects are most important.
Instead he says that "central banks should buy long-term securites from non banking entities, such as insurers, corporates" adding that "under current policy, QE is "assets swap" with banks not able to create more money in the system... Had they done that," i.e. buy L/T securities from non banks, money growth "would be much closer to 10%, not 5%."
The question is whether Draghi will listen to logic and reason, or if he will continue his campaign to isolate the Hawks on the ECB governing council and in the process make Europe's monetary situation unfixable. If Draghi does relent, the EURUSD can soar as high as 1.09 tomorrow according to some estimates.