This is how DB's Jim Reid previews today's "extraordinary" announcement from the ECB:
Let's be honest. Even if you feel like you've navigated these treacherous financial markets well over the last decade, could you have really envisaged a day like today if you go back a few years? We stand on the brink of another extraordinary central bank policy easing today (from the ECB of course) which has been increasingly priced into markets meaning amongst other things that you have to pay heavily indebted governments even more for the right to lend to them at the front end of the curve. Indeed Germany has negative yields out to 7 years at the moment. We're all getting used to it now and generally accept it but one day we'll probably look back on this period and gasp in amazement that investors were happy to pay to lend/store a few trillion euros here and there.
One day, yes, but for now it is all great news, and sure enough yesterday's market swoon which unwound all of Tuesday's gains on concerns about a hawkish Fed and fears about terrorism in the US, are now completely forgotten, and have been replaced with the latest daily round of pre-ECB euphoria, driven by hopes that Mario Draghi will announce even more dovish details to Europe's Q€ 2 than just a 10 bps rate cut and a boost to QE more than €10 billion, both of which have been already priced in.
As Bloomberg notes, it's been 42 days since ECB President Mario Draghi signaled in Malta that more stimulus would be needed in December to counter barely existent inflation. Now it's down to the details. And while we wait for the rate cut announcement first in just over an hour, and then Draghi's press conference laying out the details of the QE boost, the euro is hovering above its lowest level since April. Since the ECB last met on Oct. 22 the common currency has sunk almost 5 percent against the dollar.
Also expecting a very dovish ECB is the German 2 Year note, whose yield just dropped to a fresh record low of -0.4532%, having plunged by over 20 bps since Draghi's last appearance in late October. Currently the ECB is unable to buy bonds yielding less than its deposit rate of minus 0.2 percent, leading investors to price in a cut today to at least minus 0.3 percent.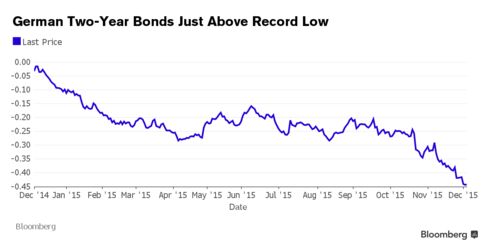 And while there is a very distinct chance that Mario Draghi may disappoint today as Market News warned yesterday, European stocks are not worried, and gain for the first day in three. The Stoxx Europe 600 Index has jumped almost 6 percent since the October meeting. In fact, European stock markets are some of the world's best performers in 2015. France's CAC 40 has jumped 15 percent, Italy's FTSE MIB has surged 19 percent and Germany's DAX is up 14 percent, entirely due to the ECB's QE. In comparison, the S&P 500 Index is up 1 percent.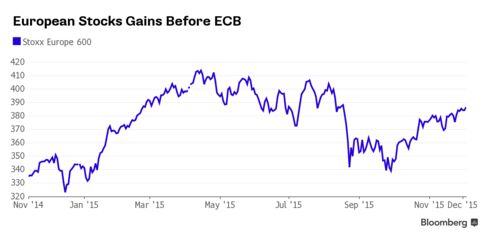 Draghi isn't the only central bank chief in the spotlight. Federal Reserve Chair Janet Yellen appears before the congressional Joint Economic Committee a day after she said she's confident in the outlook for U.S. economic growth, paving the way for a policy shift on Dec.16. 

Adding to the overnight drama was more headline head fakes from various OPEC leakers, in a rerun of yesterday, when first Energy Intelligence reported that despite prior denials, the Saudis would proceed with a 1 million barrel cut:
SAUDI SET TO PROPOSE EVENTUAL 1M BPD OPEC OUTPUT CUTS: EI
... only for the rumor to be denied once again just like yesterday:
SAUDI OFFICIAL SAYS REPORTS OF PROPOSED OPEC CUTS `BASELESS'
The price of crude promptly spiked then swooned lower but the critical level of $40 was again defended courtesy of jittery headline scanning, and all too stupid, algos.
As a result of all these developments, this is where global markets currently stand.
S&P 500 futures up 0.6% to 2095
Stoxx 600 up 0.5% to 386
MSCI Asia Pacific down 0.3% to 133
US 10-yr yield up 2bps to 2.2%
Dollar Index up 0.35% to 100.34
WTI Crude futures up 1.4% to $40.49
Brent Futures up 1.8% to $43.27
Gold spot down 0.3% to $1,050
Silver spot down 0.4% to $13.95
Looking at global markets, Asian stocks traded mostly lower following losses seen on Wall St. amid a slump in the commodities complex which saw crude briefly fall below USD 40/bbl, while gold, silver and platinum fell to 5yr, 6yr and 7yr lows respectively. Consequently, ASX 200 (-0.6%) underperformed led lower by basic materials and energy sectors, while the Nikkei 225 (0.0%) was initially pressured by losses in its largest weighted stock Fast Retailing after domestic sales fell 8.9% Y/Y but later pared as the JPY weakened. Shanghai Comp. (+1.4%) extended on yesterday's gains led higher again by financials following yesterday's relaxation on bond issuance rules coupled with a CNY 50bIn injection into the interbank market. 10yr JGBs traded marginally higher in subdued trade as the weakness of Asian bourses supported the paper.
Top Asia News
Japan's Biggest Oil Refiners Agree to Merge as Demand Drops: JX, TonenGeneral seek 100b yen annual savings from deal
HKMA Bans Staff From Making Job Referrals to Supervised Firms: City's de facto central bank will "immediately inform" all staff members
Macau's Casino Middlemen Squeezed by China's Delinquent Debtors: >30 VIP rooms closed in past 4 mos.
Saudi Arabia to Propose Conditional OPEC Output Cut, EI Reports: Reduction decision not expected at Friday's meeting; possibly 2016
A 2 Cent Fine Indian Telecom Tycoons Say May Cost $8 Billion: India to fine cos. for calls that disconnect unexpectedly
Japan Set to Test Stealth Jet as Abe Boosts Defense Focus: Nation poised to be 4th country to fly own stealth jet
China Energy Engineering Said to Price $1.8 Billion Initial Sale: The co. and China's National Council for Social Security Fund sold 8.8b shares at HK$1.59 apiece
S. Korea 3Q GDP Rose 1.3% Q/q vs 1.2% Prev. Estimate
Caixin China Nov. Composite PMI 50.5 vs 49.9 in Oct.
Australia Oct. Trade Deficit A$3.31b; Est. A$2.6b Deficit
Much of the European session's price action appears to be in line with market expectations of a dovish ECB meeting scheduled for later today. As such Euro Stoxx (+0.6%) have traded in positive territory from the off while, as has been the case throughout the week, energy and material names continue to cap gains in the index. This comes as softness was seen overnight throughout the commodity sector.
Fixed income markets have traded hesitantly so far today, with Bunds Dec'15 futures remaining relatively flat as we head into mid-morning, while large volumes have been seen going through BTPs through the Eurex open and throughout the session. Separately, ECB dated forward Eonias have priced in around an 11 bps cut in the deposit rate today, while pricing in a further 11 bps reduction over the next 12 months.
Top European News
Mediobanca Agrees to Buy Barclays Consumer Business in Italy: Mediobanca's retail unit to see clients increase by 40%
Paddy Power, Betfair Merger Faces Delay, Irish Times Says: cos had hoped to complete deal by March 31
Abengoa Prepares to Sell More Than EU1.8B of Assets: Cinco Dias: to boost divestment plan from EU1.2b to convince creditor banks to provide more liquidity
Zurich to Cut at Least 450 of 7,000 Swiss Jobs: Tages- Anzeiger: measure part of global cost-cutting actions
Wendel 3Q Sales EU2.125b; NAV EU140.3/Share at Nov. 18: 9M sales EU5.91b, up 37.1% overall and up 2.6% organically
Credit Mutuel in Exclusive Talks With GE on Leasing, Factoring: French bank comments in statement
BNP Paribas Fortis to Eliminate 1,050 Jobs, L'Echo Reports: Planned cuts represent 7% of total workforce
Musashi, Bharat Forge Said to Mull Bids for Amtek German Arm: Spain's CIE Automotive SA has also shown preliminary interest in Tekfor
Eurozone Nov. Composite PMI 54.2 vs Flash Reading 54.4; Eurozone Nov. Services PMI 54.2 vs Flash Reading 54.6
Germany Nov. Composite PMI 55.2 vs Flash Reading 54.9; Germany Nov. Services PMI 55.6 vs Flash Reading 55.6
In FX, markets have continued to suggest a dovish meeting from the ECB, with EUR extending on recent softness against the USD, with the pair trading around the 1.0550 level ahead of the all-important rate decision. Separately, SEK also saw some weakness against the EUR earlier in the session after Riksbank's Jansson described SEKs development against EUR as troublesome and stated that the Riksbank can act outside of a scheduled meeting.
Source reports yesterday indicated that the ECB's macroeconomic projections are to be largely unchanged . However, according to one of the officials familiar with the numbers they suggested that the ECB will downgrade its 2017 inflation forecast to 1.6% from 1.7%. The FT writes that due to German-led opposition, further easing measures announced by the ECB today could be limited in firepower and subsequently disappoint investors.
In commodities, oil has seen choppy price action in the last few sessions, with comments from OPEC countries demonstrating contrasting views on production cuts . All analysts expect OPEC to maintain output at current levels on Friday, however Saudi Arabia announced that they would consider reducing production if other OPEC and non-OPEC countries followed suit, however it looks like a difficult task facilitating such an agreement.
Furthermore, this comes in light of Russia's most recent comments saying that it will enforce a policy of maintaining output. Saudi Arabia's announcement did cause an uptick in oil prices, however recent oil sources say that reports of a production cut by the country are 'baseless'.
Gold saw pressure in Asian trade along with weakness across the precious metals complex, which saw gold, silver and platinum decline to 5yr, 6yr and 7yr lows respectively on Fed hike prospects. However, prices then recovered in the European session.  Elsewhere copper has seen subdued trade while iron ore has remained near its lowest level in 10 years as Chinese demand and mild USD strength kept any significant gains in check.
Top Global News
U.K. Begins Syria Air Strikes After Parliament Backs Cameron: House of Commons votes 397 to 223 in support of Cameron plan
Draghi Supplants Yellen as Global Warden in 'Seminal Shift': ECB seen adding stimulus today as inflation stuck near zero while Fed could raise U.S. rates in two weeks time
Yellen Ties Rate-Rise Pace to 'Actual Progress' on Inflation
AB InBev to Explore Sale of SABMiller's Europe Premium Beers: Brewing Co. also among the brands being considered for sale
Spring Airlines Signs Pact to Buy 60 Airbus A320 Neo Jets: list price for the planes is $6.3b, planes will be delivered from 2019 to 2023
Goldman Gets Excluded From IPO Bidding Process for Dong Energy: sale, which Sydbank ests may value Dong as high as DKK70b, is set to be among the biggest in Denmark's history
Pistorius Found Guilty of Murder by South African Court: court throws out manslaughter conviction for killing Steenkamp
Bulletin Headline Summary from Bloomberg and RanSquawk
FX markets have continued to suggest anticipation of a dovish meeting from the ECB, with EUR extending on recent softness against the USD
Oil has seen choppy price action in the last few sessions, with comments from OPEC countries demonstrating contrasting views on production cuts.
As well as the ECB meeting, today sees US challenger job cuts, weekly employment data, services PMI, ISM Non-Manf composite, factory orders, durable goods and scheduled comments from Fed's Mester, Fischer and Yellen
Treasuries drift lower in quiet trade before ECB statement, Draghi press conference; Nov. payrolls tomorrow, est. 200k after Yellen yesterday said a FOMC decision to delay start of normalization could push economy into recession.
A Saudi Arabian official says reports of proposed OPEC supply cut are "baseless"; earlier Energy Intelligence reported, citing 1 unidentified delegate, that Saudis may propose 1m b/d group cut, to take effect some time in 2016
Iron ore may be on the cusp of dropping into the $30s a metric ton as the biggest producers expand supply and the onset of winter in China dulls demand that's been hurt by the slowdown in growth in the world's top user
Police said they can't yet rule out terrorism in a mass shooting that left 14 people dead and 17 wounded at a social services center Wednesday in San Bernardino, California
The suspects were identified in a late-night press conference identified the suspects as Syed Rizwan Farook, a U.S.-born county employee, and Tashteen Malik, believed to be his wife or girlfriend
Putin raised the temperature in an increasingly bitter dispute with Turkey over the downing of a Russian warplane last week, saying the country's "ruling gang" has lost reason as he threatened more punitive measures following economic sanctions
Sovereign 10Y bond yields mostly higher. Asian stocks mixed, European stocks gain, U.S. equity-index futures rise. Crude oil higher, copper and gold lower
US Event Calendar
7:30am: Challenger Job Cuts y/y, Nov. (prior -1.3%)
8:30am: Initial Jobless Claims, Nov. 28, est. 269k (prior 260k)


Continuing Claims, Nov. 21, est. 2.190m (prior 2.207m)

9:45am: Markit US Composite PMI, Nov F (prior 56.1)


Markit US Services PMI, Nov F, est. 56.5 (prior 56.5)

9:45am: Bloomberg Consumer Comfort, Nov. 29 (prior 40.9)
10:00am: ISM Non-Mfg Composite, Nov., est. 58 (prior 59.1)
10:00am: Factory Orders, Oct., est. 1.4% (prior -1%)


Factory Orders Ex Trans, Oct., est. 0.2% (prior -0.6%)
Revised Durable Goods Orders, Oct. (prior 3%)
Revised Durables Ex-Transportation, Oct. (prior 0.5%)
Cap Goods Orders Non-defense Ex Air, Oct. (prior 1.3%)
Cap Goods Ship Non-defense Ex Air, Oct. (prior -0.4%)
Central Banks
7:45am: ECB Main Financing Rate, est. 0.05% (prior 0.05%)
8:30am: ECB's Draghi holds news conference
8:40am: Fed's Mester speaks in Washington
10:00am: Fed's Yellen testifies to congressional Joint Economic Committee in Washington
1:10pm: Fed's Fischer speaks in Washington
DB's Jim Reid wraps up the overnight event summary
Let's be honest. Even if you feel like you've navigated these treacherous financial markets well over the last decade, could you have really envisaged a day like today if you go back a few years? We stand on the brink of another extraordinary central bank policy easing today (from the ECB of course) which has been increasingly priced into markets meaning amongst other things that you have to pay heavily indebted governments even more for the right to lend to them at the front end of the curve. Indeed Germany has negative yields out to 7 years at the moment. We're all getting used to it now and generally accept it but one day we'll probably look back on this period and gasp in amazement that investors were happy to pay to lend/store a few trillion euros here and there.
Before previewing this big day ahead, I've just got back from Saudi Arabia where I've been for the last couple of days. Obviously the price of Oil was a big topic (remember the OPEC meeting tomorrow) as were London property prices given that DB's Stuart Kirk was on hand to scare the locals that the prime bubble was bursting. The London property bubble debate is one of those things that has worn most analysts down over the years as gravity has been continually avoided. However as Stuart discussed in his note last month, big cracks have opened up in many of the supporting elements to this market. A lack of overseas buying being a topical part of the argument (given where we were) after years of money flooding in from abroad. For the record I sold my London flat in 2006 thinking the global financial bubble would burst soon taking London prices down with it. I was half right but as London house prices have typically risen annually by more than most owners earn in a year I think I picked the wrong half to be correct about.
Anyway, Stuart talked about European real estate being much more attractive helped by much lower valuations and an ECB likely to be particularly dovish today. As we highlighted on Monday, our European Economists are expecting a three-pronged easing announcement. Firstly, they expect the ECB to increase the pace of QE by EUR 10bn and also increase the range of assets available to purchase. This could possibly be done through including regional and local government purchases. Secondly they expect the duration of QE to be extended for six months to March 2017. Lastly, they expect a 10bp cut in both the deposit rate and refi rate as well as the removal of the yield floor from the asset purchase programme.
12.45pm GMT is when we'll know just how aggressive the ECB decide to be, while President Draghi is scheduled to speak at the press conference shortly after. Policy makers are also due to present their latest updated economic forecasts. Yesterday's benign inflation data for the Euro area did nothing other than add fuel to the fire for today. The November headline CPI reading was unchanged at +0.1% mom (vs. +0.2% expected) while the core dipped a couple of tenths to +0.9% yoy (vs. +1.1% expected).
As we start this momentus day, Asia has thrown up a few snippets worth highlighting. In China the non-official Caixin services PMI for November has shown a fall to 51.2 from 52.0 in October, although combined with the slight rise for the manufacturing print the other day the composite ticked up 0.6pts and back in 'expansionary' territory at 50.5. Meanwhile in Japan we've seen the Nikkei Composite PMI come in unchanged for the month of November at 52.3. Chinese equity markets have taken to that latest data positively, with gains for the Shanghai Comp (+0.70%) and CSI 300 (+0.34%). Japan is also up with the Nikkei +0.09% although elsewhere the Hang Seng (-0.20%), Kospi (-0.76%) and ASX (-0.58%) are all in the red.
The other notable headline overnight is the news of some rating downgrades for the US banks. S&P has cut the ratings for the eight large systemically important banks which include Bank of America, Bank of NY Mellon, Citigroup, JP Morgan, Morgan Stanley, State Street, Goldman Sachs and Wells Fargo. The rating agency cited that the reason for the downgrade reflected its view that the likelihood of the US government providing extraordinary support to its bank system is now 'uncertain'.
Although today is all about the ECB, yesterday's headlines reverberated around the latest comments from Fed Chair Yellen who re-affirmed the high likelihood now that we'll see the Fed commence liftoff in just under two weeks. She confirmed that 'on balance, economic and financial information received since our October meeting has been consistent with our expectations of continued improvement in the labor market' and that 'helps strengthen confidence that inflation will move back to our 2% objective over the medium term'. She added that liftoff is a day she that expects everyone has been 'looking forward to' and warned of the dangers from delaying the start of normalization for too long. As we're becoming accustomed to, Yellen also highlighted the need for a gradual normalization process.
One of the last remaining hurdles is Friday's payrolls number, although yesterday's ADP employment change print did little to counter the view that we'll see anything too surprising having risen 21k last month to 217k and above market expectations of 190k. Treasuries were weak post that data, and weakened further later in the session. A little recovery into the close meant they finished off the day's high in yield with the 10y still up +3.7bps by the close at 2.181%. The same was true at the short end where 2y Treasuries closed +2.8bps higher at 0.936%, hitting an intraday high of 0.95% which matched the recent highs. The probability of a Fed hike this month is a tad higher at 74% this morning. Meanwhile, it was a rough day for risk assets yesterday. The S&P 500 was already trading with small losses going into Yellen but her comments helped send the index lower, eventually closing -1.10%. In the credit space CDX IG closed nearly 2bps wider. Prior to this European equity markets had closed flat to modestly lower.
The other big theme yesterday was another wild day for Oil. WTI closed the session down -4.56% and traded back below $40 for the first time since August. Brent also fell steeply, closing -4.39% lower at $42.49. Some more bearish US inventory data didn't help matters, along with a strong day for the US Dollar with the Dollar index at one stage reaching its highest level since 2003. Most of the sharp sell-off however appeared to be dictated by headlines out of Iranian Oil Ministry's Shana news agency which suggested that a majority of OPEC members agree on cuts to output (causing Oil prices yesterday to very briefly spike higher) before further detail revealed that the exceptions to this were Saudi Arabia and the Gulf Arab countries, which subsequently sent the oil complex tumbling. These headlines reinforce what is a nervous time for Oil markets with Friday's OPEC meeting the next big event.
Wrapping up the rest of the data yesterday, there was no change to the final revision for Q3 nonfarm productivity in the US at +2.2% qoq saar. Q3 unit labour costs were however revised up to +1.8% qoq saar from +1.4% previously. Meanwhile the November ISM NY report was down -5.1pts from October to 60.7, although better than hoped after expectations for a fall to 58.0. Finally the Fed's Beige Book offered few surprises, with 8 out of the 12 regions reporting modest growth in October and November. Consumer spending was said to have increased in nearly all districts while labour markets were also said to have continued to tighten modestly.
Post the market close in the US last night, the San Francisco Fed President Williams said that the Fed has done a 'pretty good job' in signalling liftoff soon, while also saying that his preference is 'sooner rather than later'. Prior to this and while Yellen had earlier grabbed most of the attention, Atlanta Fed President Lockhart also weighed in saying specifically that 'absent information that drastically changes the economic picture and outlook, I feel the case for liftoff is compelling'.
Looking at today's calendar now. The big focus in the European session this morning will of course be on the ECB decision which is due at 12.45pm (GMT) with Draghi due to speak at 1.30pm. Data wise we're expecting the final revisions to the services and composite PMI's for the Euro area, Germany and France, as well as the first indicators from Italy, Spain and the UK. Also due out this morning will be Euro area retail sales. It's set to be a busy afternoon for data in the US too. We'll get the final revisions for the October durable and capital goods orders readings, along with the final PMI revisions. Initial jobless claims data is due, while the main focus this afternoon may well be on the ISM non-manufacturing print particularly given the recent very high divergence between this and the manufacturing sector. Market expectations are for a modest pullback to 58.0. However if market expectations are correct, DB's Joe Lavorgna highlighted that the 9pt spread between the two has only ever happened on two other occasions. Factory orders data is also expected today in the US. Fedspeak wise, Fed Chair Yellen is due to appear before the Congressional Joint Economic Committee at 3.00pm GMT although it's likely her comments will echo much of what she said yesterday. Vice-Chair Fischer is also scheduled to speak (6.10pm GMT) although the topic is set to be on financial stability. Mester is also due to speak (at 1.40pm GMT).