Overnight market action has largely been a continuation of Tuesday's key themes with European stocks falling as a selloff in mining companies extended to a 7th day, even as metals prices rose and crude oil rallied modestly from a six-year low after yesterday's API crude inventory draw. U.S. equity futures have rebounded from modest declines, as emerging-market shares extended their losing streak to a 6th day while Asian stocks dropped to 2 month lows. 
The top corporate news stories include Dow Chemical and DuPont which are said to be in late-stage merger talks, Yahoo scrapping its Alibaba spinoff, and Electrolux cutting jobs after GE deal collapes, but the key macro story overnight remains China where days after the Yuan's inauguration into the IMF's SDR basket, the government has resumed its not so strealthy devaluation of the Yuan, which sank to the lowest level since August 2011 after the central bank cut the currency's reference rate, despite CPI and PPI (which declined for a record 45th month) data both of which came in fractionally higher than expectations.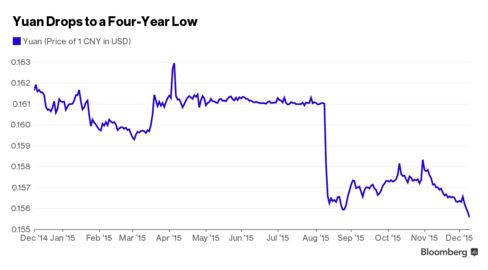 Bloomberg believes the move is an attempt to release pent-up depreciation pressure - call it "stealth devaluation" ahead of next week's Federal Reserve meeting and is probably right: after all, as a result of the Yuan's peg to the dollar the trade-weighted currency needs another 10% devaluation just to get back to even with the non-USD currencies. The People's Bank of China cut the yuan's fixing - which limits onshore moves to 2 percent on either side - by 0.1 percent to 6.4140 a dollar, the lowest in four years. Additionally. the onshore yuan has extended its "staircase-style" moves of past few days and dropped 0.17%, most in a month, to 6.4280; Rabobank says the pattern reflects possibility that policy makers are engineering an "orderly depreciation" before bigger move. The offshore yuan was down 0.07% to 6.4987 per dollar after hitting low of 6.5008.
And while global markets have been largely muted overnight, the one sector that has seen particular weakness are global mining stocks which resumed their sell-off after the biggest one-day drop in over three months. The Bloomberg World Mining Index - a gauge of the world's 80 biggest mining companies - sank almost 4 percent on Tuesday after weak China trade data.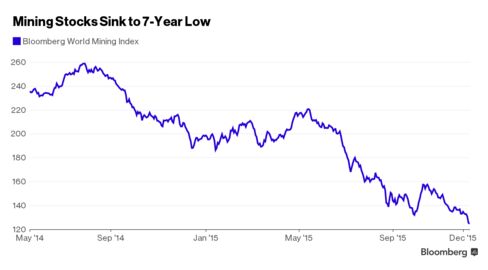 Yesterday's slump was compounded by news Anglo American is scrapping its dividend and slashing two-thirds of its workforce to counter a slump in commodities. Anglo shares have fallen a further 14 percent today after sinking 12 percent yesterday. The Bloomberg Commodity Index - which tracks 22 materials - has rebounded from yesterday's lowest close in 16 years. Crude oil has bounced back from its lowest close since February 2009. It finished Tuesday's session at $37.51 in New York, bringing the three-day decline to almost 9 percent.
And while global stocks had spent the bulkof the session in the red, an odd buying wave has emerged as a result of some modest USD strength, as US traders get to their desks this morning, leaving us as follows:
S&P 500 futures up 0.1% to 2058
Stoxx 600 down 0.2% to 364
MSCI Asia Pacific down 0.6% to 130
US 10-yr yield up less than 1bp to 2.23%
Dollar Index down 0.43% to 98.05
WTI Crude futures up 1.4% to $38.05
Brent Futures up 1.5% to $40.88
Gold spot up 0.4% to $1,079
Silver spot up 0.8% to $14.29
A closer look at markets shows that European stocks slid a 2nd day as commodity producers extended their lowest level in 6 years. U.K.'s FTSE 100 outperforms, Sweden and Spain bourses lag. "Sentiment is predominantly negative across markets," Alex Scott, who helps oversee about $14 billion as Seven Investment Management's deputy chief investment officer told Bloomberg. "Equities are still digesting further commodity- price weakness. That's the dominant factor at present. Investors have had a difficult year and they're struggling to see where a positive catalyst could come from." 18 out of 19 Stoxx 600 sectors fall with chemicals, banks, basic resources underperforming and utilities outperforming. 78% of Stoxx 600 members decline, 20% gain.
Key European News:
VW Shares Rise on Lower Figure for Cars in Carbon-Dioxide Probe: Co. and German authorities now believe less than 40,000 cars had inaccurate carbon dioxide emissions readings, down from an initial estimate of 800,000 vehicles, Frankfurter Allgemeine Zeitung reported
Computer Sciences to Buy U.K.'s Xchanging for About $722m: To pay 190p/shr in cash, tops an offer from Capita, values Xchanging at GBP480m, represents 72% premium to Oct. 2 close
Adidas's Hainer Seeks to Build Investor Bridges Amid Turnaround: CCM ice-hockey unit has attracted interested parties, though no active sale process is underway, he said; vowed again to stay until his contract ends in March 2017
Ashtead Climbs Most in 12 Months as Results Beat Expectations: 2Q pretax profit GBP182m vs est. GBP176m (4 ests.), raises FY guidance and increases capex
Stagecoach Drops Most in Four Years as Floods, Paris Clip Sales: Said lowering forecast for FY adj EPS after softer than expected rev. in parts of U.K. and European bus, coach and rail rev.
Anglo's Shadow Hangs Over Glencore Investor Day as Shorts Circle: Short interest has been rising ahead of Glencore's shareholder day tomorrow, climbing to a 2-year high of 5.3% of shares outstanding, according to Markit
In Asia, stocks fell to the lowest level in 2 months, with all 10 sectors fall with health care, consumer staples underperforming and consumer discretionary, utilities outperforming, led by declines among health-care and consumer companies, with Japanese equities bearing the brunt of losses. Chinese stocks fall in Hong Kong to lowest level since Sept. after data showed producer prices extended declines and the central bank cut the yuan's reference rate to the weakest level in 4 years. "You've got this massive confluence of events conspiring for a negative outcome," said Tim Schroeders, a portfolio manager who helps oversee about $1 billion in equities at Pengana Capital Ltd. in Melbourne. "Things are feeding on themselves at the moment as China goes through a period of very weak economic data, overhanging concerns about the Fed raising rates in the next week or so and some company specific things which overall are eroding any positive sentiment."
Key Asian News:
PBOC Steps Up Yuan 'Stress Test' as Fixing Cut to Four-Year Low: Cut the yuan's reference rate to the weakest since 2011
China Said to Plan Rural Subsidies for Passenger Vehicles: The planned subsidies will cover passenger vehicles with engines
China's Postal Savings Bank Raises $7b Selling 17% Stake: Stake sale ahead of a planned IPO lured 10 firms including UBS, Canada Pension Plan Investment Board and Temasek
Goldman Asset Says Sub-$40 Iron Ore Won't Doom Aussie Resilience: Aussie stands to benefit as concern may ebb over slowdown in China, GSAM fund manager says
Yellen-Kuroda Divergence Driving Japanese Bond Investor Exodus: Japanese financial institutions bought ~12x more mid-to-long term foreign debt in first 11 mos. this yr vs all of 2014
Secret of World's Top-Performing IT Stock? Avoid the Government: NIIT Technologies posted biggest advance globally by an IT co. since March after turning away from domestic projects that don't always pay on time
Despite softness being seen in material names, the commodity complex has been relatively unreactive over nigh to the latest China news, howeverwith precious metals seeing a bid in a safe haven bid, with gold trading around the USD 1180/oz level. Separately, WTI crude futures saw some reprieve to break above the USD 38/bbl mark in the wake of the latest API crude inventory report, which posted a drawdown of 1.9mln vs. Prey. build of 1.6mln, with this coming ahead of the latest DoE crude oil inventories (Exp. build of 1300k, Prey. build of 1177k).
In FX, the key news was the previously noted decline in the Chinese Yuan, with the CNH/CNY spread continued to widen as markets reacted to some of the recent downbeat data and sources suggesting that PBoC is to suspend their new quota on applications for RQDII offshore yuan investment programme, while China exposed currencies (AUD & NZD) also came under significant selling pressure. However despite the risk off sentiment, USD index failed to benefit, as EUR/USD continued to edge higher on touted carry trade unwind and re-positioning flow following the latest ECB meeting.
Looking at today's US calendar, we have MBA Mortgage Applications, Dec. 4 (prior -0.2%); Wholesale Inventories (est. 0.2%) and Wholesale Trade Sales (est. 0.2%) and December's 10 Year auction.
Bulletin Headline Summary from Bloomberg and RanSquawk
Stocks in Europe failed to hold onto early gains (Euro Stoxx: -0.6%) after the release of the above RQDII source reports saw concerns over China re-emerge with a vengeance. Energy and material names were the notable underperformers on the sector breakdown, with Anglo American down over 8% amid China related concerns and the ongoing slump in base metals market.
Separately, Volkswagen (+3.4%) saw the most significant stock specific move of the session amid reports in German press that the CO2 emission scandal impacts 40k cars , substantially less than the initial 800k estimate and as such could not be as downbeat for the Co. as initially anticipated.
Fixed income markets followed the lead from the risk off sentiment seen in equity markets after the release of the China RQDII source reports and resulted in flight to quality trade picking up pace , with Bunds reversing initial weakness.
Treasuries lower overnight while equity markets continue to sell off; today will see wholesale inventories release along with $21b 10Y auction, WI 2.235%% vs 2.304% seen last month.
Jeffrey Gundlach said the Federal Reserve may come to regret raising U.S. interest rates amid signs of a fragile economy and a crumbling credit market
ECB policy maker Ewald Nowotny said the financial community misjudged the state of the euro-area economy and thus had unrealistic expectations for more stimulus last week
Danske Bank says Denmark's negative interest rates have lasted longer than anyone could have expected, with the damage to the financial industry growing increasingly burdensome
Dow Chemical Co. is in late-stage talks to merge with DuPont Co. in what would be the largest deal in the chemicals industry, people with knowledge of the matter said
Here's what U.S. state and city pension funds are getting this year for the hundreds of millions of dollars in fees they're forking over to hedge funds: almost nothing
No IG or HY priced yesterday. BofAML Corporate Master Index OAS up 2bp to +165, YTD range 180/129. High Yield Master II OAS widens 14bp to +665, YTD range 683/438
Sovereign 10Y bond yields little changed. Asian, European stocks drop and U.S. equity-index futures fall. Crude oil, copper and gold higher
US Event Calendar
7:00am: MBA Mortgage Applications, Dec. 4 (prior -0.2%)
10:00am: Wholesale Inventories m/m, Oct., est. 0.2% (prior 0.5%);Wholesale Trade Sales m/m, Oct., est. 0.2% (prior 0.5%)
1:00pm: U.S. to sell $21b 10Y notes
Top Global News
Dow Chemical, DuPont Said to Be in Late-Stage Merger Talks: Would be largest deal in the chemicals industry, an accord may be announced as soon as this week; after the merger, would break into 2 or 3 businesses because of regulatory, other issues
Yahoo Said to Scrap Alibaba Spinoff, Explore Web-Unit Deal: Will instead explore a spinoff of its main Internet businesses
Kinder Morgan Cuts Dividend by 74% to Conserve Cash: To cut qtr div. to 12.5c/shr from 51c/shr, est. 32c, sees declaring divs. totaling 50c/shr for 2016
China's Inflation Stabilizes as Stimulus Supports Demand: CPI +1.5% in Nov. from a yr earlier vs est. +1.4%, Oct. +1.3%
Electrolux to Cut Costs, Jobs on Collapse of GE Appliance Deal: Will reduce costs at its small appliances division to save expected SEK120m ($14m) annually starting end of next yr, will pay GE a break up fee of $175m
Apple Said to Suspend Effort to Develop Live Internet TV Service: Is instead focusing on being a platform for media companies to sell directly to customers through its App Store
China Resources Said to Offer $2.46b for Fairchild: Group led by China Resources's semiconductor arm and Hua Capital made an offer for Fairchild valuing co. at $2.46b, people familiar with the matter said, topping a previous offer by ON Semiconductor
Volkswagen Emissions-Cheating Lawsuits Sent to San Francisco: More than 500 lawsuits to be consolidated before federal judge
Morgan Stanley Appoints Britain's Alistair Darling to Board: Darling, 62, who was chancellor from 2007 to 2010, will join the board on Jan. 1
Optimism Among U.S. Companies Eased in Second Half of 2015: Duke University/CFO Global Business Outlook's latest gauge of sentiment stood at 60.3 in Dec., down from 63.7 at end of 2015
DB's Jim Reid wraps up the overnight event recap
Before we get to 2016, December's advent calendar seems to bring us a new low in oil as we open each new window. So far in December WTI oil has only rallied on 2 days and it's not been much better for US equities, with the S&P 500 closing higher on only 2 days this month as well so far. The moves for both WTI (-0.37%) and Brent (-1.15%) yesterday hid what was another hugely volatile day for the complex. The latter at one stage tumbled below $40 shortly after lunch, plummeting as much as 4% from its peak to hit an intraday low of $39.81/bbl which is near those February 2009 lows. Prices swiftly reversed however and in fact traded back up near its highs for the day again in a matter of hours, before then settling down into the close. There was similar price action for WTI which fell to an intraday low of $36.64 around the same time as the lows in Brent, before then spiking a massive +5.3% in a short period of time to back well above $38, only then to settle into the close and finish not far off unchanged on the day. That fall below $37 also being the lowest level since February 2009. It's proving difficult to pinpoint the exact reasons for the moves yesterday, with various technical levels being hit along with a cut from the EIA for its US crude production outlook (albeit a modest cut) being attributed for some of the moves.
The S&P 500 swung about with those moves in oil, finishing the session -0.65% which was off the day's low point while unsurprisingly energy and materials names underperformed again. European equities were harder hit with the Stoxx 600 closing -1.81%. Credit markets had a tough day also, CDX IG finishing +2.5bps wider and Crossover finishing +8bps wider, while it was another day to forget for commodity currencies. Despite the volatility elsewhere, moves were a bit more muted in the Treasury market, as 2y yields continue to hover around 0.931% while the benchmark 10y yield was down 1.1bps to 2.219%. The latest rout in Oil has done little to temper Fed rate hike expectations next week, now up to 80%.
Before we look at the rest of yesterday's news, it's off to the latest in Asia this morning and specifically China where the latest slug of data is out. After the soft data so far, there's some better news out of the November CPI reading where inflation ticked up two-tenths from October to +1.5% yoy (vs. +1.4% expected), albeit still below the levels seen in July and August. PPI stayed unchanged at -5.9% yoy (vs. -6.0% expected), the 45th consecutive month of deflation at the factory gates. The higher than expected numbers have given a lift to Chinese equity markets this morning where the Shanghai Comp is currently +0.33%. Part of that however might be a reflection of the latest Yuan fix, with the onshore currency set at the weakest level since 2011 this morning after a 0.1% weakening.
Elsewhere, and despite oil prices rebounding nearly 2% this morning, it's a sea of red across the rest of Asia. The Nikkei is -1.17%, while the Hang Seng (-0.45%) and ASX (-0.55%) are also lower – the latter also impacted by yet another drop in iron ore yesterday to below $39.
Unsurprisingly the big commodity names were the most under pressure yesterday. Adding to the tension in the sector was the restructuring news out of Anglo American with the company announcing a dividend suspension, huge cost and headcount reduction and a consolidation of the business through shrinking its asset base. That sent the company's share price down over 12% while its bonds traded a couple of points lower. Commodity heavyweight Rio Tinto added to the pain, cutting capex guidance for the year ahead.
With the latest rout, it's worth also taking a look at what US HY spreads have done lately, particularly through the energy names. Using DB's indices, US HY spreads are currently sitting at 644bps (as of yesterday's close) which is not far off the YTD wides seen back at the beginning of October at 650bps. If we look at performance since the start of November which is when the latest slide in Oil started, spreads are in fact 77bps wider in that time to yesterday's close. In fact, over the last three days alone, spreads have moved 32bps. Clearly this is energy driven. Applying the same analysis for US HY energy spreads, the current spread level of 1175bps is now the all time wide on data that we have. Since the start of November, spreads have moved 147bps wider and in the last three days alone, spreads are a whopping 108bps wider. In fact, if we cast our minds back to last year, US HY energy spreads widened 355bps through 2014 with much of that coming in the last two months of the year. As it stands YTD in 2015, spreads have widened 406bps, helped by the latest collapse of the last few days. An all too familiar ending for the asset class and sector as we approach the end of the year.
Wrapping up the rest of yesterday's news and specifically the data. In the US the October JOLTS job openings were slightly below market expectations at 5.38m (vs. 5.5m expected) which was down from 5.53m in the month prior. The details didn't offer a whole lot. The quits rate held steady at 1.9% which is just below its pre-recession level, while the hiring rate was also unmoved at 3.6%. The NFIB small business optimism reading fell in November by 1.3pts to 94.8 (vs. 96.4 expected) and the lowest since June, although that was in contrast to the IBD/TIPP economic optimism reading which was up 1.7pts to 47.2 (vs. 45.1 expected).
Prior to this in the European session the preliminary Q3 GDP reading for the Euro area was confirmed at +0.3% qoq as expected, keeping the YoY rate unchanged at +1.6%. In France the latest business sentiment print fell 1pt to 98 (vs. 99). Meanwhile in the UK industrial production rose +0.1% mom in October which was in line with consensus, although manufacturing production (-0.4% mom vs. -0.2% expected) came in softer than expected.
Taking a look at the day ahead now, the early and sole release in the European session this morning is in Germany where we'll get the October trade numbers. It's pretty quiet in the US session this afternoon too with just the October wholesale inventories and trade sales data due out. With little in the way of Central Bank speak the focus will likely be back on those moves in the commodity markets.