Posted with permission and written by Steve St Angelo, SRSrocco (CLICK FOR ORIGINAL)
Looks like something big is about to take place on the Comex as Registered Gold inventories declined a whopping 73% in one day. This is a very suprising update as Comex Gold inventories haven't experienced much movement over the past few months.
Well, this all changed today as a stunning 201,345 oz (73%) of the total 275,325 oz of Registered Gold was transferred to the Eligible Category today: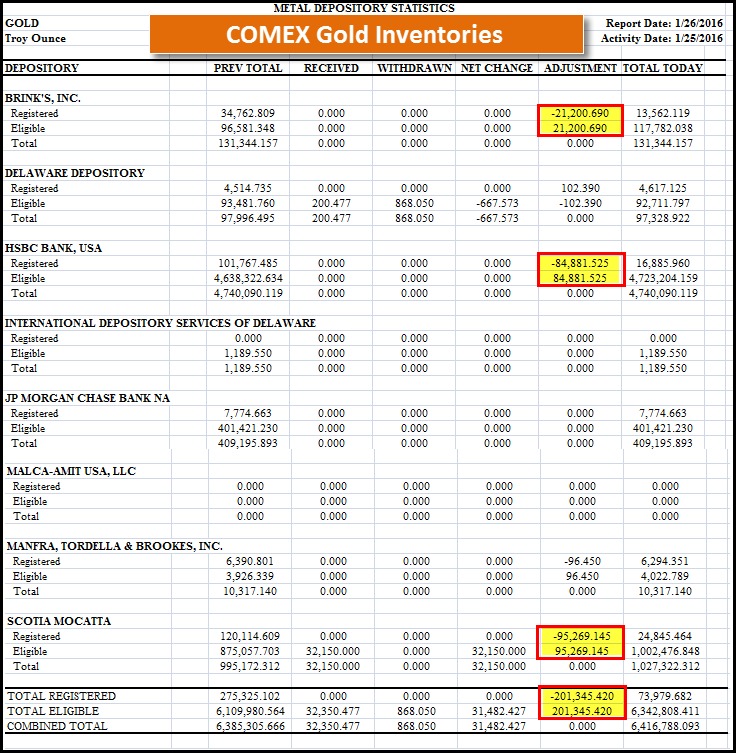 As we can see, 21,200 oz was transferred from Brinks Registered Inventories, 84,881 transferred from HSBC and 95,269 from Scotia Mocatta. There are only 73,980 oz of Registered Gold remaining in the Comex inventories: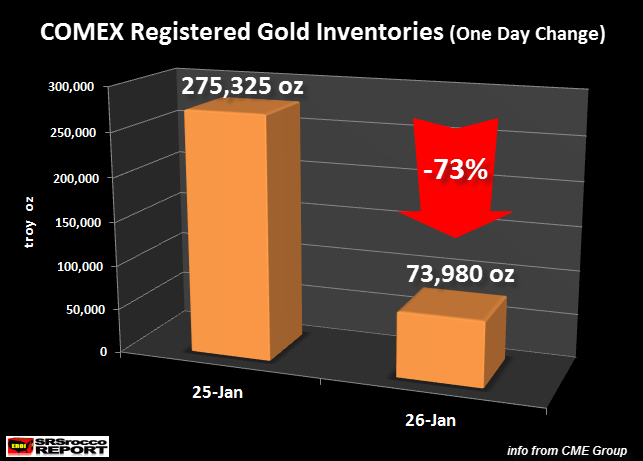 This is the lowest level of Registered Gold inventories on the Comex for more than 20 years. There are now only 2.3 metric tons of Registered Gold remaining at the Comex.
This has to be one of the most surprising movements of Comex Registered Gold inventories ever. It will be interesting to see what happens over the next few months as the broader stock markets continue to crash while precious metal physical investment surges.It seems to me that this huge decline of Registered Gold Inventories suggests that the end of the Comex Exchange as a price setting mechanism is now even closer at hand.
For questions on this article or precious metals, please contact HERE
Posted with permission and written by Steve St Angelo, SRSrocco (CLICK FOR ORIGINAL)
Independent researcher Steve St. Angelo (SRSrocco) started to invest in precious metals in 2002. Later on in 2008, he began researching areas of the gold and silver market that, curiously, the majority of the precious metal analyst community have left unexplored. These areas include how energy and the falling EROI – Energy Returned On Invested – stand to impact the mining industry, precious metals, paper assets, and the overall economy.
You can find many of Steve's articles on many noteworthy sites. Visit Steve at https://srsroccoreport.com.