This was making waves yesterday, after Evelyn Farkas admitted to Mika from The Morning Joe show that she strongly advised people 'on the hill' and in our intelligence agencies to tuck away intelligence regarding Russo-Trump ties for the sake of preservation, in an effort to protect it from the onerous bureaucracy she obviously finds to be deplorable.
Former Obama DoD Deputy Evelyn Farkas reveals White House gathered intel on Trump campaign staff and then leaked it! https://t.co/W6FG4IFe5Q pic.twitter.com/VwaF2CnZzn

— ZeroPointNow (@ZeroPointNow) March 29, 2017
"Get as much intelligence as you can before President Obama leaves the administration," said Farkas in an interview yesterday on MSNBC.
She was afraid the Trump people would gain access to their intelligence and whisk it away -- because they're all Russian spies, obviously. Aside from what appears to be a brazen confirmation of spying on the Trump team, the bigger red flag here is Dr. Farkas wasn't employed by the Obama administration at the time the Russian allegations arose. According to Pentagon records, Dr. Farkas resigned in September of 2015. So how did this non-resident fellow at the Atlantic Council, member of the Council on Foreign Relations, and former deputy assistant secretary of defense for Russia, Ukraine and Eurasia, gain knowledge of intelligence regarding members of Trump's team and their relations with Russia, when she was the senior foreign policy advisor for Presidential candidate Hillary Clinton? Farkas was the prime driver behind the anti-Russia phobia inside the Pentagon during the Obama years -- shilling hard for the Ukraine -- requesting that the President send them anti-tank missiles -- which, essentially, would mean outright war with Russia. Back to the interview with Mika Brzezinski. Dr. Farkas said 'we' had good intel on Russia. Who does she refer to when she says 'we?'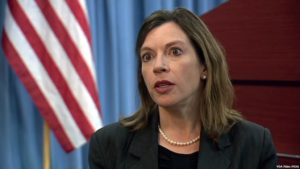 Professional Deep Stater, Dr. Evelyn Farkas, Globalist Shill Here's Mark Levin's take on this scandal. Perhaps someone inside the Obama government was leaking to the Hillary campaign? I think we all know what the answer is to the rhetorical question. Content originally generated at iBankCoin.com