It's pretty obvious what Google is trying to do here. After the Wall Street Journal began routing out Nazis on YouTube, in an effort to get ads scrubbed from their videos, a massive overhaul of YouTube's advertising policies began, shortly thereafter. It was incredible, really, as if Google was simply waiting for an excuse. A number of major advertisers suspended their ad campaigns on YouTube, waiting for Google to get rid of its Nazis. Unlike other social media venues, YouTube is largely dominated by right of center, logic based, thinkers. Obviously, this was a problem. Ergo, an effort to demonetize free thinkers is underway. A manager for YouTube posted this kind note last week, warning creators that ad revenues will be fucked until they find the Nazis.
"If you're seeing fluctuations in your revenue over the next few weeks, it may be because we're fine tuning our ads systems to address these concerns,"
Nomura believes $GOOGL could lose $750m in revenue this year due to the new witch hunt. Famous conservative personality, Paul Joseph Watson, posted a picture of his YouTube revenues, after the crackdown, and they're virtually zero.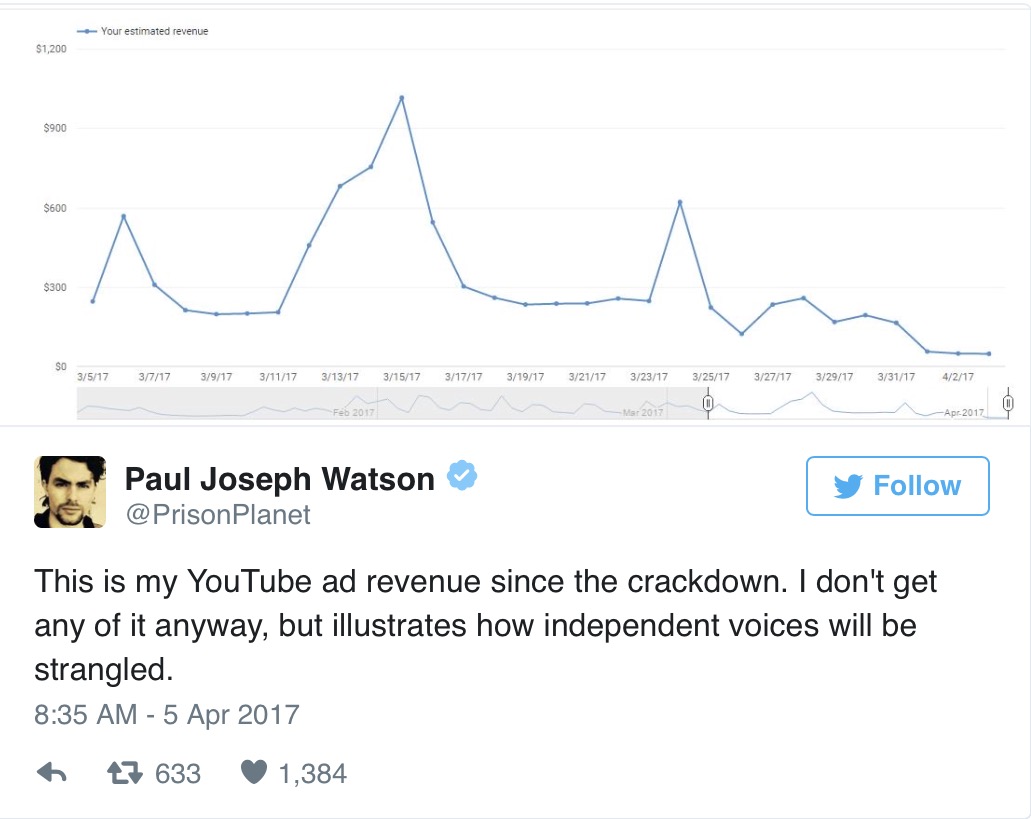 On
iBankCoin's channel
, which only has around 3,000 subs, our revenues have flatlined as well. YouTube said they've begun to hire 3rd party 'brand safety' organizations, who will help eliminate 'bad actors' from the platform. How nice. I expect similar efforts will be made on the web that will take aim at independent media, taking away their financing and the incentive to create content. Content originally published at
iBankCoin.com