Content originally published at iBankCoin.com
The President ripped into what he called a 'WITCH HUNT' this morning, after reports by the Washington Post that suggested the new special counsel, Robert Mueller, was set to launch a fresh inquiry into obstruction by the President. Having not been able to find any collusion between Russia and Trump, the democrats and their deep state shills have now switched focus on the obstruction topic -- all to do with former FBI director, James Comey.

Incidentally, there is now a push by those loyal to Trump to impugn the integrity of Robert Mueller. Last night, long term Trump ally and former chief of staff, Roger Stone, said that Mueller had coached Comey before his senate and was hiring a slew of never Trumpers to head up the investigation into the President. Yesterday, Ann Coulter concluded Mueller was being weaponized by deep staters to take down Trump, helped by Rod Rosenstein -- something Stone agreed with. Early this morning, former speaker of the house and Trump ally, Newt Gingrich, went on a twitter rampage over the Mueller investigation, saying that he was 'the tip of the deep state spear aimed at destroying' the Trump presidency.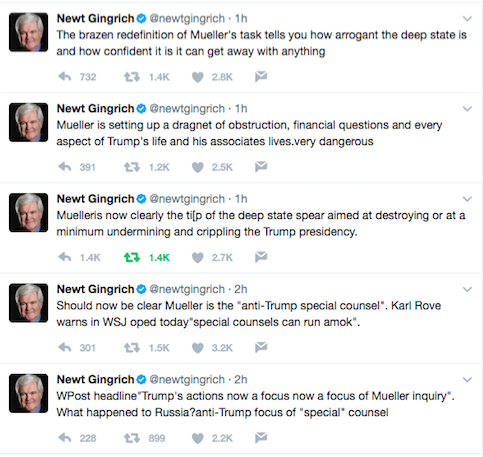 The tweets by the former speaker set off trip wires by Never Trump deep staters. One of their key mouthpieces, Joe Scarborough, hit Newt tit for tat this morning, vigorously defending Mueller, attempting to shame him into cowing his opinions in light of yesterday's baseball field shootings.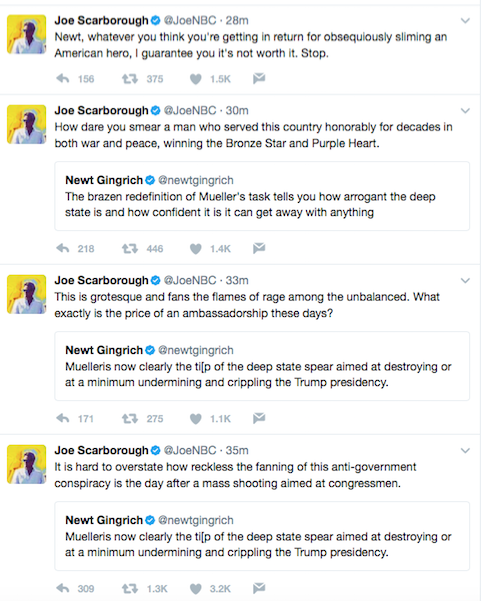 Earlier this week, Trump's good friend, Chris Ruddy, floated the idea that Trump, might in fact, fire Mueller. One thing is for certain, chaos is in the air and markets don't like it.