Content originally published at iBankCoin.com
For the first time ever, Norway's sovereign wealth fund, which was launched 20 years ago to invest their oil money, has surpassed $1 trillion.
"I don't think anyone expected the fund to ever reach 1 trillion dollars when the first transfer of oil revenue was made in May 1996. Reaching 1 trillion dollars is a milestone, and the growth in the fund's market value has been stunning", said Yngve Slyngstad, chief executive officer at Norges Bank Investment Management.   The fund's administrators said that on Tuesday 19 September 2017 at 2:01 a.m. local time, the fund value hit $1,000,000,000,000, or $1 trillion, for the first time.   The bank said a strengthening of the world's major currencies against the U.S. dollar combined with strong equity markets during 2017 had rapidly increased the U.S. dollar value of the pooled capital.
  The fund is broadly diversified and is very open about how the money is invested. If you're interested in the details, check
here
.   The fund is ~65% long equities, upwards of 30% fixed income and a little real estate.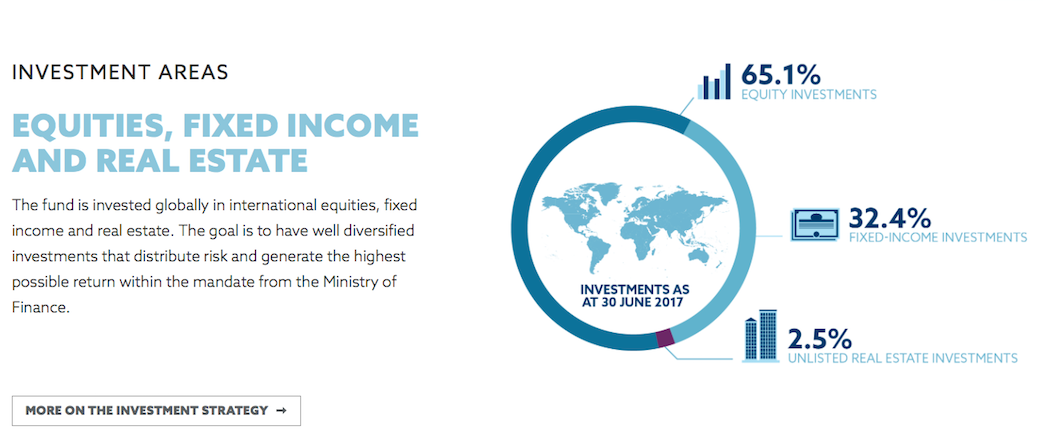 Norway's GDP for 2016 was $370 billion, or $70k per capita. Here's the top countries, sorted by highest GDP per capita.