An official statement from Chinese officials tonight smacks of Obi Wan Kenobi - 'these are not the secret oil trades you are looking for'.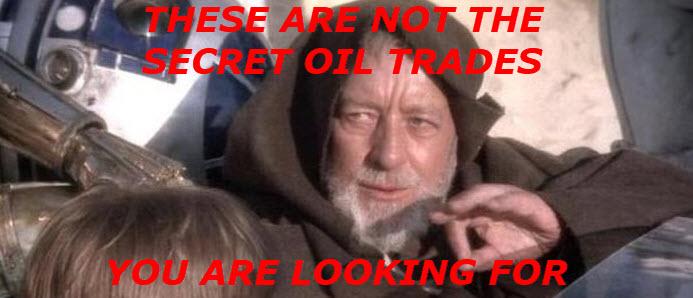 After being 'caught RED HANDED'...according to South Korea's Chosun Ilbo, U.S. recon satellites have photographed around 30 illegal transactions involving Chinese vessels selling oil to North Korea on the West Sea in October. The images allegedly showed large Chinese and North Korean ships transacting in oil in a part of the West Sea closer to China than South Korea. The satellite pictures even showed the names of the ships.
A government source said, "We need to focus on the fact that the illicit trade started after a UN Security Council resolution in September drastically capped North Korea's imports of refined petroleum products."  Meanwhile, on paper, China's trade with North has recently collapsed after U.S. President Donald Trump unleashed a barrage of sanctions in September targeting North Korea's imports of refined petroleum products.
Back in November, the US. Treasury Department sanctioned an additional six North Korean shipping and trading companies and 20 of their ships after the satellite pictures surfaced. In the above picture, the North Korean ship named Ryesonggang 1, was easily identified and connected to the illegal sale of oil from China.
According to Chosun Media, "the department noted that the two ships appeared to be illegally trading in oil from ship to ship to bypass sanctions."
Ship-to-ship trade with North Korea on the high seas is forbidden in UNSC Resolution 2375 adopted in September, but such violations are nearly impossible to detect unless China aggressively cracks down on smuggling.   
Last month, the Communist Party spokespeople slammed new US sanctions targeting Chinese traders doing business with North Koreans, calling them "wrong".
As we noted, it's still unknown if the Chinese government is turning a blind eye to the illegal open sea transactions with North Korea, but as of yesterday it seems as a blatant snub to the Trump administration.
Which is perhaps why President Trump took to Twitter to admonish China...
Caught RED HANDED - very disappointed that China is allowing oil to go into North Korea. There will never be a friendly solution to the North Korea problem if this continues to happen!

— Donald J. Trump (@realDonaldTrump) December 28, 2017
And now, just hours after that accusation, China goes full 'Star Wars' with an outright denial that anything untoward is going on.
As SCMP reports, according to Chinese customs data, the country did not export any oil products to North Korea in November.
Beijing on Thursday said there was no illicit trade, with defence ministry spokesman Ren Guoqiang saying China and its military strictly enforced the UN resolutions on North Korea.
"The situation you have mentioned absolutely does not exist," Ren said at a regular media briefing, without elaborating.
It is unclear what role the Chinese military has in enforcing sanctions.
A day earlier, foreign ministry spokeswoman Hua Chunying sought to play down the reports, saying only ships on the UN Security Council list were banned from trading, and China would deal with any case of the sanctions being violated according to the law.
We wonder whether this will accelerate Beijing's ongoing plans to launch petro-yuan oil futures trading sooner?