For the second time in the span of a month, fighters loyal to the Islamic State have bombed a Shiite cultural center and news organization in Kabul. The attack demonstrates that the group is still capable of carrying out deadly attacks despite being driven from territory it formerly held in Syria and Iraq, according to the New York Times.
The attack also targeted the Afghan Voice Agency, a Shiite news organization. But during the assault on Thursday, one suicide bomber managed to enter the Shiite facility, the Tebyan cultural center and religious school, during a group discussion, where he detonated his explosive vest, said Sadiq Muradi, Kabul's deputy police chief who said that women and children were among the dead at the center.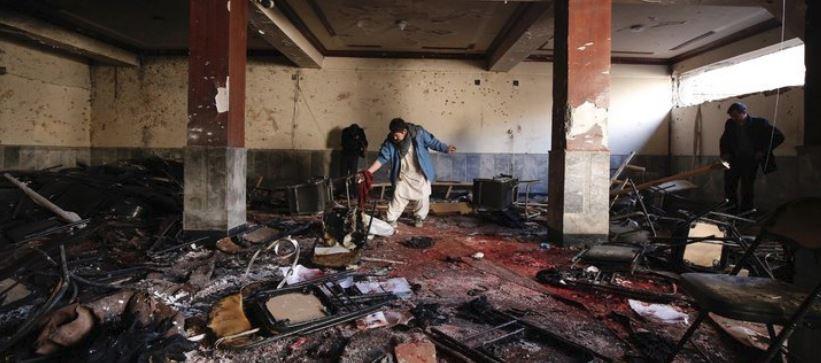 ISIS swiftly claimed responsibility for the attack.
At least 40 people were killed and dozens wounded on Thursday morning in a complex bomb attack that hit both a Shiite cultural center and the Afghan Voice Agency news organization in Kabul, officials said...In the past, Islamic State loyalists have singled out Shiites for attack, and the group claimed to be behind an attack last month on another news organization in Kabul, Shamshad TV.
Witnesses reported that at least two other explosions followed in the area, the Qalay Nazer neighborhood in western Kabul, including one blast at the entrance of the Afghan Voice Agency, killing one journalist and wounding another.
Nasrat Rahimi, a deputy spokesman for Iraq's Interior Ministry, said that at least 40 people had been killed and another 30 wounded, but that was an initial accounting. He said that two blasts after the suicide bombing within the Tebyan center were caused by improvised explosive devices that inflicted relatively few casualties.

Later, Wahidullah Majrooh, a spokesman for the Health Ministry, said that 35 bodies and 20 wounded people had been taken to a hospital so far.
Earlier this month, Russian forces and the Syrian Army managed to drive the Islamic State from its last Syrian stronghold. The Russian General Staff issued a statement on Dec. 6  declaring that all territories previously under terrorist control were liberated in a final push by the Syrian Army this week, and with the support of Russian forces. The victory caused ISIS forces to scatter, heading to other strongholds like Afghanistan.
However, Russian President Vladimir Putin  warned security forces to be on high alert as thousands of foreign ISIS fighters are expected to return home to remote parts of the Russian Federation where, Putin warned, they might try to carry out more attacks in densely populated urban centers like Moscow.
ISIS's defeat coincided with reports that the CIA, in an attempt to arm so-called "moderate" rebels, ended up delivering arms to ISIS - an Obama-era blunder that has received surprisingly little coverage in the mainstream press. One Russian general even accused the US of training ISIS troops at a base  near the Syria-Iraq border.