Bitcoin has plunged over $1000 in early Asia trading (and the rest of the majors in the crypto space have followed) after South Korean officials said they will review various measures including shutdown of exchanges to curb cryptocurrency speculation, according to statement from Office for Government Policy Coordination.
"Cryptocurrency speculation has been irrationally overheated in Korea," the government said in the statement, which comes little more than a week after the bankruptcy filing of one South Korean exchange. "The government can't leave the abnormal situation of speculation any longer."
As Yonhap adds, South Korea's Office for Government Policy Coordination will require real-name cryptocurrency transactions and impose a ban on the offering of virtual accounts by banks to crypto-exchanges. Policy makers will review measures including the closure of crypto-exchanges suggested by the Ministry of Justice and take proper measures swiftly and firmly while monitoring the trend of the speculation.
And while there's no immediate indication Asia's No. 4 economy will shutter exchanges that have accounted by some measures for more than fifth of global trading, the news poses a warning as regulators the world over express concerns about private digital currencies.
The details, as summarized by Bloomberg:
Government to take proper measures swiftly and firmly while monitoring the trend of cryptocurrency speculation
Govt to require real-name on cryptocurrency transactions, while banning banks' offering of virtual accounts to cryptocurrency exchanges
Govt to prohibit banks' offering of payment and settlement service to unqualified exchanges
Govt to strengthen banks' duty of anti-money laundering on cryptocurrency exchanges
Govt to crackdown on cryptocurrency-related crimes and severely punish them
Last week, Singapore's monetary authority became the latest to warn that cryptocurrency buyers should be aware they could lose all their money, joining other central bank counterparts who've warned about speculative mania surrounding bitcoin, which has surged more than 1,300 percent this year.
"Regulators are getting so concerned that this is primarily and predominantly a retail phenomenon," said Stephen Innes, head of trading for Asia Pacific at Oanda. "Regulators not only in Asia but globally are going to start addressing this fact because I don't think they've actually come to terms with what the absolute downside of a complete drop in crypto means for the economy."
In any case the reaction was swift: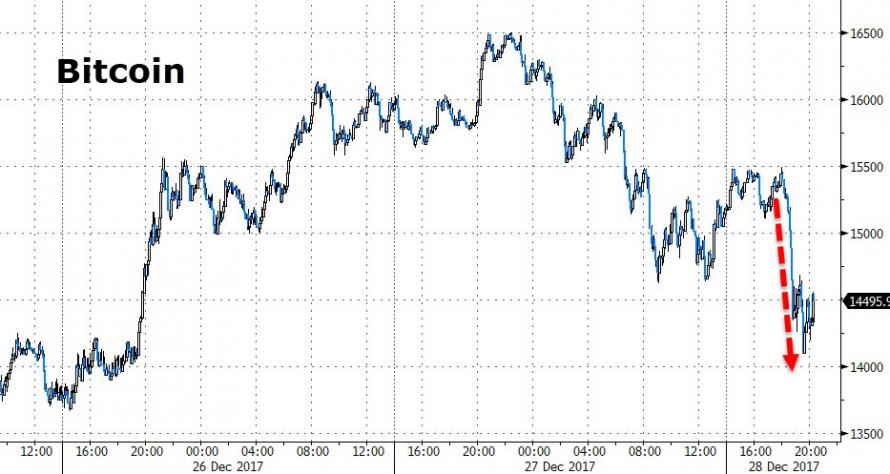 And while Ripple had been holding up, it also tumbled along with Bitcoin, Ethereum, and Litecoin...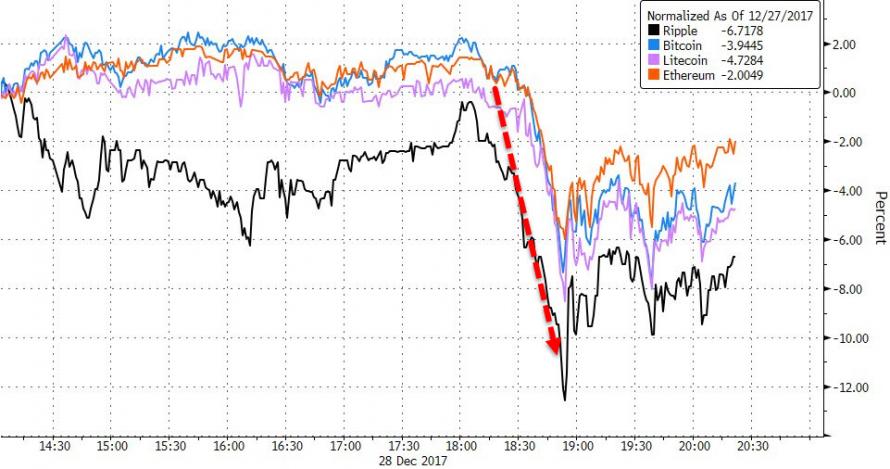 South Korean financial regulators also made it clear that "nobody guarantees the value of cryptocurrencies."
There is however some buying (as seen above) after Bitcoin neared $14,000 once again.