As we predicted earlier this morning (see the last sentence of this post), President Trump has just cited the arctic weather, which has brought minus 40 degree temps to portions of the Midwest and New England, to troll environmentalists over Twitter.
"In the East, it could be the COLDEST New Year's Eve on record. Perhaps we could use a little bit of that good old Global Warming that our Country, but not other countries, was going to pay TRILLIONS OF DOLLARS to protect against. Bundle up!"
In the East, it could be the COLDEST New Year's Eve on record. Perhaps we could use a little bit of that good old Global Warming that our Country, but not other countries, was going to pay TRILLIONS OF DOLLARS to protect against. Bundle up!

— Donald J. Trump (@realDonaldTrump) December 29, 2017
Of course, the "zoomed out" view of the world looks slightly different...
The coldest weather (relative to average) will be positioned right over North America through at least the next 7-days...

[Maps: https://t.co/3ktgI4H39L] pic.twitter.com/Fsua7Lc9xW

— Zack Labe (@ZLabe) December 27, 2017
* * *
For those who missed it, here is our update on the severe winter chill plaguing cities from Wyoming to Maine posted earlier this morning:
For those fortunate enough to be spending the holidays somewhere in the southern portion of the United States, it may be difficult to envision just how brutal the recent blast of arctic weather has been for folks living anywhere from Wyoming to Maine. As Weather.com notes this morning, mind-numbing temperatures, which have plunged to nearly -40 degrees in certain cities, are smashing 100-year-old records all across the country.
Flint, Michigan, set an all-time December record low temperature of 17 degrees below zero on Thursday morning. Records in that location date back to 1921.

Watertown, New York, fell to minus 32 Thursday morning, which shattered its daily record for Dec. 28 of minus 23. Daily record lows for Dec. 28 were also tied Thursday morning in Toledo, Ohio (minus 8), and Paducah, Kentucky (10 degrees).

Wednesday morning, International Falls, Minnesota, set a new daily record low when temperatures plummeted to minus 36; the previous record was minus 32. It was even colder in Embarrass, Minnesota, and Cotton, Minnesota, where morning lows were 40 below zero and minus 41, respectively.

Detroit tied its daily record low of 4 below zero on Wednesday, and Alpena, Michigan, also tied its daily record low of minus 16. Additional daily record lows were set in Lincoln, Nebraska (17 below zero), and Norfolk, Nebraska (minus 15).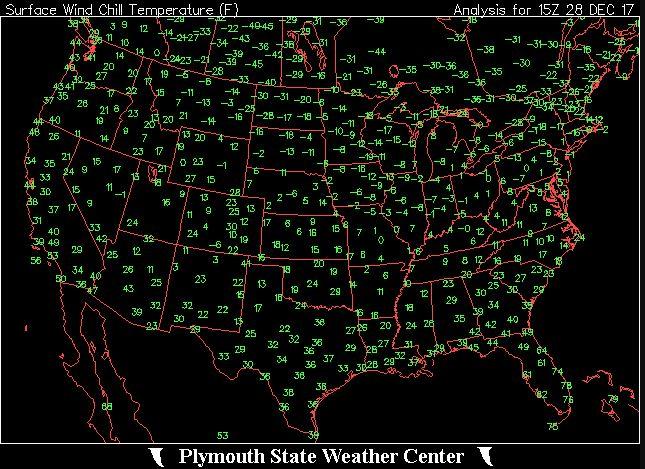 And, as if battling the cold weather and mountains of snow weren't bad enough, residents of New England are likely to get a bit of a shock when they open their gas bills next month as the surge in Nat Gas demand has already sent prices surging ~300%.
Unfortunately, conditions are not expected to get any better with the National Weather Service warning residents of New England to continue to expect wind chills of minus 20-40 degrees for the next couple of days.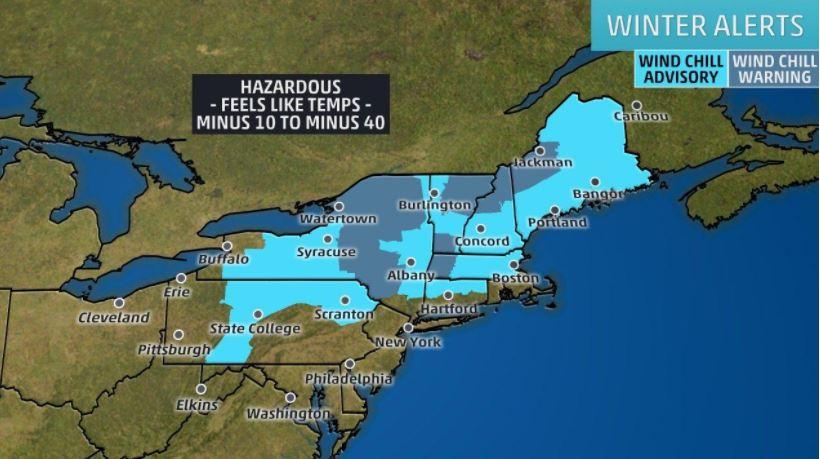 Meanwhile, folks planning to ring in the New Year in New York's Times Square may want to consider getting plastered from the comfort of a heated bar instead as temps are expected to remain around -5 degrees through the weekend. Per AccuWeather:
Brutally cold weather will soon be refreshed as another bout of arctic air dives through the United States.

The new frigid blast will make its way from the northern Plains to the eastern and southern U.S. Sunday into Monday.

Although arctic air is expected to ease later in the week, any relief will be minimal and short lived.

Temperatures in Minneapolis are forecast to fail to exceed zero F over the weekend.

"Bitterly cold arctic air will settle in across a large swath of the U.S. as we turn the calendar from 2017 to 2018," said AccuWeather Senior Meteorologist Dan Pydynowski.

"People will really need to bundle up if they are heading out Sunday night for New Year's Eve celebrations in places like Chicago, for example, where the high will be 15 F on Sunday, around 15 degrees below normal," he warned.

Cities as far south as Nashville and Little Rock, Arkansas, will experience temperatures over 20 degrees Fahrenheit below average by the end of the weekend, where high temperatures are expected to remain below 30 F.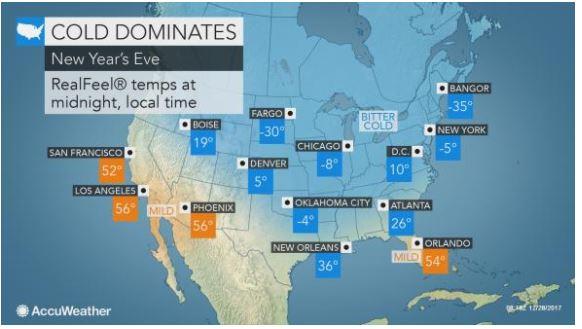 The shear size of the cold front is also unprecedented with some 200 million Americans facing freezing temperatures.
65 inches of snow, -37 degrees… Dangerously cold weather has left 200 million in a deep freeze pic.twitter.com/egnRclkTJU

— TODAY (@TODAYshow) December 28, 2017
Meanwhile, as we previewed yesterday (see:Snowmageddon Dumps Record 60 Inches Of Snow On Erie, PA; "Declaration Of Disaster"), Erie, Pennsylvania, has now officially recorded more snow in the month of December (102.1 inches) than it averages over an entire 'typical' winter season (101 inches).  Per The Weather Channel:
This prolific event shattered all previous multi-day snowfall records in Erie dating to 1893, according to the National Weather Service office in Cleveland, including:

Two-day snowfall: 26.7 inches (Nov. 24-25, 1950; the "Great Appalachian Storm")
Three-day snowfall: 30.2 inches (Dec. 29-31, 2002)
Seven-day snowfall: 39.8 inches (Dec. 27, 2001 - Jan. 2, 2002)
13-day snowfall: 52.8 inches (Dec. 31, 1998 - Jan. 12, 1999)

That's not a misprint. Erie picked up more snow in less than 36 hours in this event than its previous 13-day snowstorm record.

Needless to say, the 102.1 inches of snow so far in December, through Wednesday, is the city's snowiest single month on record, crushing the previous record of 66.9 inches in December 1989. This is also more snow in one month than Erie averages in an entire winter season – 101 inches.
I've seen totals like this before, but think I'd be hard pressed to find another point in recent years that we woke up to this much snow in just one night! #NYwx #Oswego @weatherchannel @JimCantore @CNYcentral @NewsChannel9 @JimTeskeNC9 @ABC pic.twitter.com/MfYE3z91hG

— Camden Proud (@CamdenProud) December 27, 2017
#EriePA in December, alone (103.1" through Dec. 27), has picked up more #snow than 51 of 79 full snow seasons (fall-spring).
(Note: Complete data since 1931-1932; some years with significant missing data in early-mid 1940s and 1995-1998 not included in count; source: ACIS) pic.twitter.com/xXABMftFp2

— Jonathan Erdman (@wxjerdman) December 28, 2017
Of course, as 200 million Americans contend with the coldest temperatures ever experienced in the past 100 years, the National Oceanic and Atmospheric Administration has a crucial message for you: "yeah, but global warming..."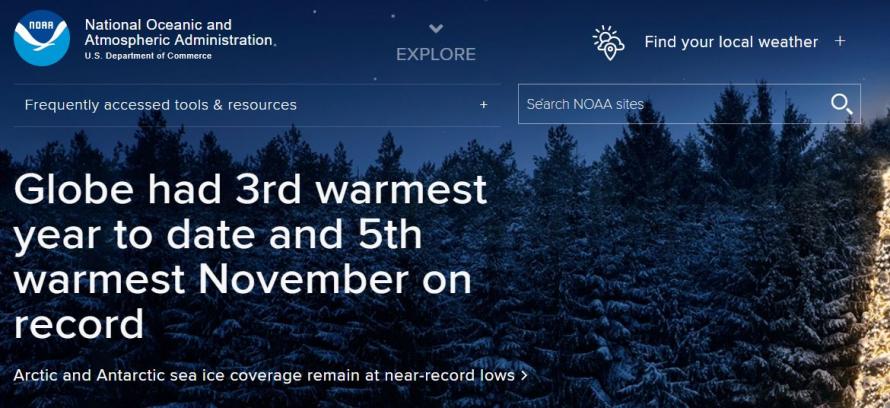 ...which should provoke a very entertaining tweet from Trump at some point...