One month ago, we reported  that in a disappointing - if inevitable - development for what was at the time the world's most valuable startup, SoftBank and a group of investors would offer to buy shares in Uber at a price that would value the ride-hailing company at 30% less than its most recent $69 billion valuation. This confirmed our own speculation made earlier in the summer, that scandal-plagued Uber's next round of financing would see as much as a 40% discount.
Earlier today, Uber's first ever down round became a reality when the WSJ reported  that Uber shareholders had agreed to sell a roughly 20% stake in the ride-hailing company, or roughly $10 billion, to the previously noted SoftBank-led investor group, which allowed the Japanese conglomerate to amass a piece of the company at a steep discount to the last valuation.
According to the WSJ, ​SoftBank would take a roughly 15% stake in Uber through the tender offer, which values the private company at $48 billion, or roughly a 30% discount to its most recent valuation of just under $70 billion, while other members of SoftBank's bidding group are likely to buy part of the remaining shares on offer.  The tender offer, an opportunity for Uber's employees and investors to sell their shares in the privately held company, expired at noon Pacific Time on Thursday.
As Bloomberg adds, The deal will make SoftBank one of Uber's largest shareholders and comes with two board seats. It will also put in motion a slate of governance reforms that were dependent on the deal going through, which will expand the board to 17 and revoke outsize voting power given to early backers. Benchmark, Uber's largest venture capital backer, will also drop a legal case it's pursuing in arbitration against former co-founder and Chief Executive Officer Travis Kalanick.
In a surprising twist, and an attempt by Uber to save at least some face, the investor group, which includes SoftBank, Dragoneer Investment Group, TPG, Tencent and Sequoia Capital, will also put at least another $1 billion directly into the San Francisco-based business at a higher valuation of $68 billion.
In other words, Uber's value - in theory - is both $48 billion and $68 billion at the same time, allowing Uber to claim that at least on paper its value is still $68 billion, although in practice as of today it is just a fraction above $48 billion.
"Uber is entitled to its opinions but not to the facts," Aswath Damodaran, a professor at NYU's Stern School of Business and longtime Uber skeptic, told Quartz in an email, when asked whether the company would be right to say it's still valued at $68 billion. "I don't think Uber could make this claim with a straight face."
And as Quartz correctly adds , "the sale of shares in the tender offer should leave little doubt: investors don't really want to buy Uber's shares at a $68 billion valuation. They think it's worth a lot less."
So much less, in fact, that Uber is no longer the world's most valuable startup and according to the WSJ's unicorn tracker, at a valuation of roughly $48 billion, Uber's is now below its Chinese ride-hailing competitor, Didi Chuxing, which is valued at about $56 billion and is also backed by SoftBank, which pumped $5 billion into it earlier this year. Incidentally, in the summer of 2016, Uber hinted at this power transition when it sold its China operations to Didi in exchange for a 17.7% stake in the combined business.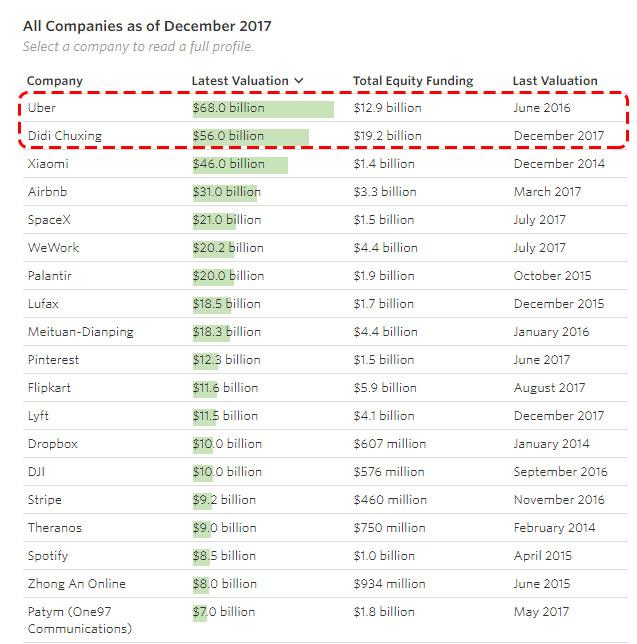 Uber's fall from the peak is historic in that it was one of the original unicorns, after it closed a financing round at a $3.5 billion valuation in August 2013. Its estimated value has only climbed since then, to $17 billion, to $40 billion, to just shy of $70 billion.
Uber's tremendous ascent crashed however following an unprecedented series of scandals hit the company this year unmasking Uber's toxic culture, and included the company facing a politically motivated boycott, employee claims of sexism, a high-profile lawsuit over trade-secrets theft, a video published by Bloomberg showing Kalanick berating an Uber driver and questions about his business tactics. As Bloomberg notes the unwanted attention also brought intense government scrutiny, while the U.S. Justice Department was exploring at least five criminal probes in recent months, and London moved to ban the service.
As Qz puts it, "in other words, a host of people have lost faith in Uber in 2017: lawmakers, customers, employees, and now, its investors. That loss of confidence may ultimately prove more damaging to Uber than the markdown in its valuation, especially if it means the company can't move as quickly and take as many risks as it once did. Even the trick of this latest financing—SoftBank's $1 billion investment at the old valuation—seems unlikely to change many minds about where Uber really stands."
Uber's new CEO Khosrowshahi will be looking to quickly move past the disastrous 2017. He replaced the company's legal chief, ousted the head of security who oversaw some of the most controversial projects and hired the former CEO of Orbitz to run operations. However, more ghosts of Uber's past continue to emerge. In November, Bloomberg reported on a hack  from a year earlier that exposed data on 57 million people and that Uber paid a ransom to keep the breach quiet.
Meanwhile, as Uber's star fades, that of SoftBank continues to rise as the deal will make founder Masayoshi Son an influential investor across the ride-hailing sector. He will hold stakes in five of the world's biggest startups, including the market leaders in China, India, Southeast Asia, Brazil and the U.S. SoftBank earlier this month took part in Didi Chuxing's fundraising, adding to an earlier $5.5 billion investment in the company.
Needless to say, such a huge bet on a disruptive industry which has yet to prove it can generate cash flow consistently and which has merely managed to prompt global deflation, is a huge gamble: indeed, for Uber, whose valuation just saw its first ever valuation "deflation", it is no longer a sure thing...