WTI/RBOB had roundtripped off initial API gains into the DOE data this morning which confirmed the sixth weekly crude draw, gasoline build in a row. Production dropped for the first time in 2 months, but WTI limped lower after the data.
Bloomberg Intelligence Energy Analyst Vince Piazza notes that attention turns to 2018 after a relatively quiet holiday season. Concerns for production growth with stout hedging likely places a ceiling on WTI in the $60 range. Domestic storage remains elevated heading into a benign 1Q, even with the tailwind of crude exports.
It's difficult to appreciate how it gets much better for global crude with the OPEC/Russia accord in the rear view and North Sea and Canadian pipeline issues largely transitory curtailments. Regime intrigue in Saudi Arabia and broader geopolitical concerns in the region aid uncertainty and boost risk premiums, but the WTI benchmark is likely to be range bound next year on higher domestic upstream production.
API
Crude -6mm (-3.75mm exp)
Cushing -1.3mm (-590k exp)
Gasoline +3.1mm
Distillates +2.8mm
DOE
Crude -4.61mm (-3.75mm exp)
Cushing -1.584mm (-590k exp)
Gasoline  +591k
Distillates +1.09mm
Smaller DOE crude draw than API and smaller gasoline build but the trend remains in tact... The distillates build was much more bearish than the market expected.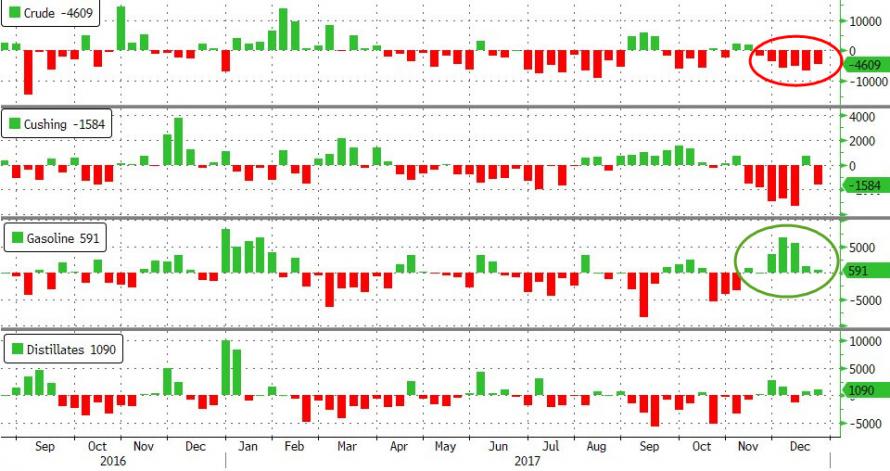 Crude oil production slipped for the first time in 2 months, down 35k b/d on the week to 9.75m. Small drops in both Alaska and lower-48 states.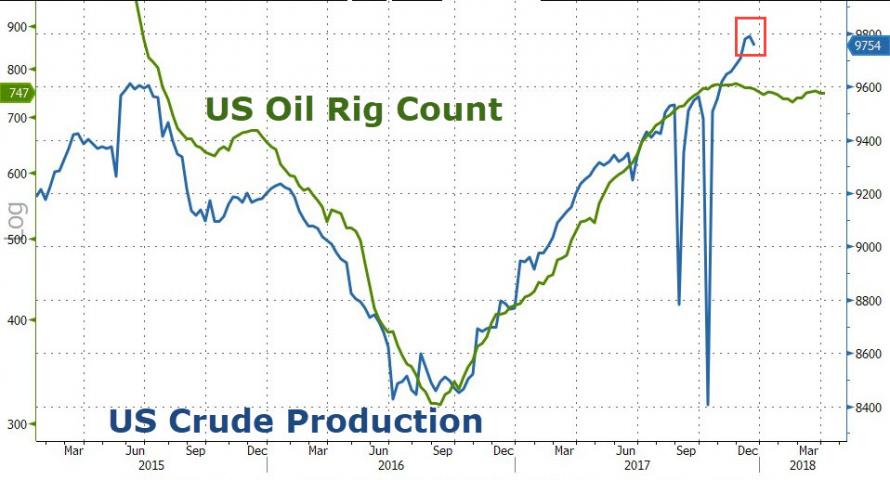 WTI/RBOB prices had roundtripped their gains post-API heading into the DOE data but after the print RBOB gained modestly as WTI limped lower...