Despite the non-stop bluster from the Left, including fairly regular on-air meltdowns by CNN's Ana Navarro which began with her now infamous prediction on election night of 2016 that the "Latino vote would defeat Donald Trump"...a prediction which she shared just hours before his election mind you...the latest data from the Interior Ministry of Mexico would suggest that Mexicans living in the U.S. have less to fear from a Trump administration than they did under Obama.
In fact, per the chart below, average monthly repatriations of Mexican citizens from the United States are down roughly 28% from February - November 2017 compared the same period the previous year under Obama.  In aggregate, Obama deported 190,588 Mexican citizens during that time period compared to 137,994 under Trump.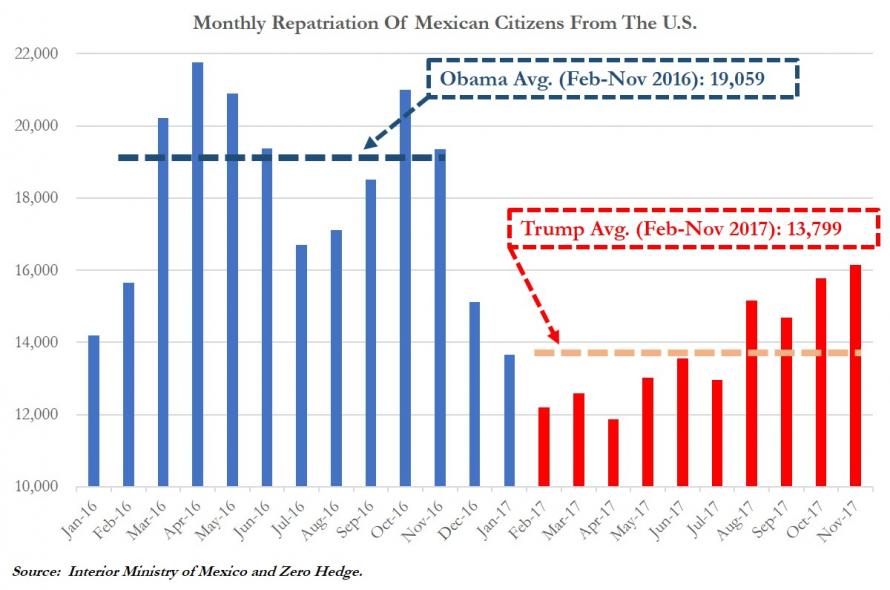 Of course, as Bloomberg notes, some portion of the reduced deportations is likely the result of fewer apprehensions at the border, a fact which is generally attributed to Trump's views on border security.
An ICE report of data through early October showed that removals of Mexican nationals were down, but administrative arrests of all immigrants were up 30 percent in fiscal year 2017. It concludes that the decrease in removal numbers overall compared to fiscal year 2016 was primarily due to about 17 percent fewer migrants apprehended at the border.

"For Mexicans who enter illegally, effective tools like expedited removal have led to increased deterrence, which has impacted entry levels," Tyler Q. Houlton, acting press secretary for the Department of Homeland Security, said in an email response to questions.
"Sweet, sweet justice" indeed...